An internal review of the George Washington Bridge lane closure plot that has been plaguing New Jersey Gov. Chris Christie has cleared the Republican of any wrongdoing.
But there are a few caveats. Christie himself commissioned the report from Gibson Dunn & Crutcher, a law firm that has known ties to the governor. And Christie's lawyers were unable to interview three key people at the center of the scandal: Port Authority of New York and New Jersey executive David Wildstein, Chrsitie deputy chief of staff Bridget Kelly and the governor's former campaign manager Bill Stepien. 
The report also contained a bombshell claim -- that Wildstein said he mentioned the lane closures to Christie, who has long denied any knowledge of the plot.
"Wildstein even suggested he mentioned the traffic issue in Fort Lee to the Governor at a public event during the lane realignment—a reference that the Governor does not recall and, even if actually made, would not have registered with the Governor in any event because he knew nothing about this decision in advance and would not have considered another traffic issue at one of the bridges or tunnels to be memorable," said the report.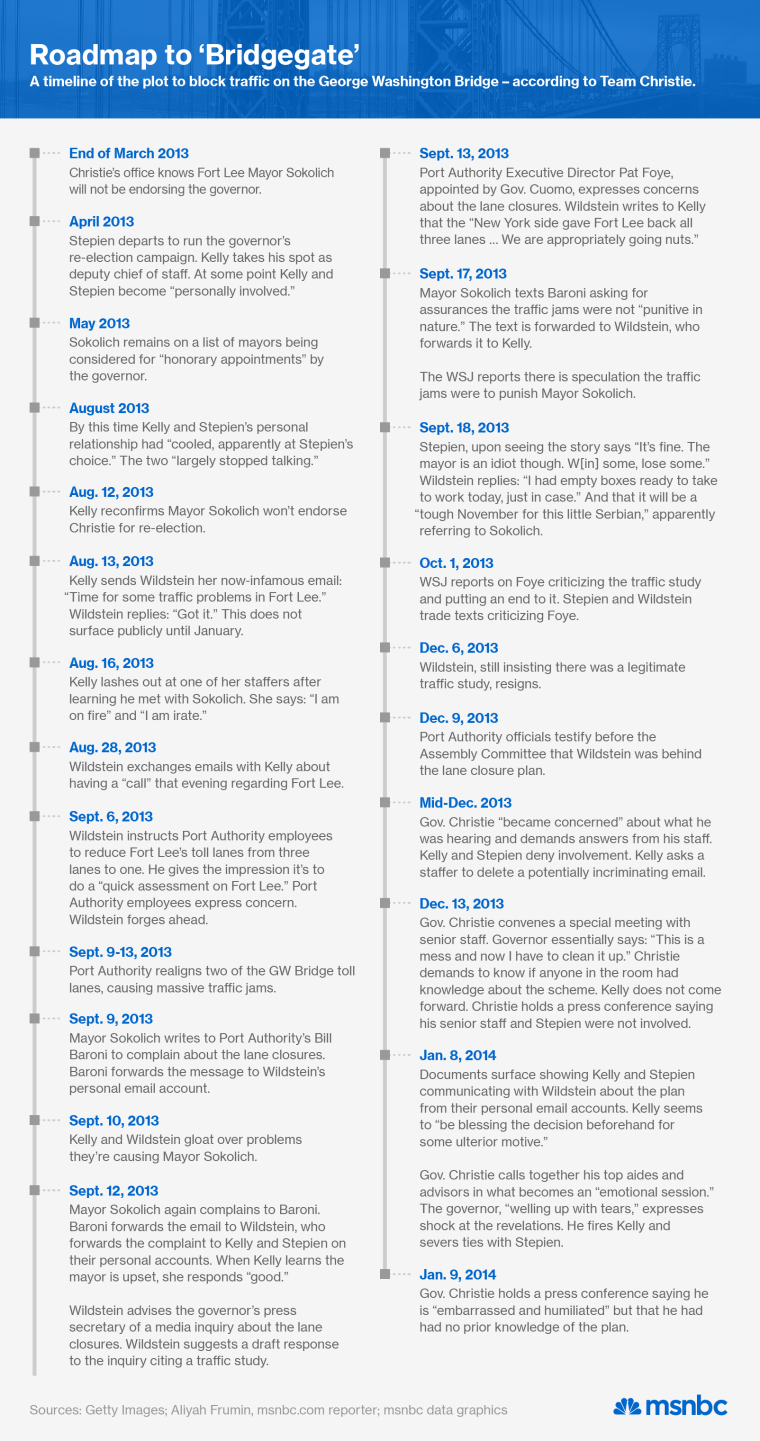 The executive summary of the report concludes that Wildstein and Kelly knowingly participated in the plan "at least in part, for some ulterior motive to target Mayor Sokolich" of Fort Lee, a town on the New Jersey side of the bridge that suffered crippling traffic jams during the September lane closures. But it also found that while Stepien and Bill Baroni, then the deputy executive director of the Port Authority, knew of the idea in advance, they did not know of any ulterior motive and were under the impression it was for a traffic study.
Randy Mastro—the lawyer leading the team who conducted the internal review – called the report "thorough and exhaustive."
"We found that Gov. Christie had no knowledge beforehand … and that he played no role whatsoever in that decision or the implementation of it," Mastro told reporters from his New York City office. He added that there's "no evidence that anyone in the governor's office besides Bridget Kelly knew of this idea in advance."
Wildstein, according to Mastro, is the person who "originated and orchestrated the idea" and that he went to Kelly for approval. Kelly then "lied to her colleagues" and even reached out to a subordinate to destroy a potentially incriminating document.
Mastro said that there is no evidence that Kelly and Wildstein orchestrated the act to punish Sokolich because he did not endorse Christie during his re-election campaign in 2013.
"What motivated this act is not yet clear," the report says.
When asked by reporters about the fact that the review was ordered by Christie's administration, Mastro said his team of lawyers has an "obligation to a public office," adding, "had we found evidence to the contrary to what we found, we would have been reporting on that." He added that his team has no incentive to mislead the public because there are other open investigations into the matter.
"We will be judged at the end of the day whether we got this right … we believe we got it right," he said. 
The report also concluded that Hoboken, N.J. Mayor Dawn Zimmer's separate allegations that Christie's office threatened to withhold Hurricane Sandy funds unless she approved a development project in her town were "unsubstantiated" and "demonstrably false." Christie's office has denied those claims.
Zimmer released a statement dismissing and criticizing the report, saying the lawyers' conclusion was "sadly predictable." She added: "Randy Mastro could have written his report the day he was hired and saved the taxpayers the million dollars in fees he billed in generating this one-sided whiewash of serious misconduct by the Christie Administration."
A state legislative committee, meanwhile, continues its own investigation into the so-called "Bridgegate" scandal. Timothy O'Donovan, a spokesman for Democratic Assemblyman John Wisniewski – who is co-chairing the probe –  told msnbc that the report is "hard to accept at face value when it's internal."
O'Donovan also said it was a big problem that Wildstein, Stepien and Kelly – "the main perpetrators" -- were not involved in the review. Wildstein resigned from his post in December. And in January, Christie fired Kelly and cut ties with Stepien.
The Democratic National Committee was also quick to criticize the review. National Press Secretary Michael Czin pointed out O'Donovan's gripes and  described the report as "nothing more than a taxpayer-funded PR blitz to give Christie a crisis management talking point before all the facts are even known." He added: "Christie spent a million dollars in taxpayer resources to conduct his own inherently flawed investigation with one goal: to exonerate Chris Christie."
All along, Christie – a potential 2016 Repblican presidential candidate—has denied any prior knowledge of the September lane closure plan, which was seemingly orchestrated for political payback. It was kicked off after Kelly sent a now infamous "time for some traffic problems in Fort Lee" email to Wildstein. The scheme has come up at Christie's town halls, with hecklers repeatedly being thrown out by state police for interrupting the governor with comments on the lane closure plan and allegations that the governor's office misused Hurricane Sandy relief funds. The governor has held seven such Q&As in the past month and a half.
"I'm doing everything I can right now to make sure something like that doesn't happen again," Christie told a crowd in Flemington, N.J., last week.
The state committee is currently waiting on a decision by a judge who is considering whether to enforce subpoenas delivered to Stepien and Kelly mandating they turn over any documents related to the lane closures. They both have pleaded the Fifth Amendment, insisting that handing over any information to the committee investigating the lane closures would violate their rights against self-incrimination.
Besides the state legislative probe into "Bridgegate", a federal investigation is looking into whether or not Christie improperly used Hurricane Sandy relief funds to produce tourism ads starring him and his family in the runup to his 2013 election.
Christie said on Wednesday during his monthly "Ask the Governor" radio program that he received the report, which is more than 300 pages, and that he is still reviewing it. 
"All the important questions will be answered," he said.      
The governor on Thursday, accompanied by his wife Mary Pat, gave his first media interview since his epic, two-hour press conference in January. Christie continued to blame his former aides for the bridge scandal to ABC News, describing what they did as "inexplicably stupid." He added: "None of it made any sense to me. And to some extent still does not." 
The governor acknowledged that the crisis has taken a mental and physical toll on him. "You don't sleep, you don't eat. You struggle. You struggle." "But I do believe that what doesn't kill you makes you stronger." Christie admitted: "It's been a very, very tough time professionally. Not the toughest time in my life, but certainly the toughest time in my life professionally." The entire interview is set to air Thursday at 6:30 p.m. ET  on ABC's "World News with Diane Sawyer."