New Jersey Gov. Chris Christie on Thursday continued to deny previously knowing about the plan to shut down local access lanes on the George Washington Bridge last September. Find out how the scenario, now known as "Bridgegate," played out.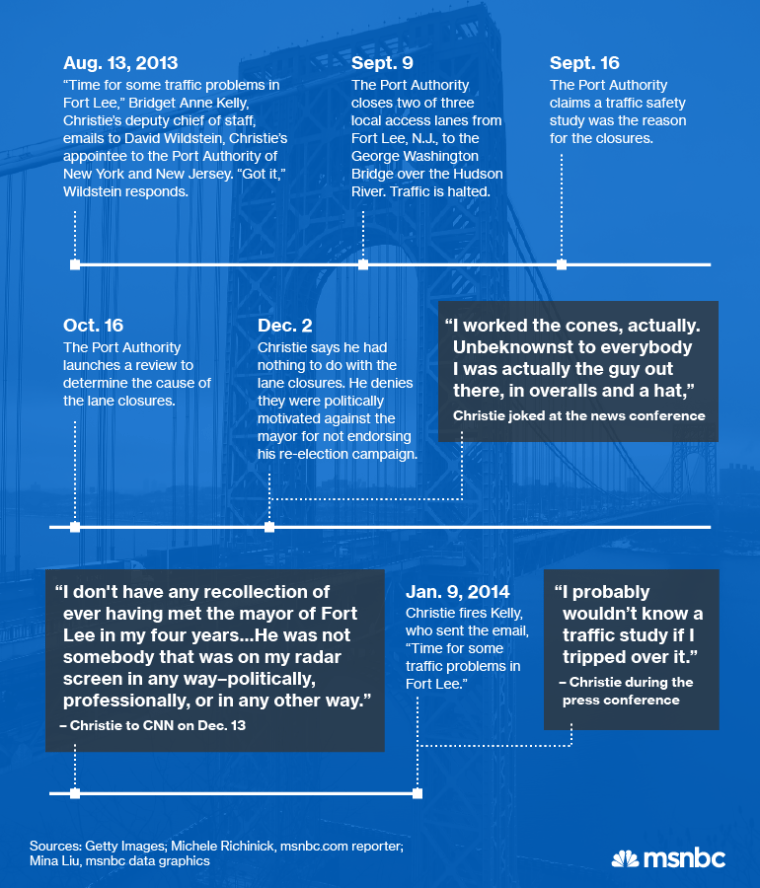 Aug. 13, 2013
"Time for some traffic problems in Fort Lee," Bridget Anne Kelly, a Christie deputy chief of staff, emails to David Wildstein, Christie's appointee to the Port Authority of New York and New Jersey. "Got it," Wildstein responds.
Sept. 9, 2013
The Port Authority closes two of three local access lanes from Fort Lee, N.J., to the George Washington Bridge over the Hudson River. Traffic is halted. 
Sept. 12, 2013
Democratic Fort Lee Mayor Mark Sokolich asks Bill Baroni, deputy executive director of the Port Authority and a Christie appointee, to lift the road closures.
Sept. 13, 2013
Patrick Foye, executive director of the Port Authority, orders bridge managers to lift the closures.
Sept. 16, 2013
The Port Authority claims a traffic safety study was the reason for the closures.
Sept. 17, 2013
Kevin Roberts, a spokesman for the Christie campaign, says that any notion that Fort Lee Mayor Mark Sokolich faced retribution for not endorsing the governor was "crazy." - The Wall Street Journal
Oct. 16, 2013
The Port Authority launches a review to determine the cause of the lane closures.
Nov. 5, 2013
New Jersey residents re-elect Christie as governor of their state over Democratic state Sen. Barbara Buono.
Nov. 25, 2013
During a hearing held by the Assembly Transportation Committee, Baroni says Wildstein ordered the closures as part of a traffic study. Baroni acknowledges making a mistake by not notifying the Port Authority.
Dec. 2, 2013
Christie says he had nothing to do with the lane closures. He denies they were politically motivated against the mayor for not endorsing his re-election campaign.
"I worked the cones, actually. Unbeknownst to everybody I was actually the guy out there, in overalls and a hat," Christie joked at a news conference.
Dec. 6, 2013
Wildstein resigns.
Dec. 9, 2013
Foye testifies under subpoena before the transportation committee that he was unaware of a traffic study.
New Jersey state Assemblyman John Wisniewski calls for Baroni's resignation.
Dec. 10, 2013
The Port Authority's inspector general launches an investigation.
Dec. 13, 2013
Christie announces Baroni's resignation and appoints staffer Deborah Gramiccioni to the position.
"I don't have any recollection of ever having met the mayor of Fort Lee in my four years...He was not somebody that was on my radar screen in any way–politically, professionally, or in any other way." – Christie to CNN
Dec. 19, 2013
"I know you guys are obsessed with this, I'm not. I'm really not. It's just not that big a deal." - Christie to Talking Points Memo
Jan. 8, 2014
Christie asks Bill Stepien, his former campaign manager, to remove his name from being state GOP chairman and to withdraw his consultancy with the Republican Governors Association, which Christie now chairs.
"I am outraged and deeply saddened to learn that not only was I misled by a member of my staff, but this completely inappropriate and unsanctioned conduct was made without my knowledge. One thing is clear: this type of behavior is unacceptable and I will not tolerate it because the people of New Jersey deserve better." – Statement from Christie
Jan. 9, 2014
Christie fires Kelly, who sent the email, "Time for some traffic problems in Fort Lee."
The governor said he was standing in his bedroom with his iPad when he first read about the email and text message exchange between Kelly and Wildstein.
"I probably wouldn't know a traffic study if I tripped over it." – Christie during press conference