A surge of unaccompanied minors crossing into the U.S. illegally is spiraling into a full-blown humanitarian crisis trapping thousands of children in political stagnation over immigration reform.
The administration is running a triage operation to combat the issue, scrambling to shore up funds and find facilities to shelter the massive influx of children who are crossing the U.S. border illegally in numbers that are expected to swell into more than 60,000 this year alone.
The situation stems from a groundswell of violence in Central American countries, leaving children who manage to escape left trapped in an ill-equipped U.S. immigration system and a political climate stagnant on reform.
"When you inject this many kids into the system, you start to see the system implode," said Wendy Young, president of Kids in Need of Defense (KIND). "It's not designed to handle this number of children."
The scenario is not just bad for the children. Young, whose group provides legal assistance to children who enter the U.S. illegally, said the influx of kids adds to an already backlogged legal system of deportation and refugee cases. When young children are put through deportation proceedings, oftentimes without the aid of a dedicated a lawyer, "it makes a mockery of the system," she said.
Since Oct. 1, U.S. customs agents caught 47,017 children along the southwest border, an eye-popping 92% increase in the last fiscal year. According to administration officials, a rising number of those kids are younger than 13 and more of them than ever are young girls.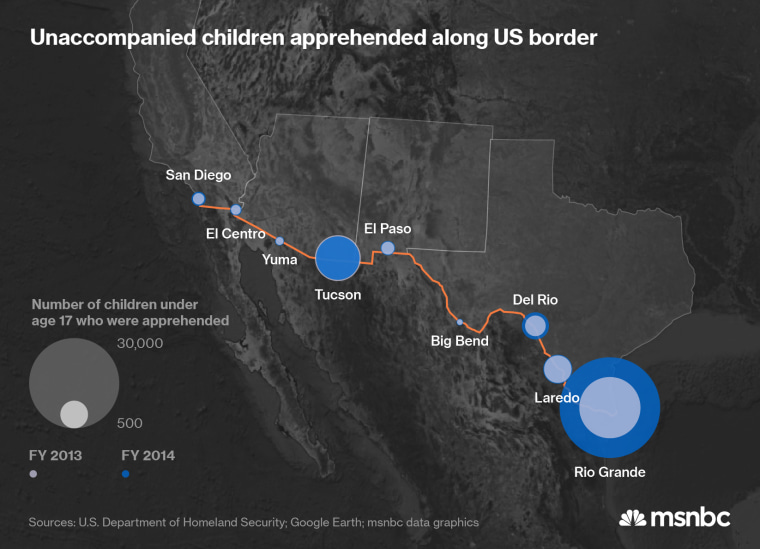 Though border crossings by unaccompanied minors is nothing new, activists said the numbers started to swell only within the last three years. The United Nations Refugee Agency (UNHCR)  tracked the growing trend last year by interviewing more than 400 unaccompanied minors traveling out of Central America -- namely from Honduras, Guatemala and El Salvador -- who successfully made it to the U.S. 
"What we found is just a really troubling increase in the number of stories children told about the violence in their home countries, from armed criminal groups to gangs and sometimes cartels," Nicole Boehner, a protection associate with the UNHCR, told msnbc.
The heightened violence is just an "inescapable reality" for many of these children who are oftentimes pressured to become fresh recruits for these dangerous groups, she said. "Children in these countries aren't just accidental victims of this violence, they're actively targeted because of their youth."
The children escape to the U.S. using various means, Boehner said, either through hiring professional smugglers or making the journey on their own. If apprehended by federal agents along the U.S. border, the unaccompanied minors are allowed by law to be detained for up to 72 hours. Kids are then turned over to refugee officials within the Department of Health and Human Services to provide shelter and look for relatives who can take them in.
The facilities to shelter the children are already brimming at maximum capacity. Last month, officials began shipping the children off to a special shelter at Lackland Air Force Base in San Antonio, Texas. The facility was equipped to handle 1,200. As of Monday, there were already 1,000 minors being housed there, White House officials said. Later this week, officials will begin sending youths to a new shelter at Naval Base Ventura County along the southern California border. The shelter is equipped to take on 600 children.
Acknowledging the "urgent humanitarian situation," President Obama on Monday requested more than $1.4 billion in federal funds from Congress and tasked the administrator for Federal Emergency Management Agency (FEMA), Craig Fugate, with coordinating a response. The emergency efforts are a band-aid for larger problems that extend beyond U.S. borders, and raise concerns over whether the facilities are equipped to handle the rapid increase of children. "We're backing up in facilities that were never designed for children," Fugate said in a call with reporters Monday.
The move is just the latest action Obama has taken on immigration as comprehensive reform continues to languish on Capitol Hill. Congressional Republicans on Monday criticized border security under the current administration, even as the president tries to shake off a reputation as the nation's "deporter-in-chief."
Rep. Robert Goodlatte, a Virginia Republican with powerful influence on immigration issues as chairman of the House Judiciary Committee, blamed Obama for "an administration-made disaster."
"Word has gotten out around the world about President Obama's lax immigration enforcement policies, and it has encouraged more individuals to come to the United States illegally, many of whom are children from Central America," he said in a statement Monday.
The added pressure on border security will likely remain throughout the upcoming midterm elections, particularly for races in the southern regions where immigration is a particularly testy topic. But for refugee advocates, the problems run deeper than a political impasse in Congress.
"It really isn't about immigration," said Michelle Brané, director of migrant rights at the Women's Refugee Commission. "It's about migration, it's about human rights and safety in Central America."
"The violence in Central America has reached a critical point, one in which children say to themselves, 'if I stay here, I'm going to die.'"