CHICAGO— Keauna Wise knows death could come at any moment. So she waits with knots in her stomach and tears in her eyes. She's often breathless, with anxiety that climbs from the bottom of her feet up into her gut.
Death comes often in her neighborhood on the far south side of this city, mostly by bullets. It comes with a bang on long, hot summer nights.
She's already lost a brother, an 8-year-old niece and dozens of family friends to gun violence. One of her sons was wounded in a shooting last year, and just about two weeks ago another family friend took his last breath in her eldest daughter's arms after being shot .
Every day she waits for the bullets to come crashing home again. For the dreaded phone call informing her that one of her nine children, most likely one of the older boys, has been killed. The stress has nearly crippled her both physically and emotionally.
"Whatever's going to happen, going to happen because I can't do nothing about it. It's sad to say but that's how I look at it now," said Wise, 37, on the steps of her modest home. "The doctors are telling me if I keep stressing I'm going to kill myself, that they'll be burying me any minute."
Of all the destruction that gun violence has heaped on the residents of Chicago's most vulnerable and depleted neighborhoods, physical wounds may not cast the longest shadow. It may instead be the trauma of witnessing repeated acts of violence, of losing loved ones and any sense of safety; of living -- for all intents and purposes -- in a war zone.
There is a growing body of research around soldiers returning from war with post-traumatic stress disorder and a number of programs have been launched to treat them. But what happens when the war is at home, the soldiers are civilians and the trenches are city blocks, playgrounds and front porches?
A recent study by Chicago's Cook County Hospital, a Level-1 trauma center that treats many of the city's shooting victims, found that 40% of patients showed symptoms of post-traumatic stress disorder. Those wounded by gunfire were about 13 times as likely as others to suffer symptoms of PTSD, which include anxiety, isolation, anger and sleeplessness.
"It just be so heavy on your head you really don't be knowing what to do. Like a boat is just sitting on top of your head, just a boat of thoughts and you don't know which ones to choose."'
But studies show it's not just those who are physically wounded who suffer. People continuously exposed in any way to violence can experience debilitating social and cognitive impacts. Such exposure can actually alter and rewire a person's brain. That means many residents of the most gun-weary neighborhoods remain in a perpetual state of fight or flight, with the sections of the brain that control the release of stress hormones on overdrive. The symptoms can be more pronounced in children and young people whose brains are still developing.
"I just see so many people here one day then the next day they gone or shot. I know people done got paralyzed from being shot. They can't even walk no more," said Avery Sterling, 19. "It just be so heavy on your head you really don't be knowing what to do. Like a boat is just sitting on top of your head, just a boat of thoughts and you don't know which ones to choose."
'These kids have been going to funerals all of their lives'
In Chicago and in many of America's most troubled communities, gun violence and murder have become normalized. Last year, 2,185 people were shot and 414 killed in just a handful of Chicago neighborhoods, mostly on the city's south and west sides, according to police and The Chicago Tribune, which has analyzed police data on shootings.
The local news headlines often read like a box score for a deadly game of shoot em' up: 'Fourth of July weekend toll: 82 shot, 14 of them fatally' '3 Dead, 22 Wounded in Weekend Shootings' '13-year-old boy killed, 6 others shot on West Side'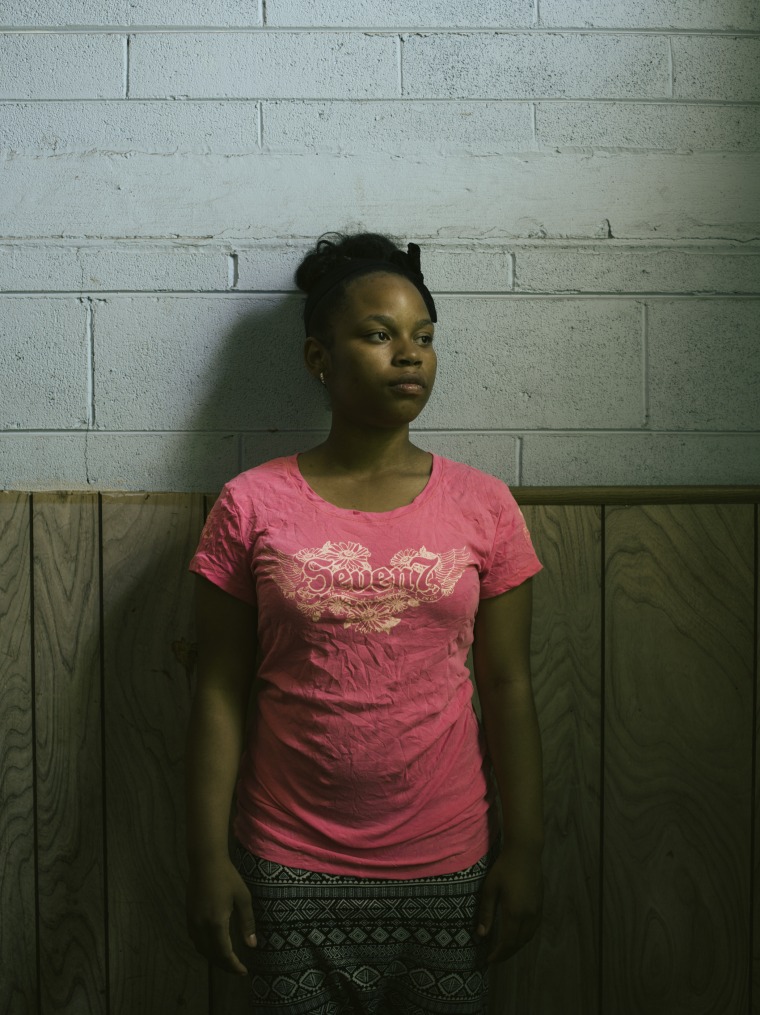 The most affected neighborhoods are mostly poor and ultra-segregated. They are neighborhoods where access to jobs and quality healthcare are scarce. Food deserts overlap with so-called school deserts, where mass school closings have robbed families of neighborhood schools just as a lack of supermarkets have starved them of fresh foods.
"Even the people who are doing the best on any given block still are not doing that well," said Nosheen Hydari, a crisis therapist with the Community Counseling Centers of Chicago, whose clients include residents in some of the neighborhoods hit hardest by violence. "Everyone has lost someone or lost something or had something really traumatic or abusive or violent happen to them in one form or another. I'd say that most of my clients have been experiencing PTSD probably from birth, in utero, and they remain in a constant state of PTSD."
But it's more than just the psychological effects of gun violence on those who directly experience it. A recent study by a pair of Yale sociologists indicates that just being friends with someone who has been the victim of gun violence increases the likelihood that you'll also become a victim.
In neighborhoods like West Pullman and Roseland on the south side and Englewood on the west, it's harder to find someone who hasn't been affected by gun violence than to find someone who has. The neighborhoods are filled with innocent bystanders, violent gang-affiliated youth, and the families and loved ones of both shooters and victims.
"Chicago is an extremely segregated city. There are people who say this needs to change in this neighborhood or that neighborhood. But so many people just say it's not my neighborhood, it's those people," said Ann Barclay, a vice president at Children's Home and Aid, a family service agency.
"When I talk to these kids what's always amazing to me is that death is commonplace. Those kids have been going to funerals all of their lives," Barclay added.
In 2012, a year in which Chicago led the entire country in murders with 506, Mayor Rahm Emanuel closed half of the city's 12 mental health clinics. It was a cost-saving measure the city said would help deliver more efficient care, but the clinics were among the few resources available to people in communities coping with high levels of trauma. And even in neighborhoods with access to mental health care, there remains a stigma in many poor communities around seeking help.
Adam Collins, a spokesman for the city, said the administration has "made important investments to help individuals who have been impacted by violence through support services for families, counseling and mentoring."
Collins said the city offers many services through the public schools, including so-called crisis support teams, "physiological first-aid" to school staff in Englewood and "trauma 101" training to help staff identify symptoms of trauma. He said the city helped secure $14 million for behavioral health services, launched the Chicago Safe Start collaborative to help children age five and under who've been exposed to violence, as well as other efforts through various city agencies, including a partnership with the Youth Urban Trauma Center at the Institute for Juvenile Research at the University of Illinois to provide training to family services staff.
"The doctors are telling me if I keep stressing I'm going to kill myself, that they'll be burying me any minute."'
Yet, it seems that information about these initiatives has not widely penetrated many of the hardest hit communities. In dozens of interviews with young people and families from across Chicago who've borne witness to the worst of the city's violence, nearly everyone said they were unaware of any special services to help them work through their violence-related issues.
"We don't have nobody to talk to. Warning comes before disaster. So it's like little warnings that happen to us and then here's this big old catastrophe and everybody's just looking like, what are we going to do next?" said Aaliyah Muse, 17. "What are we going to do with the youth? Come talk to the youth. Come out. Come on. You want to hear what we got to say, come and talk to us. But they don't do that."
Attorney General Eric Holder told msnbc that the Justice Department had recently stepped in, expanding a program called Children Exposed to Violence which tracks and studies the broader impacts of violence on youth and children.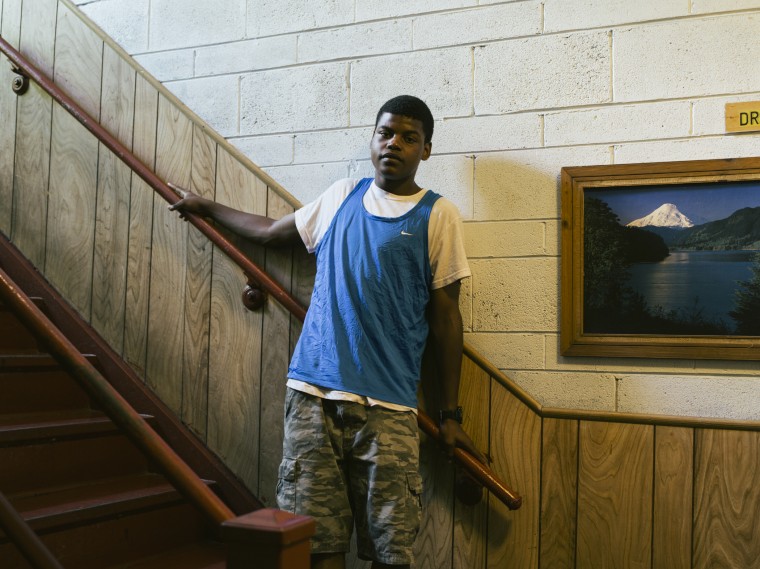 "We see statistically kids who see violence, are not victims of violence, but just who see violence, it affects their brains, it affects their minds, they are much more likely to become involved in the criminal justice system, and interestingly much more likely to be victims again," Holder told msnbc.
Just last week, following a particularly bloody Fourth of July weekend in Chicago, the Justice Department announced that additional ATF agents would be sent to help crack down on illegal gun trafficking. The department also recently gave the city $5 million to help fight violent crime.
But Holder said addressing the issues isn't the city, state or federal government's job alone.
"It requires a community effort," he said. "A community saying to young people that these kinds of activities are simply not acceptable, and stigmatizing people who engage in drug selling and violence."
Holder said businesses need to hire and schools must educate, among other things.
"There's a whole variety of things that go into why young men pick up guns and engage in shootings," Holder said. "Now the immediate response has got to be a law enforcement one. But the long term response has to be more community-based."
'Sometimes I feel like just giving up'
Keauna Wise remembers the first time a panic attack sent her to the hospital. She woke up one morning and saw the eyes of dozens of young people staring back at her from the obituaries she'd pinned to her bedroom wall and mirror.
Most were in their teens and early 20s, the same age as her oldest boys.
"I woke up and it was like they were asking me, 'Come on. Come with me. Come with me,'" Wise recalled. "And I like went into a panic attack. I'm like 'Oh my God, I got to get these obituaries away from me.'"
She fears death is chasing her family through the streets, luring and taunting her boys and their surviving friends. She finds herself staring at old photographs of her sons and their friends, and in some, all but her boys have been killed off.
They aren't angels, she admits. But her children are all she has.
Earlier this year, Wise ended up in the hospital again – this time after another stress-induced breakdown, which doctors said had damaged the lining of her stomach. A surgical procedure then left her stomach infected and she had to go through another surgery to remove the damaged tissue.
She got out of the hospital last Valentine's Day. Within days, another of her sons' friends was killed.
"They friends getting killed and they worrying about their friends, so I'm worried about them because they tried to go retaliate against what done happened," Wise said. "I'm trying the best I can. I just feel like sometimes, I feel like just giving up myself. I've actually sat back and thought about doing something to myself."
At one of her lowest points recently Wise said she made a cell-phone video recording of herself, a reminder that self-harm isn't worth it, that "you have kids to live for." She watches it every day.
Tanaja's story
The incident that most deeply affected Wise's family was the August 2010 killing of her niece, 8-year-old Tanaja Stokes. Stokes and Ariana Jones, then 6, were playing with other kids in front of the family's home in the Roseland neighborhood. It was a hot evening and residents were enjoying the weather, sitting out on the sidewalk and steps. The little girls were jumping rope and practicing cheerleading routines.
Through the din of laughter and chatter, two boys on bicycles rolled up and unloaded a fusillade of gunfire into the crowd. It was retaliation for an earlier fight on the block. When the last of the bullets had been squeezed off, Tanaja and Ariana lay in pools of blood. Both had been shot in the head. Tanaja was killed. Ariana survived.
Two teenagers, Marcus Cocroft, 16, and Steshawn Brisco, 18, were arrested and charged. Cocroft was sentenced to 55 years in prison, Brisco to 75 years.
When Brisco was sentenced in 2013, the mothers of both girls prepared statements that were read in court. Debra Thomas, Tanaja's mother, called the day of the shooting "a dream for me."
"I still haven't awakened from this dream. You took away someone who didn't deserve to be taken away … You never even gave her a chance to run," Thomas said. "Those bullets seemed like they were going on forever and never to stop. You guys deserve to rot in hell and I mean every word."
Alice Thomas, Ariana's mother, said the shooting robbed Ariana of her willingness to trust.
"She barely goes to school because she is either going into shock, panic attacks, seizures or more. She doesn't play like a normal child should," Thomas wrote. "How would you feel if your child, sister, mom or grandmother got their brains blew out in front of you? Just close your eyes and picture it."
"Those kids have been going to funerals all of their lives."'
Keauna Wise said her children haven't been the same since their cousin's killing. Within hours of the shooting, her eldest son, who had witnessed what happened, admitted to tucking a gun in his waistband and going over to the block where he believed the shooters were from.
"He said 'I went walking down these guys' block that I thought did it,'" Wise said her son had told her. "He said 'I seen nothing but kids out there and I actually wanted to do something to those kids but I thought about how I felt when they just killed my little cousin. He said 'I took that gun and I threw it in the garbage can and I just came back home.'"
"I just looked at him," she recalled. "And I just grabbed him and hugged him."
Bloody Roseland
On the street where Tanaja was shot, children on scooters and with jump ropes in hand can still be seen playing and laughing. But nearly all of them avoid the spot on the sidewalk where the little girl died. It's as if there's an invisible stain, hallowed concrete.
There are dozens of such blood-stained patches in that neighborhood where life was lost or nearly lost.
In August 1995, just across the street from where Tanaja was hit, Wise's 24-year-old brother was shot and killed.
Some 140 people have been killed in Roseland since 2007, according to Red Eye Chicago, which tracks homicides in the city. Countless others have been wounded.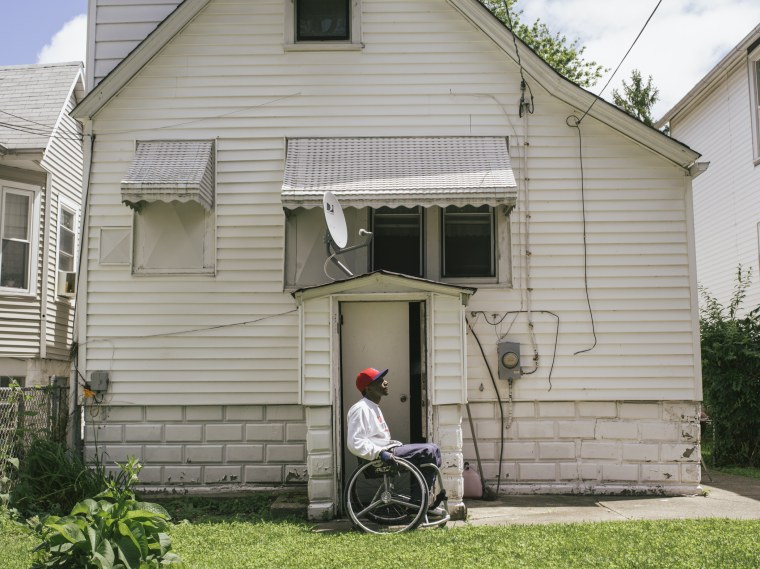 Eric Wilkins, a friend of Wise and her family, was close to her deceased brother. Wilkins said there had always been violence in the neighborhood but over the last 10 or 15 years or so things have gotten worse.
Police task forces and prosecutors in recent years have effectively neutralized the leadership of most of the city's major gangs, applying aggressive crackdowns, stiff sentences and mandatory minimum prison terms.
"All of them are targets. We have to save them. We can't give up on them. I won't give up on them. But this has become a normal way of life for them. "'
A generation ago, many neighborhoods were buffered from the worst of the violence because they were geographically protected by the ruling neighborhood gang. Now, that's changed. Today there are enemies seemingly around every corner as the old gangs have mostly dissolved into smaller factions and cliques led by immature, angry and impulsive youngsters with easy access to firepower.
"You have kids fighting other kids literally because he strays across the street," said Wilkins.
Wilkins is a former gang member and drug dealer who was shot in 1999 just up the block from where Tanaja was later killed. The shooting left him paralyzed from the waist down. In 2006, Wilkins' 21-year-old step-son was also shot and left a quadriplegic, paralyzed from the neck down.
On a recent afternoon, Wilkins, who now runs a small group called Broken Winggz that works to stop the violence and aid those paralyzed in shootings, pushed his way up and down the neighborhood's forlorn blocks. One by one, people came from their porches to talk to him.
"They don't have anybody else to talk turn to," he said. "I'm like their priest."
One woman asked Wilkins if he could help her brother-in-law who'd recently been paralyzed in a shooting. Another woman, a grandmother, said her grandson had come in the house days earlier armed with an AK-47.
"They been at war," Wilkins said.
About a year ago someone had a gun lost or stolen at a party. The loss led to a dispute, which led to a fight, which led to a young man from one block being murdered. Guys from another block, just a street or two over, have since retaliated. Between the two groups, Wilkins said at least eight people have been killed.
"All of them are targets," he said. "We have to save them. We can't give up on them. I won't give up on them. But this has become a normal way of life for them."
As he spoke, a group of teenagers no older than 16 or 17 went past. The leader rode a bike, the others walked behind.
"See him right there, he's a shooter," Wilkins said, pointing to the boy with shoulder-length locks. "But look at him, he's just a kid."
Yummy's shadow
In 1994, another Roseland child, 11-year old Robert "Yummy" Sandifer, was murdered. His death would catapult Chicago into the national spotlight and exemplify what in the 1990s became a scare over a generation of so-called "super-predators."
Days before Yummy's execution-style killing at the hands of two teenage gang members, Yummy had accidentally killed a 14-year-old girl while shooting at rivals in a local park. At the time of his death Yummy had become a menace, racking up dozens of arrests. But more than a menace, Yummy was a product of cyclical violence and trauma.
He'd been neglected by his family. As a toddler, social service workers found cigarette burns on his body. He later became a car thief, arsonist and armed robber.
Yummy hid out for days after killing the girl but then was lured by a couple of fellow Black Disciples gang members with the promise of refuge. Instead, the older boys led him to a viaduct where they put two bullets into the back of his head.
Yummy's mug shot, a grimacing boy with thick corn-row braids, would appear on the cover of Time magazine above the words: "So young to kill, So young to die."
Since then, an entire generation has grown up under the shadow cast by Yummy's violent life and death and so many others that never made national news. But as visceral as the pain can be, there can also be a sense of numbness to the casualness and callousness of it all. Several told msnbc that they've resigned themselves to it.
"I see people every day that I grew up with, like almost my whole life, and they just dying left and right. And it's like don't nobody really care that they die," 18-year old Tony Robinson said. "It's like, it ain't really like no big deal to nobody that they die. Certain people think about it, but they not really doing nothing to try to fix it or nothing. They just talk about it and put him on a T-shirt."
Back on Wise's front porch, a stream of young guys including Wise's son flowed in and out of cars that pulled slowly onto the block. "A lot of people ask me, 'Why do you let all those guys stay at your house?' and 'Why do you let them run in and out of your house?' I try to keep them in so they won't be in the streets getting shot at," Wise said. "I feel like if I can just keep them in the house for another minute or another second I'm saving somebody's life."
At the same time, Wise's eldest daughter, Minnie, 21, stood on the porch gazing out into the street.
"She gets shot at right along with them," Wise said of her daughter.
But Minnie, unlike her mother, says she doesn't fall prey to stress.
"Even though stuff go on, when I'm with them, getting shot at and all kind of stuff, I don't really think about it," Minnie said. "I feel better when I'm around them. Because once they go, they go, and I can't be around them no more. I ain't scared because it's going to happen anyway if it happen."
Hearing her daughter's words, Wise turned her head to hide her tears.
"It hurts. It hurts. I just wish there was something I can do. You know I wish there was something," Wise said, still weeping.
"I'm like, 'Let's try something different. You done tried partying. You done tried gangbanging with your friends. Let's try going to church," she said. "Maybe you'll like that. Let's try doing something different. But I guess they just not ready."
Check out special portrait vignettes with Chicagoans on the msnbc photo Instagram