After several months of public pressure and a judge's order last week, the city of Chicago released disturbing video of a white police officer emptying his gun into a black teenager's body.
The officer involved in the shooting, Jason Van Dyke, has been placed on a non-paid status and will be held accountable by the courts, Police Superintendent Garry McCarthy said at a news conference on Tuesday night.
"The officer in this case took a young man's life and he's going to have to account for his actions," McCarthy said. "People have a right to be angry, people have a right to protest."
"We knew this day was coming," he continued. "We've been prepared for this day coming for quite some time."
The dashcam video captured the final, violent moments of 17-year-old Laquan McDonald's life at the hands of Van Dyke, charged with first-degree murder just hours before the video's release.
RELATED: Newly released dashcam video shows police shooting of Jonathan Ferrell
Responding to the video's release, activists took to the streets Tuesday evening to demand justice.
"Tonight, what we're having is another instance of a killing, a public lynching of another young black man so we're asking you to give us some space to process our feeling around that. ... Their feelings might be raw," Fresco Steez of the Black Youth Project 100 told the Chicago Tribune.
Long before its release, the video was described as extremely disturbing, so much that even after lawyers for McDonald's family had obtained it, they refused to view it.
"Anyone who is there to uphold the law cannot act as though they are above the law," Mayor Rahm Emanuel said. "Jason Van Dyke does not represent the police department."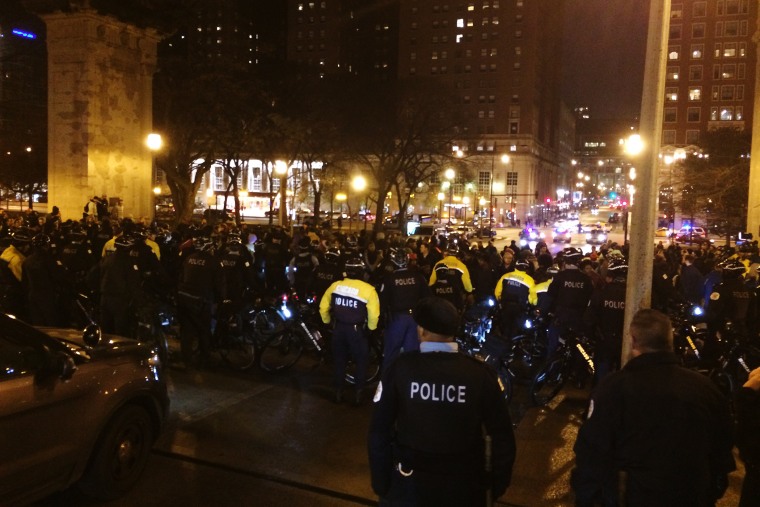 The video is indeed graphic and disturbing. In announcing the charges against Van Dyke, State Attorney Anita Alvarez called the video "chilling."
"I've been a prosecutor for nearly 30 years," Alvarez said on Tuesday afternoon. "I have personally investigated and prosecuted numerous cases of police misconduct and public corruption, I've been involved in hundreds of murder investigations and trials, and I've seen some of the most violent and graphic evidence and crime scene photos that you can only imagine. To watch a 17-year-old young man die in such a violent manner is simply disturbing and I have absolutely no doubt that this video will tear at the hearts of all Chicagoans."
It is believed that Van Dyke, 37, and a veteran of the force, is the first Chicago police officer charged with murder for an on-duty killing in the city's history.
"The violence in this video is shocking and upsetting," Illinois Sen. Dick Durbin said in a statement Tuesday evening. "Our law enforcement officers protect and serve their communities with honor and courage, but those who fail to follow the high standards they have sworn to uphold must be held accountable. There is a legal process underway and that process should move forward in a fair and expeditious manner. I urge all Chicagoans to face this tragedy with peaceful resolve and not with violence."
RELATED: Rahm Emanuel: Killer cop took 'law into his own hands'
Echoing Durbin's sentiment, U.S. Rep. Robin Kelly of Illinois issued the following statement late Tuesday:
"I cannot begin to fully express the depth of my outrage at the senseless killing of Laquan McDonald. The video is nothing short of horrific. I offer my condolences to the McDonald family, for whom the pain of losing their loved one has undoubtedly been compounded by having his death on public display. Yet as horrifying as the video of his death is, it needed to be made public because the lingering questions surrounding this case are equally as disturbing. The community is right to demand straightforward answers to those questions. And I fully support this quest for truth."
Police initially said that Van Dyke shot McDonald in self-defense and that McDonald lunged at the officer with a knife before the fusillade. But witnesses, the video and the state attorney's recounting of the video paint a different picture: At the time of the shooting, McDonald appears to be walking away from Officer Van Dyke.
"Anyone who is there to uphold the law cannot act as though they are above the law."'
Van Dyke was among a number of officers responding to an Oct. 20, 2014 call about an erratically behaving man with a knife. While the first officers on the scene kept their distance as McDonald apparently tried to get away from them, Alvarez said that Van Dyke was on the scene less than 30 seconds before he started shooting and just six seconds after he exited his vehicle.
Just before the shooting, the video recording shows two other marked police department SUVs on scene and McDonald is seen walking by the vehicles  waving his right arm with the knife visible in his hand. Five seconds later Van Dyke and his partner are seen parking their cars and hopping out with their guns drawn. At that point, McDonald is about a foot from the white lane divider in the middle of the road. McDonald is moving slightly away from the officers toward the opposite side of the street. McDonald is then seen crossing the divider heading away from officer Van Dyke and his partner.  
Van Dyke takes at least one step toward McDonald, and with his gun raised, fires on the teen, according to the video footage. McDonald's body jerks and then falls to the ground. About two seconds later, a couple puffs of smoke, believed to be bullets popping off the pavement near his body, can be seen.
"I urge all Chicagoans to face this tragedy with peaceful resolve and not with violence." '
Of the at least eight officers on the scene the night of the shooting, Van Dyke is the only one to open fire, and when he did, he emptied his entire clip. Autopsy reports show that McDonald was shot 16 times, including in all four limbs, his neck, back and head. According interviews with the other police officers on the scene, Alvarez said that Van Dyke was trying to reload his weapon when his partner intervened before he could.
According to the state's attorney, about 14 to 15 seconds pass between the time Van Dyke fires the first shot and what appears to be his last. McDonald is on the ground for 13 of those seconds. McDonald was still alive when emergency medical personnel arrived, but he died in an ambulance en route to Mt. Sinai Hospital.
RELATED: 10 questions in the Sandra Bland case
Lawyers for McDonald's family say they've long had the video in their possession, but that it was too disturbing for the family to view. The lawyers have said that if it were up to them the video would not be released. And for months the city had refused to release the video citing an ongoing criminal investigation into the shooting.
But a Cook County judge last week, hearing a law suit filed by a journalist who's FOIA request was denied by the city, ordered the video be released before Thanksgiving. Following the judge's order, Mayor Emanuel shifted course. As early as Monday, the mayor said that Van Dyke was unjustified in the killing and that he'd be held accountable.
In the days leading up to formal charges being lodged against Van Dyke and the city's release of the video, Chicago had begun to brace for possible unrest sparked by the raw nature of the video. Some organizers say the focus on possible violence following the release of the video is a distraction from the actual violence perpetrated against McDonald. "We are not predicting doom and gloom," McCarthy said. "We are predicting protests."
The mayor chimed in, calling the moment a time for the city to rise to the occasion. "This episode can be a moment of understanding and learning," he said.