New York City is "fully prepared to handle Ebola," Mayor Bill de Blasio said Friday, a day after the first case of the disease hit Manhattan.
"We have the finest public health system, not only in this country, but anywhere in the world. ... It is ready for extraordinary challenges," he said. "The only threat is if one is coming into contact directly with the bodily fluids of someone who has this disease."
Health experts on Friday continued to trace the recent movement of the diagnosed patient, Dr. Craig Spencer, an emergency room doctor who returned to the U.S. on Oct. 17 after treating Ebola patients in Guinea. Rapid response teams from the Centers for Disease Control and Prevention (CDC) arrived in New York just hours after Spencer's diagnosis. After Spencer tested positive for the disease on Thursday, the CDC conducted a second examination to confirm the case. The additional test also returned positive for Ebola. He remains in stable condition in isolation at New York's Bellevue Hospital.
RELATED: Doctor tests positive for Ebola in New York City
Earlier on Friday, New York Gov. Andrew Cuomo expressed confidence in the response to the first Ebola case in the city.
"We've had weeks to prepare. We took it very, very seriously," Cuomo said on msnbc's "Morning Joe." "I think we've had one of the most comprehensive preparation efforts in the country."
Spencer returned to the United States last week after working with Doctors Without Borders to treat Ebola patients in Guinea, where the disease was detected for the first time this year in March. City officials said Spencer began to feel "sluggish" on Tuesday but did not develop active signs of the virus until Thursday morning, when he registered a fever. Ebola cannot be transmitted until an infected patient exhibits active symptoms and has direct contact with another individual; it is not an airborne virus.
The city's health department has a team of medical investigation who are trained to review Spencer's recent activities and contacts. They are looking into his credit card transactions and tracing his subway travel through his commuter pass. So far, they know that since returning from West Africa on Oct. 17, Spencer traveled in an Uber taxi and on two subway lines. He visited a bowling alley in Brooklyn and the High Line park in Manhattan, and also a restaurant. The bowling alley is temporarily closed and will be sanitized by the city's health department. Officials also placed Spencer's fiancee and two of his friends in isolation.
His fever was first reported as reaching 103 degrees Fahrenheit on Thursday morning. But on Friday morning, Cuomo confirmed it had been almost three degrees lower — 100.3.
PHOTO ESSAY: As Ebola fears rise, health officials scramble to respond
Officials continued to reiterate the slim chance of anyone contracting the disease from a subway, cab, or coming into even casual contact with Spencer. Before Spencer tested positive for the disease on Thursday, a week had passed since the last diagnosis in the U.S. But many Americans still remain on edge as the deadly virus ravages West Africa.
"There is an almost non-existent risk of Ebola for anyone who had contact with the infected doctor prior to the onset of his fever," Dr. Kathryn Jacobsen, a professor at George Mason University, told msnbc in an email. "Ebola is spread only through contact with a symptomatic patient's body fluids, and the doctor was not vomiting or releasing other body fluids when he was outside his home prior becoming [symptomatic]."
New York City subway ridership on Friday morning remained at "exactly normal" levels, Cuomo said. "We're not seeing any reaction to the news last night. We're not seeing any undo anxiety, any panic." Stocks also rose on Wall Street on Friday morning, with the case seeming to have little affect on trading.
People in the city who start to feel sick shouldn't worry about their documentation status nor lacking capability to pay for medical treatment when going to the emergency room for Ebola concerns, de Blasio said.
President Barack Obama spoke by telephone on Thursday night with Cuomo, and, separately with New York City Mayor Bill de Blasio. They discussed the deployment of CDC officials, and Obama offered additional federal support necessary to provide the highest standard of patient care.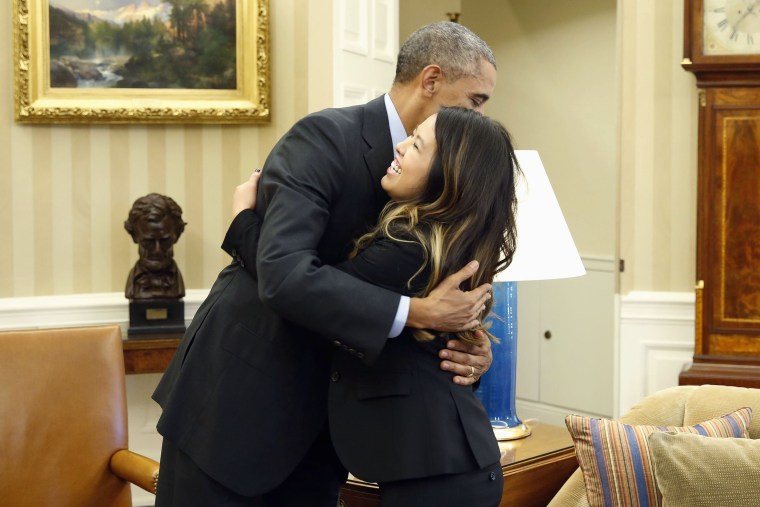 Bellevue had already been designated as the city's medical center that would treat any cases of Ebola. Spencer's diagnosis was the fourth case of the virus detected in the country.
Nearly 5,000 people have died worldwide from the disease, and almost 10,000 cases have been detected, according to the World Health Organization, which notes that there is widespread underreporting. 
The World Health Organization is speeding up the development and release of experimental Ebola vaccines, it said on Friday. The U.N. health organization reported that two vaccines are in human trials, and five others will begin clinical trials next year. WHO estimates that approximately 200,000 doses of the vaccines will be available in the first half of 2015.
Spencer reportedly returned through New York's John F. Kennedy International Airport last Friday, and participated in enhanced screening for all returning travelers from West Africa. He typically works as an emergency room physician at New York-Presbyterian Hospital, but he had not returned yet to his job following his trip to Guinea.
Thomas Eric Duncan was the first of three patients in Texas to be diagnosed with the virus. Duncan, a Liberian man, later died at Texas Health Presbyterian Hospital in Dallas on Oct. 8. Since his death, two nurses who treated him —Amber Vinson and Nina Pham — tested positive for Ebola. Earlier this week, doctors declared Vinson Ebola-free. By Friday morning, the medical staff said Pham was also "virus-free."
"I think hope just went up a notch today," Francis Collins, director of the National Institutes of Health (NIH), said during a press conference on Friday. Pham also spoke, thanking the multiple doctors who cared for her and asking the public to respect her privacy upon her return to her Dallas home.
Ebola survivors Dr. Kent Brantly and Ashoka Mukpo, an NBC News freelance cameraman, offered their condolences to Spencer and expressed hope that New York residents handle the news with reason and calm.
"The average New Yorker — and the average American for that matter — is at no risk of getting Ebola. We need to replace irrational fear with courage and compassion, and we need to focus our attention on stopping Ebola in West Africa," Brantly told NBC News on Friday. He donated his blood plasma to Pham, and plans to continue giving to other patients who match his type.
World Bank President Jim Yong Kim hailed Spencer's efforts to stop Ebola in Africa, stressing that the lack of health workers in the region was his single biggest concern about the fight against the epidemic. 
"We have to understand that Dr. Spencer is a hero. He is doing exactly what's needed to bring the epidemic to an end. He went and did the one thing we need to do to stop more cases here and everywhere else: We need to have health workers," Kim said Friday morning. 
RELATED: $100 million donated to help stop Ebola crisis
Doctors Without Borders began treating patients for Ebola after the outbreak began in March. More than 3,000 of the employees are working in West Africa, including about 270 international staff.
"Extremely strict procedures are in place for staff dispatched to Ebola affected countries before, during, and after their assignments," Sophie Delaunay, executive director of DWB, said in a statement. "Despite the strict protocols, risk cannot be completely eliminated. However, close post-assignment monitoring allows for early detection of cases and for swift isolation and medical management." 
Additional reporting by Suzy Khimm.