SIMI VALLEY, California -- Republican White House hopefuls will take their debate to the Ronald Reagan Presidential Library on Wednesday in Simi Valley, California, where candidates will undoubtedly pay tribute to the former president's enduring influence on the country. But within the state he governed, the revolution he led has long since passed.
After voting Republican in every presidential election but one from 1952 to 1988 and leading a national movement against taxes, California has become the crown jewel of the Democratic presidential map. Every statewide official is currently a Democrat, and the party holds wide majorities in the legislature even as Republicans have made statehouse gains in blue states like Wisconsin and Michigan under President Obama.
One key factor in the shift: A political awakening among the state's Hispanic voters, who flocked to the polls to combat an anti-immigrant campaign with parallels to GOP front-runner Donald Trump's current run.
RELATED: The second GOP debate: Insiders versus outsiders edition
In 1994, Republican Gov. Pete Wilson ran for re-election alongside ballot measure Proposition 187, which barred undocumented immigrants from government services. Proposition 187 passed easily and Wilson succeeded in his bid, but the long-term damage proved severe. Latino voter registration soared and the new voters who hit the polls were solidly Democratic. The trend spilled over into national politics as well: Hispanic turnout surged in 1996 and exit polls pegged President Bill Clinton's share at 75%.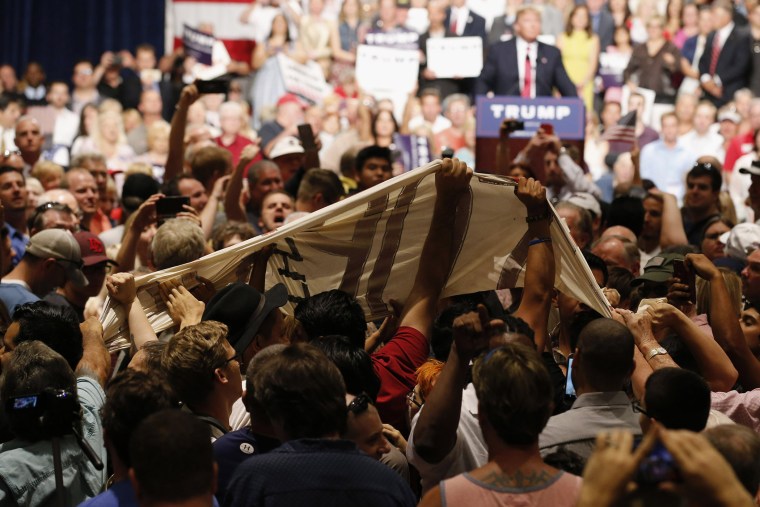 As Trump takes the stage warning of "rapists" and "illegals" streaming across the border and pledging to remove an estimated 11 million undocumented immigrants within two years, Republican strategists and presidential rivals are concerned that his approach to the issue could handicap the party in 2016 and beyond as the Hispanic share of the electorate increases. Even within a Republican Party already deeply divided over immigration and unpopular with Latinos in recent elections, Trump stands apart from the field. A recent MSNBC/Telemundo/Marist poll of Latinos found that 70% of respondents had a negative view of Trump – far more than any other candidate -- and 65% felt he was hurting the GOP's brand.
States like Nevada, Colorado and Florida have trended blue in recent presidential elections thanks to strong showings with Hispanic voters, only 27% of whom voted for Mitt Romney in 2012, and some Republicans warn of a nightmare scenario in which red states like Arizona and even Texas follow suit over time if the party can't reverse the trend. Immigration activists trying to win support for a path to citizenship for undocumented immigrants frequently cite the legend of Proposition 187 in making their pitch.
Presidential rivals Jeb Bush and Marco Rubio who, not coincidentally, hail from diverse Florida have made improving the party's standing with Latinos core to their pitch. Bush, one of the only Republican candidates to support a path to legal status for undocumented immigrants, recorded a video pitch to Hispanic voters this week in Spanish that also featured his Mexican-born wife, Columba Bush. Rubio, a child of Cuban immigrants, routinely delivers his remarks in English and Spanish, and his pollster Whit Ayres has warned that the GOP cannot win the White House without securing at least 40% of the Hispanic vote in 2016.
Not everyone in the party sees things as so dire. Many Republicans favor an alternative path to the White House that relies on widening their already impressive margins with white voters and converting blue states like Wisconsin, Michigan and Pennsylvania to their corner. This theory undergirds Wisconsin Gov. Scott Walker's base-oriented campaign, for example. Conservative critics of a Latino-focused approach note that while Reagan won 37% of the Hispanic vote in 1984, the GOP lost more ground in 1988 even after he signed a law legalizing many undocumented immigrants. These skeptics see Latino voters as an inherently Democratic voting bloc that's unlikely to be swayed by tweaks to immigration policy or tone.
RELATED: Poll: Democrats claim resounding Latino support over GOP
The best news for the Republicans who are worried about Trump's impact on Latin outreach is that the same polls showing him monstrously unpopular with Latinos show that the other candidates still haven't made a strong impression either way. Some, like Bush, Rubio, and rising candidate Ben Carson even have relatively favorable ratings among respondents who've formed an opinion on them in the MSNBC/Telemundo/Marist poll. A similar survey by Gallup also found that the level of loathing for Trump was unique -- a net 51% of Latino respondents expressed a negative view of him, while a net 11% expressed a positive view of Bush, the most well-liked candidate.
The longer the campaign goes on and the more Trump's immigration crusade dominates the debate, however, the more temptation there will be for other candidates to follow Trump's approach. Already, a previous conservative backlash against immigration prompted Rubio to abandon his immigration reform bill in favor of addressing border security first. A number of candidates, like Walker, have backtracked on prior support for legalization. As California Republicans learned the hard way, the consequences of alienating immigrant communities can long outlive any one individual campaign.