California Gov. Jerry Brown signed a bill Tuesday that removes most of the state's vaccination exemptions, meaning parents can only send unvaccinated kids to school if they have a doctor's note.
The new law, called SB 277, takes California from being one of the most liberal states when it comes to letting parents opt out of vaccines, to being one of the strictest.
RELATED: One more study shows vaccines don't cause autism
"The science is clear that vaccines dramatically protect children against a number of infectious and dangerous diseases," Brown said in an announcement posted online.
California's senate passed the bill Monday, but Brown had not said whether he planned to sign it.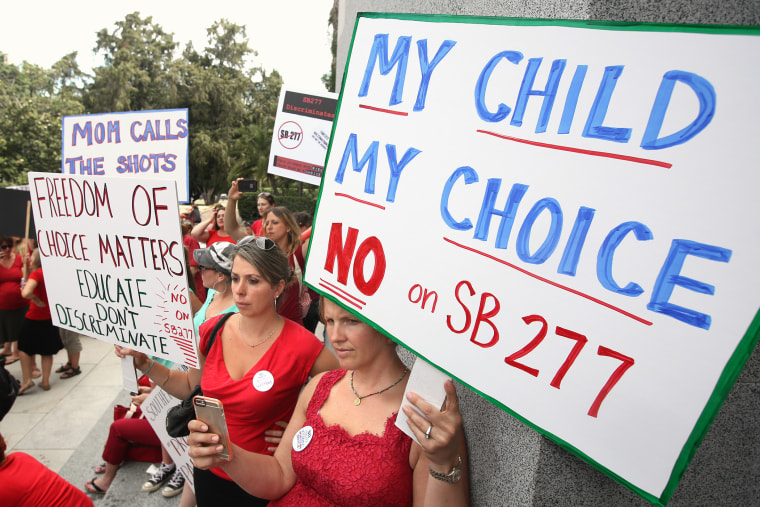 The new legislation follows an outbreak of measles that started at Disneyland and sickened 147 people in the U.S. and Mexico. The Centers for Disease Control and Prevention and California state health officials said pockets of people philosophically opposed to vaccines were helping measles cases imported from other countries take hold and spread.
States that let parents opt out for philosophical reasons have higher rates of unvaccinated kids than states like Mississippi, which allow only medical exemptions.
Opponents say such laws take away choice, but public health experts say kids need all their vaccinations, and on time. They say parents who oppose vaccinating their children are misinformed and are putting their own and other children at risk.
The United States is one of the few countries where states and school districts require proof of vaccination for children to attend public schools. There is no legal requirement to vaccinate children. Parents can home-school unvaccinated children.
Polls suggest most Americans do support and believe in vaccines. A Pew Research poll found that 83% of the U.S. public agrees that vaccines for diseases such as measles, mumps and rubella (MMR) are safe for healthy children. The survey found that 92% of college graduates agree that vaccines are safe but this drops to 77% of people with a high school degree or less.
Nationally, about 91% of kids get the combined measles, mumps and rubella vaccine before they start preschool.
This article first appeared on NBCNews.com.