Former Florida Gov. Jeb Bush secured some major swing-state support Wednesday as two high-profile senators endorsed his bid for the Republican presidential nomination.
Republican Sens. Orrin Hatch of Utah and Dean Heller of Nevada officially backed Bush in statements released Wednesday. Later in the day, they will appear with him in Reno, Nevada, to announce their support. Heller's endorsement, while not unexpected, is a boon for Bush as his campaign looks ahead to Nevada, a battleground state that went for Barack Obama in 2012.
The endorsement battle is also heating up on the Democratic side, where Vermont Sen. Bernie Sanders beat out Hillary Clinton on Monday to win the backing of National Nurses United, a 185,000-member national labor union. Another AFL-CIO member union, the American Federation of Teachers, threw their support behind Clinton in June. 
RELATED: How the left is reshaping Clinton's campaign
Meanwhile, Ohio Gov. John Kasich received a big boost in the early primary state of New Hampshire Tuesday in the form of an endorsement from one of the state's leading Republican figures.
Tom Rath, who has advised a long line of GOP presidential candidates including Mitt Romney and George W. Bush, will serve as Kasich's co-chairman in the state, the campaign announced. Rath will join Kasich to campaign in New Hampshire Wednesday.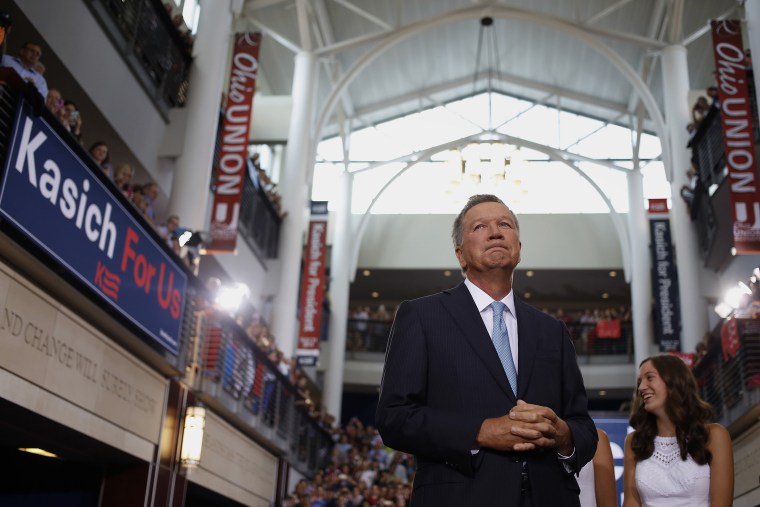 Rath's support is significant -- he is the former attorney general of New Hampshire and a fixture in the state's political world. "Our country needs Governor Kasich," Rath said in a statement. "He has a proven track record of balancing the federal budget, reforming our military and turning around one of our nation's largest states."
Rath isn't the only big-name Republican in the state who is backing Kasich. Former Sen. John Sununu of the famous New Hampshire political family is already serving as the New Hampshire campaign chair. Former Gov. John Sununu, George H.W. Bush's Chief of Staff, said on msnbc's "Andrea Mitchell Reports" that he isn't planning on making an endorsement.
"We're thrilled to have Tom join our team," said Sen. John Sununu, Kasich's New Hampshire campaign chair. "His expertise nationally and in New Hampshire will help our campaign build on the momentum we've established in New Hampshire and after the first debate. It's an honor to be working with Tom on behalf of Governor Kasich. He and other outstanding leaders will help guide us in the months ahead in New Hampshire and nationally."
Kasich appears to have gotten some traction in the state since he joined the race in July. He jumped to 3rd place -- just one point behind Jeb Bush - in a new poll by Franklin Pierce University and the Boston Herald released Tuesday. Donald Trump is leading with 18%, Bush with 13%, and Kasich at 12%.