Beaumont, Texas — On a warm Friday night in early September, a crowd gathered at the gleaming high-school football stadium in Beaumont, Texas, to see West Brook take on Central. The 10,600-seat facility filled to near capacity and the pageantry of Texas high-school football was on full display.
That night, the three-year-old, $47-million stadium seemed to bring Beaumont together. But the building is also a reminder of the growing racial tensions that have threatened to tear the city apart.
Alleging mismanagement and cronyism stemming from the stadium project, a group of white conservatives has used a series of audacious political and legal maneuvers to try to seize control of the board from its black majority. The attempted power grab is just one flash-point in a bitter and racially-charged feud over control of the school board.
The local courts, and many white residents of Beaumont, have made it easy for the conservatives. And they have been helped by developments more than 1,000 miles away in Washington.
In June, the Supreme Court badly weakened the 1965 Voting Rights Act which had been signed into law to make places like Beaumont—places that often fly under the national radar—more equal. And the law worked. For decades, blacks and whites served side by side on the school board and city council, sharing power in a way that would have been unthinkable in the not-so-distant days when blacks were effectively barred from the political process.
"I grew up in Mississippi, and I didn't see any of this kind of hatred."'
The law also protected those important gains. Twice in the last year, the Justice Department cited it to stymie the conservative campaign to take control of Beaumont's school board. But the Supreme Court ruled this summer that times had changed and special protections for racial minorities were no longer needed.
With that roadblock lifted, the conservative battle to remove the board's black majority has forged ahead. Whatever the outcome, the no-holds-barred struggle to control a provincial southeast Texas school board is shaping up as a test of something deeper: whether communities once plagued by the ugly rule of Jim Crow have truly changed, or if the Voting Rights Act was the check needed even today.
Black Beaumonters worry about losing important gains that were years in the making. "Things that we never thought we would have to worry about again, because of the Department of Justice and the Voting Rights Act, are now coming back for us to deal with," said Gwen Ambres, a member of the board's black majority. "And I don't know that we're going to fare well."
But Beaumont's conflict is about a more subtle and intractable problem, one that may lie beyond the reach of laws and courts. Nearly half a century after desegregation, a history of institutionalized racial discrimination has left the city's black and white residents—even those with the best of intentions—without the mutual trust and shared frame of reference required to work together effectively.
"It's an interesting story, but it's sad," Mike Neil, one of the board's two white conservatives and an active member of the effort to take control, told MSNBC. "It almost takes you back to the '50s and '60s. And no one wants to go back there."
Electoral Hardball
A study conducted by a research center in Vermont used words from over 10 million tweets to rank all 373 U.S. cities on a happiness scale. Beaumont came in dead last.
Beaumont is an industrial city of 118,000 whose economy is dominated by the oil industry and a major port. It sits about 80 miles east of Houston, not far from Louisiana, and its culture has much in common with the Deep South. It was in Jasper, just an hour up Route 96, that white supremacists dragged a black man to his death behind a pickup truck in 1998.
Even well after the civil-rights era, Beaumont's black and white schools remained separate and unequal. Janice Brassard, the board's lone white liberal who often votes with her black colleagues, began teaching in Beaumont in 1973.  She recalled asking the principal of the black Hebert High School why the school's textbooks hadn't yet arrived. He explained that the school had to wait until the district's white high school, Forest Park, had handed out theirs. "We get the ones they don't use," she remembered the principal explaining.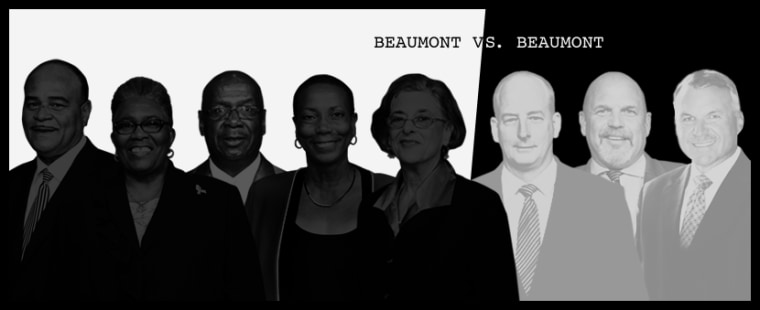 The conservative campaign to rid Beaumont's seven-member board of its four-person black majority has been underway for several years. But lately it has centered on two hardball election gambits.
In 2011, voters approved, on racial lines, an initiative pushed by conservatives that changed the way board members are elected. It removed two of the seven geographical districts and in their place added two "at-large" members who would be elected by the district as a whole. Blacks outnumber whites in Beaumont by about 47% to 40%, but whites vote at a higher rate so the move would have likely reduced black representation on the board.
But the plan, known as "5-2," was blocked last December by the Justice Department under Section 5 of the Voting Rights Act. The section empowered the federal government to halt any election change in places like Beaumont if the change could reduce the political power of racial minorities.
So the conservatives tried a new idea. In March, three candidates filed to challenge three of the black board members —Zenobia Bush, Terry Williams and board president Woodrow Reece—even though those members weren't up for re-election until 2015. Mike Getz, a lawyer and city councilman and a leader of the conservative campaign, argued in court that under state law, all board members had to run after a redistricting. And, he claimed, because the black incumbents hadn't filed for re-election—even though they weren't supposed to be up for two more years—the challengers should be designated as running unopposed.
 A Texas judge essentially agreed with Getz, in effect unseating the incumbents by court order, without an election.
"I was just kind of shocked and then I was angry," Bush told MSNBC in early September. "How could anyone make that type of decision?"
Once again, the Justice Department used Section 5 to step in, blocking the effort this past April by citing the obvious harm the plan would do to minority political power.
Getz, an intense 57-year-old, said the court was simply following the law. "As a result of their failure to sign up, because of their misunderstanding of the law and poor legal advice, they find themselves on the outside looking in," he said during an interview over lunch in downtown Beaumont.
In June, the advantage swung back to Getz when the Supreme Court invalidated Section 5, ruling that areas with a history of discrimination had made enough progress since the 1960s that it was no longer fair to single them out for special scrutiny.
With the Feds out of the picture, the case has returned to the state courts. In mid October, a Texas appeals court issued a split ruling: It denied the conservatives' claim that the three challengers be designated as running unopposed, which would have unseated the black incumbents. But it ruled that the election must use the "5-2" voting scheme that the Justice Department found would reduce minority political power.
Lawyers for Beaumont's minorities say they plan to file suit in federal court under Section 2 of the Voting Rights Act, which remains in tact, meaning the issue will likely remain unresolved for several months.
Different Worlds
Much of the current wrangling began in 2007 when voters approved a project meant to benefit all of Beaumont's children. Through a $388 million bond issue, the school board funded the construction of 10 new schools, an aquatics center and the football stadium.
Far from bridging the racial divide, the project became central to conservative claims of mismanagement and incompetence on the part of the board's black majority. A smattering of other accusations has also roiled the board and galvanized opposition from a group of older whites who no longer have children in public schools but whose taxes provide the lion's share of the district's funding.
"Getz is pushing Texas education administrators to declare an emergency and seize control of the board for at least two years. "That would just cut all this nonsense out and we won't have to worry about elections.""'
A single undisputed issue is that the board lost track of at least $70 million which had been allocated to cover inflation costs that never materialized. Reece, the board president, said he doesn't know what happened to the money but wants an independent audit of the bond issue—a step the majority had previously resisted.
But other grievances illustrate how the different experiences of Beaumont's white and black communities have created entirely separate frames of reference for understanding conflict.
A case in point was the board's decision to knock down a high school it said was dilapidated and build a new one, over the objections of white alumni who felt an attachment to it. Many blacks saw this nostalgia as partly racial: The school was one of the last left standing from the era before widespread integration, when most of its students had been white. But to the conservatives, the board's zeal to knock down the school was itself rooted in race—driven by an alleged desire to settle decades-old scores.
There is also a heated dispute about an African-American electrician on contract with the school district. Several times this year, the board has voted to renew his contract, even though he pleaded guilty last year to failing to pay taxes on time after he was accused of defrauding the district of millions of dollars.
To the board's black members, the anger over the electrician, the concern to keep the high school, the legal power plays and attempts to oust them, the waves of vitriol at public meetings, seem like a pattern.
"We have all these things lining up, and at some point you gotta say, hey, this is racist," said Ambres, one of the board's black members.
Tension Spills Over
That tension has been worsened by the conservatives' tactics to wield control of the board. Many blacks viewed the push to oust the board members as a bald racial power grab. By the spring and summer, the tension was spilling over into the wider community.
The district's communications director, Jessie Haynes, who is black, was placed on paid administrative leave after getting into a physical altercation with Mike Neil before a press conference. A lawyer who has worked to unseat the incumbents joked on a Facebook group for board critics about punching Brassard, the board's lone white liberal. Someone threw a large chunk of concrete through the window of Getz's law office. During the public comment period of a board meeting, a black supporter of the board called Getz "a red-eyed devil." Minutes later, one white resident seethed at the board's majority—to whoops of support from the crowd: "I hope the next time I see you people is down at Jefferson County Courthouse."
"I grew up in Mississippi, and I didn't see any of this kind of hatred," Haynes told MSNBC.
Earlier this year, the writer Joyce Carol Oates, who worked as a teacher in Beaumont in the early 1960s and now lives in Detroit, tweeted that though she has never been to Hell, she "did spend some time in Beaumont, Texas once." Getz was quick to reply: "And Detroit is such a paradise. You are not missed."
That combativeness has guided Getz's campaign against the board's majority. Last summer, he went to the Texas Education Agency with allegations of cheating on state standardized tests and fraudulent student attendance record-keeping, prompting the agency to launch a formal investigation. The agency has verified only one instance of cheating, in which a substitute teacher showed at least one student how to use a calculator.
The probe is still underway, but Getz isn't waiting for the results. Instead, he is pushing state education administrators to declare an emergency and seize control of the board for at least two years.
"That would just cut all this nonsense out and we won't have to worry about elections," Getz said. 
*This story was originally published on Oct. 17, 2013.