After winning a resounding victory in South Carolina Saturday, Secretary Hillary Clinton took the stage alone, without her husband or daughter next to her, to celebrate a big win in the Democratic presidential primary race.
But while former President Bill Clinton may not have been physically on stage, his influence on her campaign was on full display.
RELATED: Bill Clinton fires back against Bernie Sanders
"Despite what you hear, we don't need to make America great again," Secretary Clinton said during her speech in the state's capital, referencing the slogan of the Republican front-runner Donald Trump.
"America has never stopped being great, but we do need to make America whole again," she said. "Instead of building walls, we need to be tearing down barriers," Clinton thundered.
The line was well received and the crowd loved it, one directly aimed at Trump and reflecting a new tone of unity and optimism on the heels of an easy win.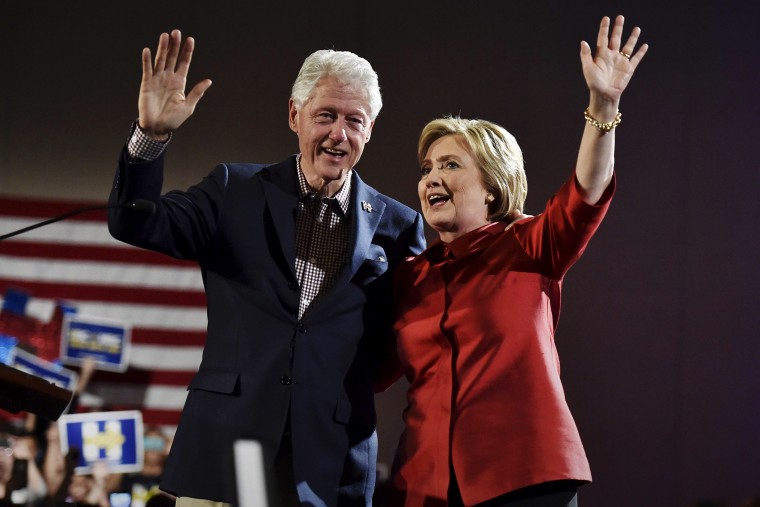 It was also a line that Bill Clinton had begun using just days before, after her win in Nevada.
Two days after that victory, Clinton told a crowd in Laredo, Texas that this election is "really about whether we can make every American see himself or herself in the picture the president painted" in the State of the Union.
The former president continued, "I disagree with the candidate that said we need to 'make America great again.' This is a great country," he said to great applause. "We need to make America whole again, so you'll all be part of the picture," he said, with the last few words barely audible as the room roared with cheers.
Tested and proven successful with President Clinton, it was this theme that Secretary Clinton adopted and made a central element of her victory speech Saturday night.
Bubba's Role
Since President Clinton began hitting the stump this cycle, he's earned mixed reviews. His voice is softer and his youthful vigor has diminished in the decades since his presidency. At times, his effectiveness as a surrogate on the campaign trail has even been questioned.
But the combined firepower of President Clinton, Secretary Clinton, and even Chelsea Clinton on the road, gives the Clinton operation a true numbers advantage. For example, the night after the caucus in Nevada, Secretary Clinton flew to Texas to hold events, while President Clinton travelled to Colorado. Heading into to Super Tuesday, the former president will have made individual stops in nine states, with most visits hosting events in multiple cities.
Chelsea Clinton is also an element to this strategy. Since South Carolina, she has been holding events in Minnesota and Nebraska— two states not visited by her parents in the weeks before the contest.
Not only do these events each pull hundreds of people who are then added to campaign data logs, most of the them earn the campaign free local press — all without taking from Secretary Clinton's schedule.
At each stop, the former president meets with local officials, he speaks to campaign organizers, and takes official pictures with special guests. After being introduced — usually by an elected official who has endorsed his wife — Clinton walks up to the stage to Pharrell's "Happy." He speaks for about 40 minutes, and then hits the rope line, shaking hands, taking selfies, and signing many of the items handed— and sometimes thrown — his way.
His events give the people who come and encounter with a former president. It's these encounters that are valued by those who are full-throated Hillary Clinton supporters, those on the fence, and even supporters of her rival who just wanted to see a former president.
Phil Burford, a 23 year old student at the University of Virginia, is one of those people. He says he plans to vote for Sanders, but wanted to hear from the former president he adores.
"At first I was skeptical of coming, I didn't want to get brainwashed by Bill Clinton into voting for Hillary," Burford said before a Richmond rally that coincided with tornado warnings. "I know he's going to have a lot of valid points on why you should vote for Hillary."
Walking out of that event was another young student who also came in supporting Sanders, Sven Philipsen. "I think he did a really good job of just framing the situation that we're at now," Philipsen admitted. "It makes sense, he's the best Hillary supporter that you can find in the world."
RELATED: South Carolina gives Clinton her most important win yet
He said he was "not quite" convinced he could leave the Sanders movement, although said it made him consider. "If anybody could have convinced me, Bill would be the guy," Sven Philipsen said.
In South Carolina, James Christie said he came to hear from President Clinton because he was legitimately undecided. When asked if his mind was swayed afterward, he paused, took a deep breath, and said "honestly, seeing him first hand — the first president I've ever seen this close — and hearing his important values of being from a small town, I can't help but vote for him."
Christie laughed and quickly corrected himself, "or her."
The Emotion
In campaigning so hard for his wife that his voice is so hoarse, it sometimes sounds like a heavy whisper, there is an inherit danger of going off message and causing negative headlines. In 2008, Clinton's dismissive comments against then-Senator Obama, suggesting Obama's candidacy was "the biggest fairytale I've ever seen," hurt his wife with black voters as the South Carolina primary neared.
His comment came at a point of high stress for the campaign in 2008, after Barack Obama's decisive victory in Iowa and polls showed Obama was close to another in New Hampshire — one he Obama never earned.
This time around, Clinton still reflects the gut emotion of the campaign. Ahead of the tight race in Iowa, the former president was more aggressive in describing his candidate's contrasts with Sanders. Moving into New Hampshire where Sanders was strongly leading, Clinton revealed frustration at his wife's supporters being "badmouthed" and dismissed as "the establishment." And going into the uncertain caucus Nevada, Clinton became aggressive has he responded to Sander's critique of his presidency.
Heading into Super Tuesday Clinton's tone has become optimistic and hopeful, now rarely mentioning his wife's democratic rival. There is a sense of comfort with the status of the campaign.
During a tense moment last week, he was interrupted by two protesters who accused Secretary Clinton of trying to cover up the Benghazi, Libya terrorist attack. After some back and forth between the former president and the protesters, they were escorted out by law enforcement.
Yesterday in Miami, Clinton seemed to marvel at that exchange, summarizing the moment and concluding to the supportive audience, "They were trained never to let anyone answer."
RELATED: A good Super Tuesday may not be good enough for Sanders
"So I let them make their point — twice, both of them," Clinton continued, leaning against the podium with a hoarse voice. "And then I tried to answer and they just kept screaming because they were just afraid of the answer," he said, his voice shrinking to a whisper. "We can't be like that."
On the road, President Clinton shows he can be extremely useful for the campaign, reflected by a schedule that almost rival's his wife's. He still can fill a room, he still connects with people, and he keeps the attention on Secretary Clinton the entire time — something that doesn't go unnoticed in the crowd.
Despite this, President Clinton says "I think sometimes that I'm useless in this election." Explaining to the crowd in Montgomery, Alabama, Clinton said, "I looked at that Republican debate the other night, and I thought they were going to hit each other. And I thought, 'What's the matter with me? I'm not mad at anybody.'"
Now, he's just a "happy grandfather," but one who can help his wife unlike any other.