As Donald Trump has doubled down on his criticisms of the judge presiding over a lawsuit against Trump University, Latino lawyers and former judges slammed the presumptive Republican presidential candidate for "injecting bigotry," attempting to deflect from issues in the case and trying to make the judge appear unqualified.
"If a member of the NAACP becomes a judge that does not disqualify him from hearing matters that relate to African Americans," said Joel Murillo, past president of the La Raza Lawyers Association. "For a judge to say Judge Curiel is a Mexican, so he has an apparent conflict of interest, is a blatant misunderstanding of what conflict of interest is, but also belies his deep racism and xenophobia toward Mexicans and people with Spanish surnames in general."
"I'm building a wall. It's an inherent conflict of interest," Trump told the Wall Street Journal, referring to a wall along the U.S. Mexico border he's pledged to construct if elected.
Earlier Trump had called Curiel a "hater" and in a rally pointed out to attendees that Curiel "we believe, is Mexican." Curiel is American of Mexican descent, born in Indiana to Mexican immigrant parents.
Robert Maldonado, president of the Hispanic National Bar Association, had called on Trump months ago to apologize to Curiel when Trump had made similar comments at a rally in Arkansas, also getting wrong at first Curiel's heritage and nationality, before correcting himself: "I believe he happens to be Spanish, which is fine," Trump said. "He's Hispanic — which is fine."
"Donald Trump continues to belligerently inject bigotry and divisive politics into the 2016 presidential contest, and now it has bled over into his legal troubles," Maldonado said in a statement.
Maldonado called the comments "attacks" "that show a dangerous disregard and disrespect for separate and coequal branches of government" and the reference to his heritage an "attack on all the honorable diverse members of the judiciary."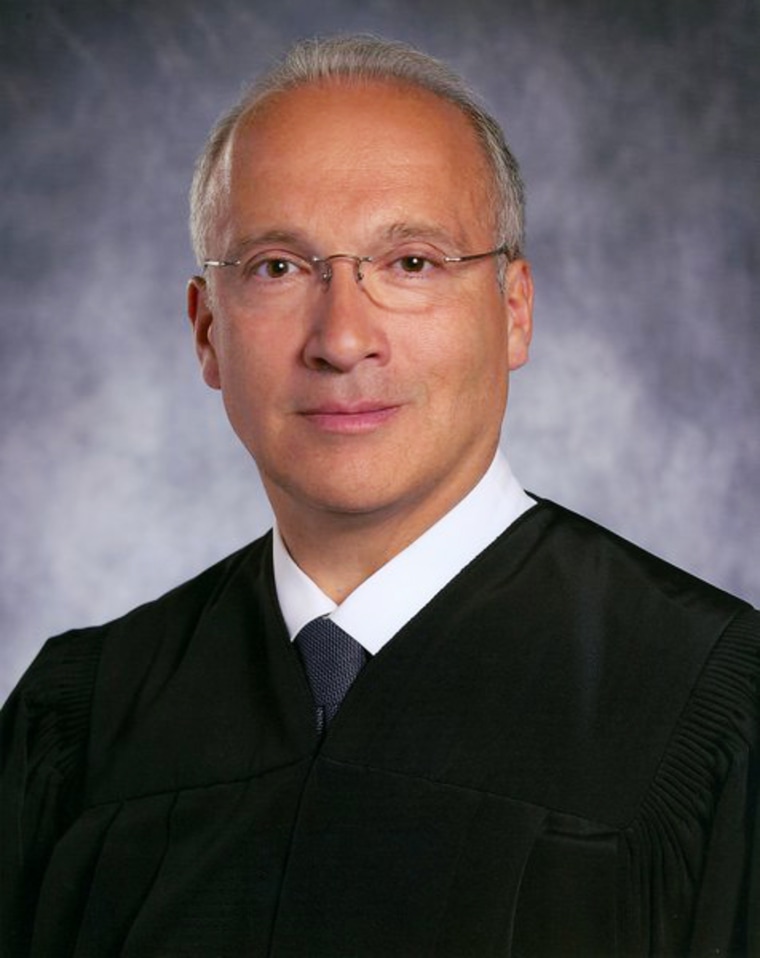 Charlie Gonzalez, a former congressman from Texas who spent 15 years on the bench as an attorney court at law judge and state district court judge, said disappointment about a judge's decision or ruling is not uncommon, but in an ongoing trial such complaints are usually made by lawyers through official complaints or through lawyers.
RELATED: GOP's new head of Latino outreach has been strongly critical of Trump
"To attack a judge, not on the basis of his ability or his scholarship or reputation but to fall on ethnicity or race or gender is totally unacceptable," Gonzalez said. "In this country, it should not be tolerated or dismissed as the words of someone frustrated and that has maybe the feeling that they have neither the facts or the law on their side" in their case.
Gonzalez said he was not unfamiliar with references to his Mexican heritage to denigrate him.
"If you are growing up in Texas in the 50s there was always the undercurrent of bias and prejudice and of course its used to show you can't possibly be qualified because you are a member of a minority," he said.
The Trump campaign did not immediately respond to NBC Latino's requests for comment.
Tom Saenz, president and general counsel of the Mexican American Legal Defense and Educational Fund, called it "ridiculous" to assert Curiel would be biased because of his heritage. He said it is a way for Trump to suggest Curiel is not a full American and in any other circumstances the charge would be frivolous.
"That's why Trump's lawyers have not fielded anything even though there is a mechanism for any litigant to file (a complaint) ... He hasn't filed anything because there is nothing to back it up," Saenz said.
The Clinton campaign has been hitting back on Trump's comment in Spanish on Twitter, which translates to "No Donald. This is not a conflict of interest - the problem is you."
The lawyers group that Curiel was once a part of, La Raza Lawyers Association, consist of 4,000 lawyers whose members come from across the political spectrum and their numbers tend to reflect the partisan makeup of the state's voters, said Joel Murillo. Alberto Gonzales, the former U.S. Attorney general under George W. Bush, was once a member and office holder of the group.
In the past groups that use the words "La Raza," such as the National Council of La Raza, in their names have been criticized in conservative circles who say it is akin to the language of white supremacists.
Murillo said raza, the name, has three meanings - as an opening of a door, a shaft or ray of light and the most popular meaning, the people.
"I think all three names apply to the organization. It is an opening of the door and it is a beautiful ray of light to the people," he said. The group formed in 1977 when most of the lawyers at the time were Mexican American. It was formed to "identify and foster the values and interests of the Spanish surname population."
Although California lawyers groups did not bar Mexican Americans at the time, he said few were in its leadership and the groups did not address their interests. He said the state bar was not truly integrated until about this century.
Chris Zepeda, an ethnic studies professor at University of California, Berkeley, said groups of Mexican, Latin American and Asian descent and increasingly Arab descent are "perpetual foreigners."
He said there is a long history of questioning heritage of Mexican Americans in courtrooms. A good example is the Zoot Suit riots, in which young Mexican Americans who were beaten by U.S. military personnel, but because of their heritage, "the judge said they had 'savage blood' in them."
"Unlike white and European Americans who just become (known as) American, Asian and Latin American and increasingly Arab, are increasingly racialized so that things like 'Mexicans' ends up becoming a code word for someone who is of a non-white race," Zepeda said.
Follow NBC News Latino on Facebook, Twitter and Instagram.
This article originally appeared on NBCNews.com.