Malaysia Airlines Flight 17, which was traveling from Amsterdam to Kuala Lumpur carrying 283 passengers and 15 crew members, was downed by a surface-to-air missile launched from a region of eastern Ukraine controlled by pro-Russian separatists, President Barack Obama said Friday.
At least one American citizen was killed in the crash, Obama said at the White House. All who were on board the jet are believed to be dead. 
The airliner was flying at an altitude of about 33,000 feet when it was last seen on radar. 
The United States has sent a team of FBI and National Transportation Security Board officials to Ukraine that are standing by to assist in the investigation.
White House Press Secretary Josh Earnest issued the following statement late Thursday:
"The United States is shocked by the downing of Malaysian Airlines Flight 17, and we offer our deep condolences to all those who lost loved ones on board.  We continue to seek information to determine whether there were any American citizens on board."It is critical that there be a full, credible, and unimpeded international investigation as quickly as possible. We urge all concerned -- Russia, the pro-Russian separatists, and Ukraine -- to support an immediate cease-fire in order to ensure safe and unfettered access to the crash site for international investigators and in order to facilitate the recovery of remains. The role of international organizations -- such as the United Nations and the OSCE in Ukraine -- may be particularly relevant for this effort, and we will be in touch with affected nations and our partners in these organizations in the coming hours and days to determine the best path forward. In the meantime, it is vital that no evidence be tampered with in any way and that all potential evidence and remains at the crash site are undisturbed. The United States remains prepared to contribute immediate assistance to any international investigation, including through resources provided by the NTSB and the FBI."While we do not yet have all the facts, we do know that this incident occurred in the context of a crisis in Ukraine that is fueled by Russian support for the separatists, including through arms, materiel, and training. This incident only highlights the urgency with which we continue to urge Russia to immediately take concrete steps to de-escalate the situation in Ukraine and to support a sustainable cease-fire and path toward peace that the Ukrainian government has consistently put forward."
On Thursday, Vice President Joe Biden said a Malaysia Airlines flight was "apparently" shot down Thursday in eastern Ukraine.
"I say 'apparently' because we don't actually have all the details. I want to be sure of what I say. Apparently, have been shot down. Shot down, not an accident. Blown out of the sky," Biden said during a scheduled appearance at the Netroots Nation conference in Detroit.
Malaysian Prime Minister Najib Razak said during a news conference that "if it conspires that the plane was indeed shot down we insist that the perpetrators must swiftly be brought to justice."
Secretary of State John Kerry, meanwhile, issued the following statement about the downed airliner late Thursday: 
"We are horrified by the crash of Malaysia Airlines flight MH17. There are no words adequate to express our condolences to the families of the nearly 300 victims. We offer our sympathies and support to the governments of Malaysia and the Netherlands at this difficult time, as well as to all those whose citizens may have been on board. We are reviewing whether any American citizens were aboard the flight. The United States Government remains prepared to assist with a credible, international investigation any way we can, and we will continue to be in touch with all relevant partners as we seek the facts of what happened today." 
Russian President Vladimir Putin blamed the crash on Ukraine:
"Without question, the state over whose territory this happened bears the responsibility for the terrible tragedy," Putin said, according to the Interfax news agency. "This tragedy would not have happened had there been peace in this land, if hostilities had not resumed in the southeast of Ukraine."
A Ukrainian government official claimed earlier Thursday that pro-Russian separatists shot down the plane. The allegation could not be independently confirmed.
The New York Times reported that rescue workers tied white strips of cloth to trees to mark where bodies lay around the crash site. "As darkness descended on the field, the workers gathered in throngs near a line of ambulances and rescue cars. Dogs barked in the distance, and the air smelled bitter," The Times' Sabrina Tavernise reported.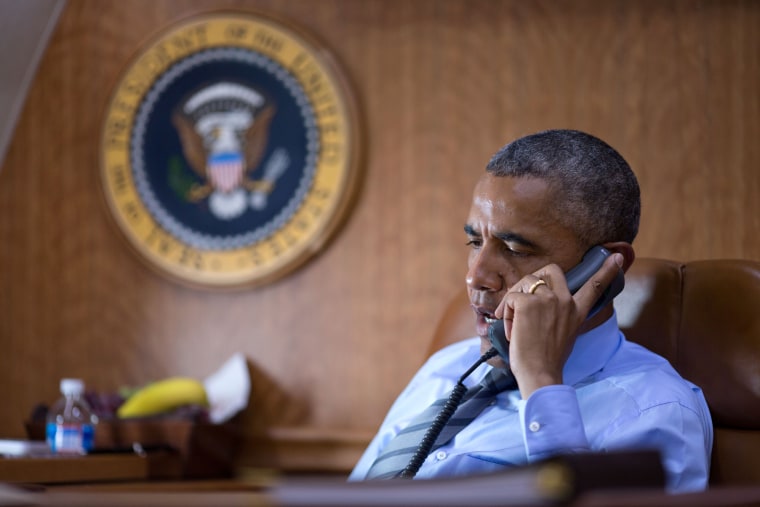 President Obama called Ukrainian President Petro Poroshenko and Malaysian Prime Minister Razak Thursday, White House press secretary Josh Earnest said. Obama also spoke by phone with Putin earlier in the day.
Biden addressed reports that American citizens were on board the flight. "Obviously that's our first concern. And we're now working every minute to try to confirm those reports as I speak," the vice president said.
There were also reportedly dozens of Dutch citizens booked on the flight. Dutch Prime Minister Mark Rutte returned to the Netherlands from a summit in Brussels and said he had been in touch with Ukraine's Poroshenko.
Biden said he spoke with Poroshenko and offered him U.S. assistance to investigate the downed airliner. Biden said a team of U.S. officials "will be on their way rapidly to see if we can get to the bottom of this."
Obama also addressed the crash briefly during a speech in Delaware earlier iThursday, saying, "Right now, we're working to determine whether there were American citizens on board. It is our first priority."
"And I've directed our national security team to stay in close contact with the Ukrainian government. The United States will offer any assistance we can to help determine what happened and why, and as a country, our thoughts and prayers are with all the countries and passengers -- wherever they call home," Obama added.
Benjamin Landy and Rachel Kleinman contributed to this story.