Denver Broncos linebacker Von Miller may have won the Super Bowl MVP Sunday, but the real star of the night was arguably pop icon Beyoncé, who delivered a riveting, politically charged performance as part of an exuberant halftime show.
The elaborately staged performance of her new viral sensation "Formation" was the culmination of both brilliant marketing and a steadily more socially conscious persona the "Drunk in Love" singer has been honing in recent years. The night before the game, Beyoncé released quite possibly her most provocative music video to date for the song "Formation," which featured odes to Hurricane Katrina, Black Lives Matter, natural hair and so much more:
And while her Super Bowl performance didn't incorporate all the rapid-fire imagery of the music video, it was no less pointed. As a nod to the 50th anniversary of the founding of the Black Panthers, Beyoncé emerged (in a Michael Jackson-inspired outfit) with a virtual battalion of beret-clad dancers who, true to the song's title, performed a flawlessly syncopated routine in unison. The song and its incendiary video have been hailed as a call to arms for black women and activists, and a rebuke of the so-called politics of responsibility. 
Throughout the video, which also includes tributes to New Orleans' culture, fashion and musicians, Beyoncé is seen astride a sinking New Orleans police car. Perhaps not surprisingly, that imagery has brought about accusations of an anti-police bias on the singer's part. For example, one woman wrote on Beyoncé's Facebook page: "As the wife of a police officer, I am offended by this entire video. Rise above and stay above the strife. For a girl who grew up in a privileged, wealthy family, she has no business pandering to those who didn't."
RELATED: Hillary makes major decision: presidency or Beyoncé?
Meanwhile, others started promoting a #boycottBeyonce hastag before she even strode onto the Super Bowl stage. And over on Fox News, former New York City mayor Rudy Giuliani and some of the network's anchors criticized her performance, while highlighting the fact that she received a police escort to the game.
"I thought it was really outrageous that she used it as a platform to attack police officers, who are the people who protect her," Giuliani said on Monday. "What we should be doing in the African-American community and all communities is build up respect for police officers."
Still, in many circles, the "Formation" video and its righteously defiant tone has gotten plenty of downright rapturous praise. 
"Beyoncé places her own reckless, country blackness – one of afros, cornrows, and negro noses, brown liquor and brown girls, hot sauce, and of brown boys and cheddar bay biscuits – in conversation with and as descended from a broader southern blackness that is frequently obscured and unseen in national discourses, save for as (dying, lynched, grotesque, excessive) spectacle," wrote blogger Zandria Robinson in a breathless breakdown of the music video. "Through this reckless country blackness, she becomes every black southern woman possible for her to reasonably inhabit, moving through time, class, and space."
She also deftly plays with the use and meaning of the word slay -- taking the power of the word from those who might literally murder black bodies and making it a rebellious term for people of color to rise above their haters through the power of their talent, pride and unconventional beauty.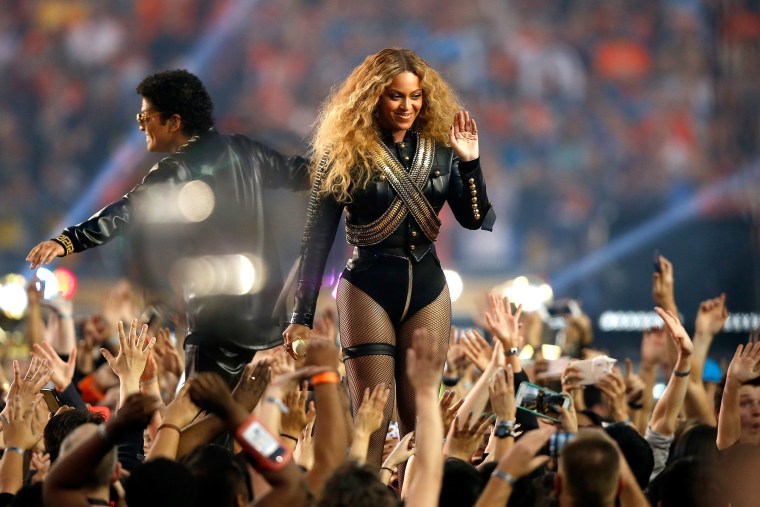 The music video presents the pop star's most overt endorsement of the Black Lives Matter movement to date. The singer, who rarely gives interviews, and almost never speaks out on sociopolitical issues, raised eyebrows last year when she followed Black Lives Matter activist and recently declared Baltimore mayor candidate DeRay McKesson on Twitter, one of only 10 people she has endorsed on the social media platform.
In the video for "Formation," she includes the powerful image of a young black boy clad in a hoodie dancing furiously in front of a line of cops. The policemen raise their hands in a symbolic acknowledgment of defeat, which is interspersed with graffiti that reads: "Stop shooting us."
"Formation's references are designed for maximum resonance – or perhaps alienation, depending on where you stand. It's a song ostensibly about Beyoncé's identity that forces the listener to acknowledge their own identity – a bold move from the world's biggest pop star, who over her career has been no stranger to the kind of song written so vaguely as to apply to anyone and anything," writes The Guardian's Alex Macpherson.
Ironically, for much of her early years in the spotlight, Beyoncé was dinged for having a lack of substance and even more insidiously, for perhaps being a willing victim of colorism. And yet in "Formation," when she proudly declares her affinity for her "Jackson Five nostrils," there can be no doubt anymore about where Beyoncé stands and who she stands with.