LOUISVILLE, Ky. -- There is a prophecy among the tea party faithful. While Establishment Republicans may rule the day for now, a Righteous Crusader will emerge to smite their Unholy Leader in his own castle and bring his brittle fortress crashing down like the Walls of Jericho. 
"I believe that man was called of God," radio host Glenn Beck told a cheering crowd at FreePAC Kentucky, a national conference of activists hosted by tea party group FreedomWorks last weekend. "These are the people we have begged for! These are the men and women that we have prayed for!"
Beck's divine messenger is Matt Bevin, 47, a Republican businessman running for Senate in Kentucky. More important to those gathered at the event is his primary opponent: Mitch McConnell, the Senate minority leader and Kentucky's senior senator. McConnell, Beck said, presented "as big of a danger to this country as Barack Obama." 
In his speech, FreedomWorks president Matt Kibbe went further in explaining the movement's focus on McConnell. "I argue today we have to beat the Republicans before we can beat the Democrats," he said to thunderous applause.
While tea party organizations are playing in a number of Republican primaries this year, unseating McConnell is unquestionably their Holy Grail -- a huge, symbolic victory that would send shudders through the GOP establishment.
Besides FreedomWorks, insurgent groups like the Senate Conservatives Fund, the Tea Party Patriots Citizens Fund, Madison Project, and Gun Owners of America have entered the race on Bevin's side. Practically every other attendee at FreePAC carried a black "Ditch Mitch" sign or sported Bevin campaign swag.
But there's a problem. While Bevin is held up by national tea party activists as a savior, in Kentucky he's looking – and sounding – more like a martyr.
Two polls in February, one commissioned by a pro-McConnell super PAC, found Bevin losing by respective 38- and 41-point margins. Bevin's top talking point lately is McConnell's refusal to debate him, and he often complains the senator and his backers are trying to convince voters the race is already over. 
These aren't the kind of messages one usually associates with a campaign on the cusp of victory.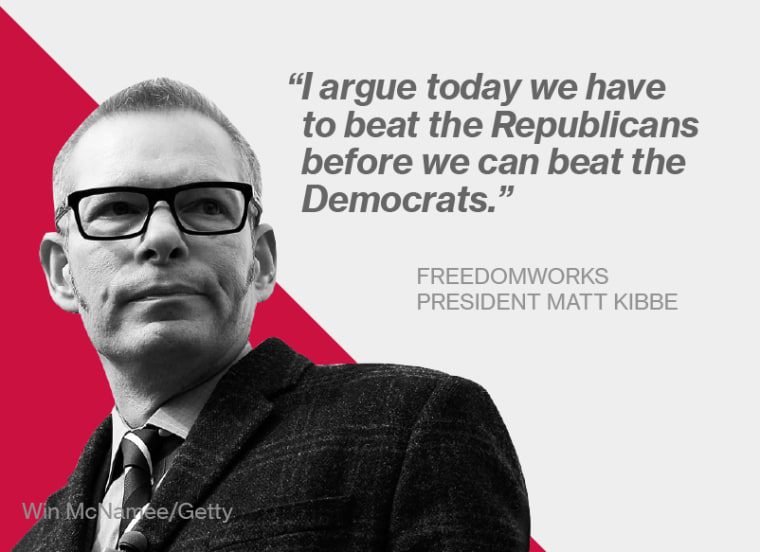 Supporters are hopeful however, that momentum will swing their way before the May 20 primary. There hasn't been any polling in over a month and Team Bevin thinks the lack of data is concealing a hidden surge as more Kentuckians see the light and groups like FreedomWorks launch their get-out-the-vote operation. 
"He's definitely the underdog, he's definitely at least 10 or 20 points down," Kibbe told msnbc. "But I think we win this."
Tracking shot
There's plenty to like about Bevin as a candidate: He's a successful CEO who made enough money to kick-start his campaign with a loan, but still gives off a down-to-earth vibe. A former Army officer, Bevin has nine children, four of them adopted, who follow him around at events. 
Recognizing his opponent's potential, McConnell has done everything possible to make sure that's not the Bevin Kentucky voters meet. From the moment the primary race began, the McConnell campaign seized on stories about Bevin's college credentials, his company's finances and his past political positions to paint the challenger as an "East Coast con man" running on a "pattern of deceptions." 
With a cash advantage of about 20:1 over Bevin at the beginning of the year, McConnell has hammered those messages home in TV ads, radio spots, and mailers across the state. If nothing else, they've gotten inside Bevin's head. At campaign stops, he seems more focused on decrying McConnell's negative tactics than almost any other topic.
Speaking with approximately two dozen supporters at a Denny's in Shepherdsville last Friday, Bevin opened his remarks by pointing out two "trackers" – political operatives who follow opposing candidates to public events to watch for gaffes -- filming him in the corner of the restaurant. One was with the McConnell campaign, the other with a Democratic group, American Bridge. 
"Everywhere I go in the state they're here to play gotcha, they're here to film," Bevin said. "We deserve better than a game of gotcha."
Six minutes later, he had already brought the trackers up again twice. "The fact that they're nervous enough to follow me everywhere I go" is proof McConnell considers the race more competitive than polls indicate, Bevin said.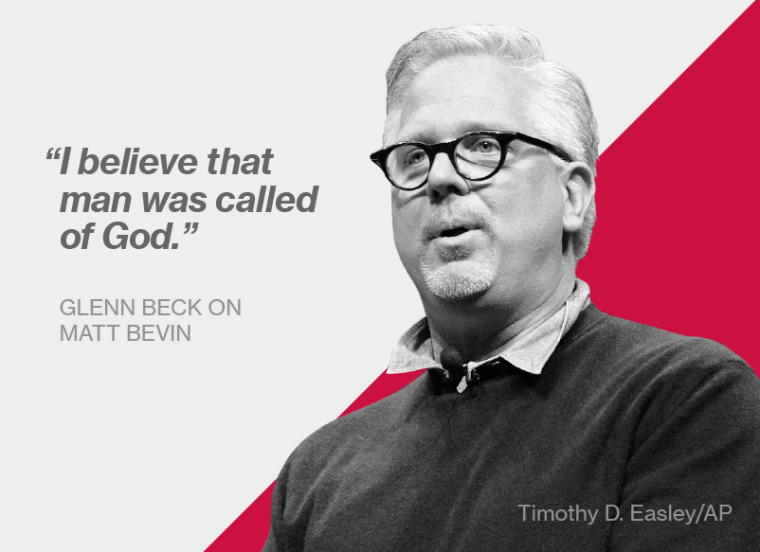 "If you have any question about whether I'm a person who's willing to step into the gap, who's willing to step in there and do the unpopular thing and get smeared and get their teeth kicked in over and over again, then just look at this race," he added later. "I'm not doing this for my own amusement."
When he finally opened up the floor to questions, the first was a volunteer worried about McConnell flyers in his neighborhood accusing Bevin of falsely claiming to have graduated from MIT on his LinkedIn page. "Bailout Bevin," another man chimed in.
"Bailout Bevin" has been the most maddening epithet. 
McConnell's campaign, knowing his support for the 2008 bank bailout would be his biggest liability among conservative primary voters, has turned the tables on Bevin. 
From the start, McConnell claimed that Bevin received a "bailout" himself because a Connecticut town helped rebuild a historic bell factory Bevin owned there after it was destroyed in a fire. It was a laughably transparent attempt to muddy the issue, but then Politico found in February that an investment firm run by Bevin had credited the federal bank bailout with stabilizing the economy in an SEC report. Bevin has struggled to explain the letter, saying even though he'd signed off on it, the quotes only reflected his chief investment officer's views and not his own.
McConnell's campaign might play rough, but Bevin also hasn't proven particularly agile when it comes to deflecting blows. This week, for example, Bevin has been dealing with a report that he spoke to a group dedicated to legalizing cockfighting. At first his campaign said it was a states' rights event, not a pro-cockfighting rally. When organizers disputed that account, Bevin said he was there briefly and didn't know whether other topics were discussed after his own speech. As the story gained traction, he told a radio host that while he opposed the practice, cockfighting was an American tradition and the Founding Fathers were "very involved in this and always have been." 
The stumbling responses extended what might have been an oddball day story into a week of headlines and even a segment on the Colbert Report.
"People want whatever's titillating, whatever seems easy to get your head around and it doesn't have anything to do with reality," Bevin told msnbc when asked about the incident. "Just the idea of something other than the real issues to talk about will get people fired up."
Ditch Mitch
McConnell, 72, has plenty of weak spots himself. 
His approval rating in deep red Kentucky stood at 32% in one February poll, even worse than Obama's. McConnell's stuck in a two-front war, fighting off Bevin on one hand and Alison Lundergan Grimes, the all but certain Democratic nominee, on the other. After three decades in office, McConnell personifies "Washington politician" when Congress is deeply unpopular and the state's economy is struggling. 
McConnell's campaign also hasn't been the smoothest operation. Just this month, as the NCAA basketball tournament was reaching its crescendo, the McConnell campaign aired an ad that accidentally featured footage of Duke's basketball squad instead of local favorites Kentucky or Louisville.
Duke is the most hated team in a state that lives and breathes college hoops. Bevin has already incorporated the misstep into his latest ad.
"You don't mess with basketball here in Kentucky," Bevin told msnbc.
The molten core of Bevin's campaign, however, has been an effort to brand McConnell as "too liberal" for "too long," as one TV spot suggests. This may strike Democrats as surprising: Few Republicans provoke a more visceral hatred among Obama supporters than McConnell, who famously boasted in 2010 that his top priority was to deny the president a second term and was so successful in blocking White House priorities that Democrats ended up partially abolishing the filibuster.   
Today the House can stop any and all Democratic legislation and the conservative dream is no longer just to slow Obama's agenda, but to roll back his first-term achievements, starting with health care reform. A new generation of senators led by Ted Cruz, Rand Paul and Mike Lee, has captured the right's imagination by promising an uncompromising approach. 
As their leader, McConnell has had the unenviable task of reminding such upstarts every so often that Obama is president and Democrats control the Senate. That means cutting deals to head off a complete expiration of the Bush tax cuts, to reopen the government after a shutdown, and to prevent default, all of which are viewed by the right as betrayals.
"Mitch is a statesman and he came in at a time we needed a statesman," Ed Potts, a 57-year old former Navy diver backing Bevin, told msnbc. "What we need now is a bare-knuckled brawler." 
Stand with Rand 
There is a model for a candidate like Bevin winning on an anti-accommodationist platform in Kentucky. Four years ago, Republican Rand Paul rode grassroots support from tea party and libertarian groups to defeat McConnell's favored candidate, Trey Grayson, in an upset.
Without exception, every single Bevin volunteer who talked to msnbc was a Paul supporter counting on the same activist network to lead Bevin to victory in 2014.
Not surprisingly, it's more than a little disappointing to them that Paul, a likely 2016 presidential contender and the son of libertarian hero Ron Paul, has endorsed McConnell.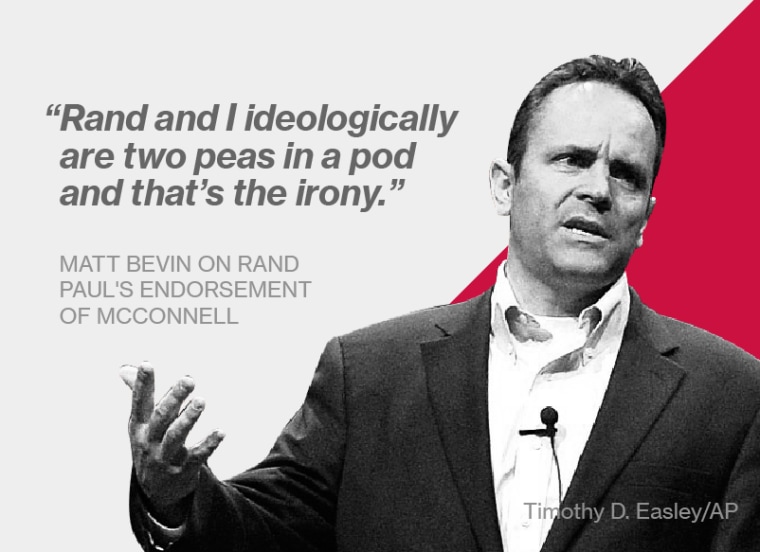 In a slick, defensive move, McConnell has spent the last several years courting the iconoclast Paul even as Paul uniformly opposed the McConnell-brokered deals Bevin is running against. In addition to securing his endorsement, McConnell chose Jesse Benton, a former Paul aide married to Ron Paul's granddaughter, as his campaign manager.
The Paul-McConnell alliance is a sore subject for Bevin supporters. Bevin himself often cites Paul as a model senator.
"Rand and I ideologically are two peas in a pod and that's the irony," he told msnbc. "It makes a lot of these folks first curious, then irritated, and in many instances now angry, which is a shame, I hate to see that, because I like Rand." 
Every Bevin backer seems to have a theory as to what's going on. Many believe Paul's secretly rooting for Bevin even if he won't say it.
"You notice a pained look on Rand Paul's face," Rhonda Cook, a FreePAC attendee from Shepherdsville, told msnbc. "He's not happy." 
The McConnell-Paul alliance is not the warmest pairing. In a leaked phone conversation, Benton said he was "holding my nose for two years" in order to boost Paul's presidential prospects. Paul, pressed by Glenn Beck in February over his support for McConnell, noted that he made his decision before Bevin entered the race. 
Nonetheless, by taking Paul out of the equation, McConnell has denied Bevin's campaign precious oxygen.
The leader's spoils
As if things aren't tough enough, Bevin is battling two McConnells: The small government crusader who stands with Rand and the populist rainmaker who shovels federal dollars into Kentucky like coal into a furnace.
McConnell's first major ad of the campaign was a retread from his 2008 race about how he secured federal money for a program helping workers exposed to radiation at a Western Kentucky nuclear fuel plant. It's standard fare for Kentucky politics, where there's a long, bipartisan tradition of using Congressional clout to steer government projects into the Bluegrass State.
"A lot of Republican voters in this state are not really that conservative and our parties don't line up as well as you see in other states," Stephen Voss, a professor of political science at the University of Kentucky, told msnbc. "They're not bothered by McConnell's history as someone who brought home bacon rather than as a hardcore ideological conservative."
Over the last decade, McConnell managed to direct more than $110 million just to projects in the state named after him or his wife, former Labor Secretary Elaine Chao, according to a review by Politico. 
McConnell's powers were weakened after he gave into conservative demands for an earmark ban, but somehow key projects in Kentucky still get funded. The deal McConnell secured last year to end the government shutdown included $1.2 billion for a lock and dam project on the Ohio River considered economically crucial within the state (McConnell claims he didn't ask for it).
When asked about the biggest challenges they've encountered trying to sell voters on ousting McConnell, Bevin supporters usually put McConnell's power at the top of the list.
"A lot of Republicans are old and scared to death and McConnell is selling fear," Tom Barbour, a 58-year old distillery worker, told msnbc. "We're in a hard time and he says we need experienced leadership."
Martha Smith, 51, lives in Owensboro, home of the riverfront Mitch McConnell Plaza and Walkway. She's supporting Bevin and opposes such projects, but she knows there's a market among voters for politicians who can find pork to send back home.
"He's done a good job for Kentucky, it's just time to go," she said of McConnell. 
Will that sentiment be enough to overcome McConnell's advantages? There's always hope.
"I'm a guy nobody even knew existed a few months ago," Bevin said. "When people realize they have a choice they're hungry for that choice. You just have to get in front of them."