WASHINGTON — Just one day after Republican presidential candidates argued on the debate stage over how much the FBI should surveil Islamic houses of worship, Bernie Sanders slipped off his shoes and stepped inside a mosque where Malcolm X once presided. The Democratic presidential hopeful was there to condemn Islamophobia.
The stark juxtaposition is typical of the divergent conversations that have occurred on either side of the partisan divide since the Paris terror attack last month. In a hyper-polarized political environment, the Republican and Democratic presidential campaigns seem to exist in parallel universes on everything from taxes to climate change — but now even perceptions of Muslims have become a partisan issue.
RELATED: Bernie Sanders to nab one of his biggest endorsements yet
A narrow plurality of Republican voters, 48%, hold unfavorable view of Muslims compared to 43% who hold a positive view, according to a new NBC News/Wall Street Journal poll. Meanwhile, 75% of Democrats say they have a favorable view of Muslims compared to 14% who say unfavorable.
It's a particularly personal manifestation of the larger polarization between Americans in either ideological camp. It's not just that Republicans and Democrats have different answers, it's that they're asking different questions.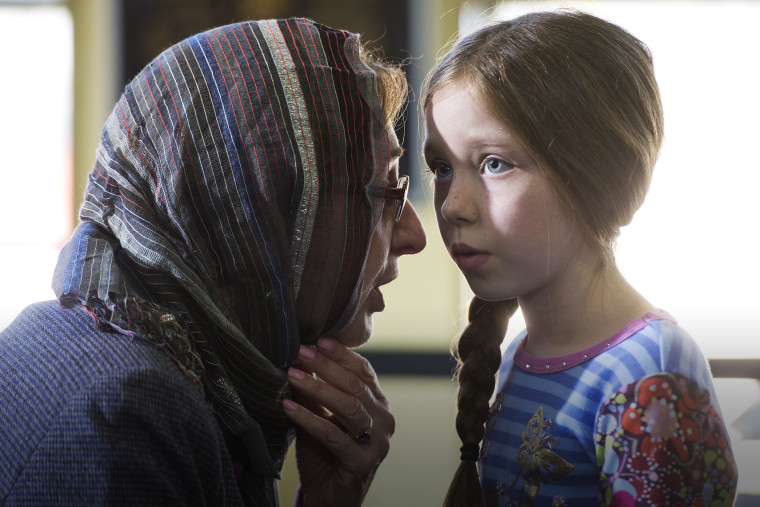 Republican primary voters' picked national security and terrorism as top priority, according to that NBC News poll, followed by the deficit and government spending, then job creation and economic growth, and religious and moral values. Democrats, meanwhile, put terrorism much lower on their list. The most frequently cited top concern was economic growth, followed by health care, then climate change, and then national security and terrorism.
As Sanders began his remarks Wednesday afternoon at Masjid Muhammad, a mosque with an imam who is a 30-year Air Force veteran, he made it clear he was more interested in discussing the persecution of American Muslims than terrorism. Invoking atrocities that occurred in Nazi Germany, Rwanda, and Bosnia, he warned that hateful speech and the demonization of minorities can lead to tragic consequences, noting that his own family members were victims of the Holocaust.
"There are demagogues out there, people like Donald Trump, who once again are attempting to divide us up in xenophobic and racist ways," Sanders said. "Do we come together? Or do we allow demagogues to divide us up? That is the issue of the moment."
His top rival for the Democratic nomination, Hillary Clinton, struck a similar chord just hours before the GOP debate Tuesday, when she met with Muslim leaders in Minneapolis and said the most important way to combat domestic radicalization was to incorporate the Muslim community. Last week, the third candidate in the party's field, Martin O'Malley, became the first 2016 candidate to visit a mosque.
That act alone garnered headlines. 
For some at the mosque Wednesday, the past two months have been difficult. "It's the worst I've seen it since 9/11," said Rep. Keith Ellison, the first Muslim elected to Congress and a lawmaker who has endorsed Sanders.
RELATED: In debate, Trump's controversial Muslim idea is virtually forgotten
For Republicans on the debate stage in Las Vegas Tuesday night, "the issue of the moment," as Sanders put it, also involved Muslims, but only as it relates terrorism and the threat of radical Islam. And while none of the candidates quite endorsed Trump's proposal to ban all non-American Muslims from the country, as debate moderator Wolf Blitzer of CNN said during the discussion, "The conversation tonight is about banning Muslims and surveillance of mosques."
But the candidates in either party, locked in heated primaries, are just reflecting the views of their partisan bases. "Public opinion on ISIS and what you should do about it is so polarized by political party that you're almost talking to two completely different countries," said Heather Hurlburt, a former Clinton administration foreign policy official now at the New America Foundation.
And Republican voters just seem to be more afraid of terrorism than their partisan counterparts. According to new Gallup data, 23% of Republicans are very worried about ISIS-inspired terrorism and 41% are somewhat worried. Compare that just 11% of Democrats who said they were very worried, and 24% said they were somewhat worried. Republicans were also more likely to express concern about mass shootings than Democrats, even though liberal gun control advocates are more likely to discuss those types of tragedies.
While Clinton and other Democrats have focused on gun control as a piece of their anti-terror proposes — "Terrorists use guns to kill Americans. I think we should make it harder for them from to do that," Clinton said Tuesday — the topic did not come up once during the GOP debate. None of the eight candidates on stage mentioned firearms, nor gun policy.
Also entirely missing from the debate were issues of top concern to Democratic voters such as climate change, health care, racial justice, and college tuition costs. But Democrats are just as unlikely to discuss problems Republicans care about, like tax reform and deficit reduction, at their debate Saturday.
But it's one thing for policy proposals to be victims of polarization, it's another when people are.