Bernie Sanders is remaining defiant in the face of calls from Democratic leaders to condemn unrest fomented by his supporters follow the Nevada Democratic State convention Saturday night — doing little to cool the passions of some of his supporters and prompting concerns of a fractured national convention this summer. 
Sanders supporters threw chairs, started fights, and booed officials, including a top Sanders surrogate, at the convention in Las Vegas, which was the final step in allocating Nevada's delegates to the Democratic National Convention. The supporters felt the party had conspired against them to tip the scales in favor of Democratic front-runner Hillary Clinton.
After the convention, the party's headquarters were vandalized with pro-Sanders graffiti and the chairwoman of the party received threatening text messages, phone calls, and social media posts.
All this over very low stakes — just two pledged delegates out of more than 4,000 total Democratic delegates.
RELATED: The fallout from Nevada's Democratic unrest
"I've got, threats to my family, to my grandson, to my husband," chairwoman Roberta Lang told MSNBC's Andrea Mitchell Tuesday. "They have attacked my workplace and they have said very awful things."
The chaos in Nevada has Democrats across the country worried about the national convention in July, which Sanders' campaign has threatened to disrupt if they are not treated in a way they consider to be fair. State Democratic Party chairs are meeting in Philadelphia, the site of the national convention, later this week for their quarterly meeting and the issue is sure to come up.
But in a statement issues Tuesday afternoon, Sanders was hardly apologetic.
While the senator condemned "any and all forms of violence, including the personal harassment of individuals," that comment was placed in the third paragraph of his statement, while the rest of it seemed to blame the Nevada Democratic Party for the unrest.
Sanders called "ridiculous" the notion that his campaign has a "penchant for violence," and noted that his field office in Las Vegas had been shot at. He also noted that he had held numerous rallies in the state, including in high crime areas, and that no crimes had ever been reported.
The statement went on to detail alleged malpractice by the Nevada Democratic party, and it issued an ultimatum to the Democratic Party.
"The Democratic Party has a choice," Sanders' statement read. "It can open its doors and welcome into the party people who are prepared to fight for real economic and social change — people who are willing to take on Wall Street, corporate greed and a fossil fuel industry which is destroying this planet. Or the party can choose to maintain its status quo structure, remain dependent on big-money campaign contributions and be a party with limited participation and limited energy."
The Nevada Democratic party said that wasn't good enough.
"We respect and admire Senator Sanders for his values and leadership in the United States Senate, but the Sanders campaign is continuing to be dishonest about what happened Saturday and is failing to adequately denounce the threats of violence of his supporters," the party said in a statement.
Sanders campaign manager Jeff Weaver seems unconcerned by what the party has to say. "They want to use this as a pretext for mistreating us at the National Convention," Weaver told MSNBC's Chris Jansing. 
Nina Turner, a former Ohio State senator who is one of Sanders' most prominent surrogates, said it was a "gross exaggeration" to paint Sanders supporters as violent. "This is the Clinton campaign trying to paint them as something they're not," she told Jansing. Asked if this could spill over the national convention, Turner replied, "Yes absolutely. It can and it will."
RELATED: Dems fear chaos at Nevada convention portends July mess
Earlier in the day, DNC chairwoman Debbie Wasserman Schultz said Tuesday that the DNC was "deeply concerned" by the "troubling" events, and called on Sanders to publicly condemn the violence. "There is no excuse for what happened in Nevada, and it is incumbent upon all of us in positions of leadership to speak out," she said.
Wasserman Schultz' comment came in response to a formal complaint lodged by the Nevada Democratic Party, which warned that that the unrest could be "harbingers of things to come as Democrats gather in Philadelphia in July for our National Convention."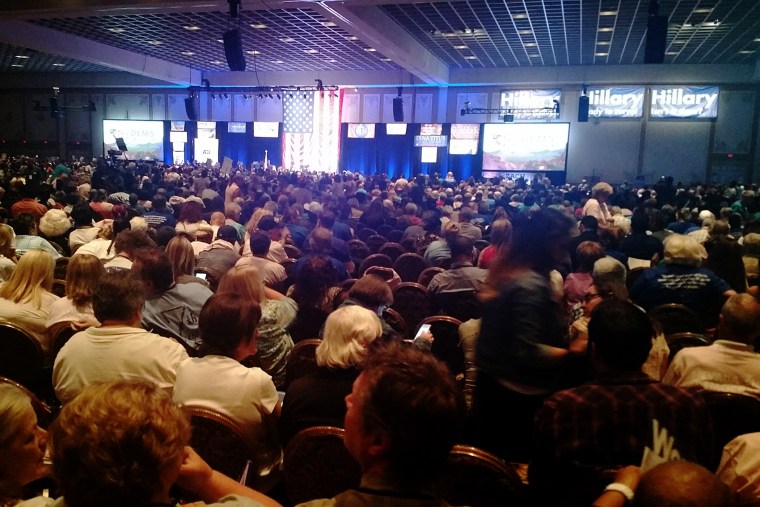 The state party also directly implicated Sanders' campaign itself — not just rouge supporters — in the chaos, saying the campaign has "a penchant for extra-parliamentary behavior — indeed, actual violence."
"The Sanders Campaign spent its time either ignoring or profiting from the chaos it did much to create and nothing to diminish or mitigate," the state Democratic Party's lawyers said in a  letter to DNC. "At no time did any Sanders representative make anything more than token gestures towards peace in the hall, and at the times of most intense crisis offered little more than shrugs and smirks."
The convention was the third phase in the process to allocate Nevada's delegates to the Democratic National Convention, which began with the state's first-in-the-West caucus on February 20. Clinton won that contest by 6 percentage points in a critical blow to Sanders, who had had at that point nearly tied in Iowa and won by a huge margin in New Hampshire.
At the time, NBC News projected Clinton would emerge with 20 delegates and Sanders would take 15. And indeed, that's how many delegates were awarded at the convention Saturday. The issue was that Sanders supporters had managed to grab two extra delegates at the second phase in the process, the county-level conventions in April, and did not want to give them up up. In the scheme of Sanders' 282 deficit among pledged delegates, the two delegates would have no meaningful impact.
Senate Minority Leader Harry Reid, who represents Nevada, told reporters Tuesday afternoon that he had had a good conversation with Sanders and that he expected the senator to be vocal in condemning the acts of violence conducted by his supporters.
"He said that he condemns that and I'm confident he does. I am confident he will be saying something about it soon," Reid said. "This is a test of leadership as we all know and I hopeful and very confident Senator Sanders will do the right thing."
But shortly after Reid's remarks, Sanders put out his statement, which may have left Reid disappointed.
Sanders had been silent on the issue until then, though he had issued a plea for supporters ahead of the convention to behave civilly. Campaigning in Puerto Rico Tuesday, Sanders walked away from an NBC News reporter who asked him about the convention.
Lucy Flores, a congressional candidate who supporters Sanders and has been endorsed by him, said the action of Sanders supporters was inappropriate.
"I understand and share the frustration that many progressives in Nevada feel, but there were actions over the weekend and at the Democratic convention that very clearly crossed the line. Progressives need to speak out against those: making threats against someone's life, defacing private property, and hurling vulgar language at our female leaders," Flores said.
For her part, Clinton's campaign has said virtually nothing about the convention chaos. With the primary fight essentially over, she's hoping unify the party and downplay infighting like this.