PLATTSBURGH, New York -- On Father's Day 1984, Bernie Sanders and Carlton Rennell met down at the docks in Burlington, Vermont, just after dawn to settle a wager. Rennell was the mayor of Plattsburgh, New York, and Sanders was the mayor of Burlington, each the largest city on their side Lake Champlain.
It was the first in what would become an annual Mayor's Cup fishing competition, to see who could catch the largest fish, organized to symbolize the connection between the two cities, who watch the same local TV stations and are a quick ferry ride apart.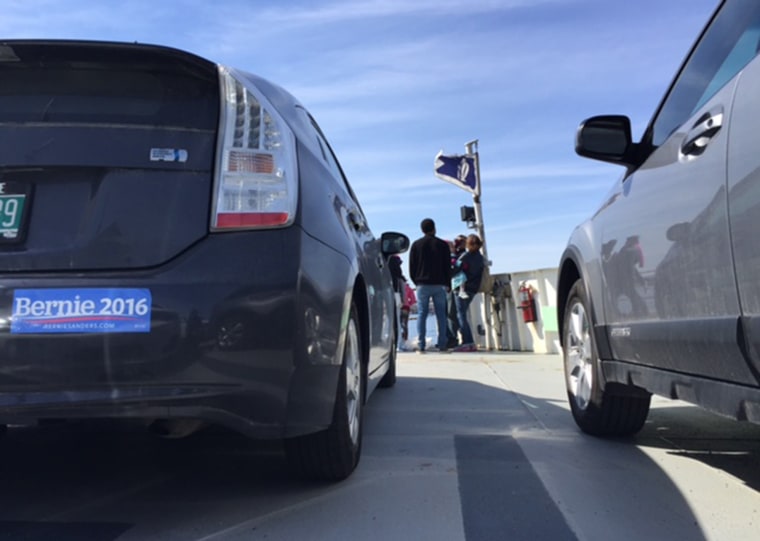 The competition helps explain why Sanders has been a familiar face in Plattsburgh and surrounding parts of northern New York for more than 30 years. That connection could be a boon in New York's primary on Tuesday, when the Vermont senator is counting on big wins upstate to offset front-runner Hillary Clinton's expected strength in New York City.
Too bad for Sanders there aren't more people here.
Indeed, Plattsburgh's population is just 20,000, and the three New York counties in Burlington's media market have about only 35,721 registered Democrats -- a fraction of 5.8 million registered statewide.
Still, much of New York's North Country falls in the Burlington-Plattsburgh media market, which straddles Lake Champlain and the state line. Residents of this vast and sparsely populated region just below Canada have been watching Sanders on their TVs for decades. For all the talk of Sanders' neighborly advantage in New Hampshire, Burlington's TV stations actually reach a far wider swath of New York than of New Hampshire.
The captain of the boat that day was Bill Lowell, who snapped a photo of Sanders wearing a red checkered plaid shirt, red trucker hat, and thick-framed glasses, working the reel on a fishing rod with a wide smile on his face. Rennell looks on, perhaps worried he was about to see his chance at a win slip away.
Sanders, a novice fisherman at the time, caught a large lake trout, Lowell recalled this week. "He really seemed to be enjoying himself," Lowell said. Rennell had less luck.
"It really doesn't matter, between us, who catches more fish," Rennell, who passed away in 2014, told the Plattsburgh Press-Republican newspaper ahead of the second annual fish-off the next year. "What matters is that we represent sister cities ... Plattsburgh and Burlington are as one."
RELATED: Sanders stars in new Spike Lee joint
Clinton is universally known in New York, thanks to her time as first lady and eight years representing the Empire State in the Senate. But this part of the state is likely one of the only places in the world outside Vermont (and the U.S. Capitol) where Sanders was even remotely as familiar before his presidential run.
When Sanders announced his presidential campaign on the shore of Lake Champlain last May, he chose to make New York his backdrop. As he spoke, the senator looked up towards downtown Burlington. But his audience -- and the dozens of cameras present -- faced the Adirondack Mountains across the lake.
That made some New Yorkers feel like they were there. Bill Duffany was one of them.
On Saturday, Duffany was one of several hundred Sanders fans who gathered in Plattsburgh's Trinity Park to listen to live music, paint faces and talk about the man from across the lake.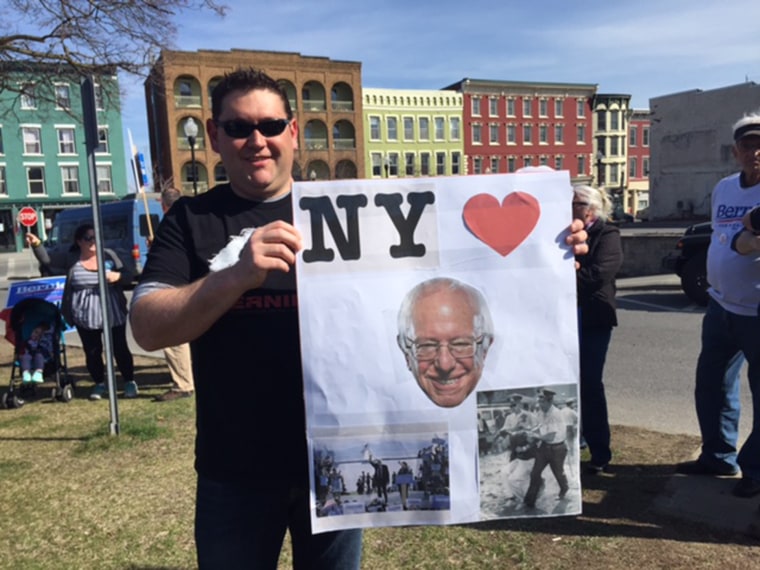 Displaying a homemade sign promoting Sanders, Duffany proudly pointed to the mountains over Sanders' shoulders in a photo of the announcement speech pasted to his board.
"We've known Bernie Sanders our whole lives. He's been an institution in local politics since we were kids," said Duffany, who has lived in Plattsburgh all of his 39 years and teaches high school social studies and economics.
Duffany was a registered independent, but switched to Democrat so he could vote for Sanders by the state's unusually early deadline, back in October. Many others missed the deadline, but Duffany's familiarity with Sanders prompted him to switch in time.
Clair Touby, a member of the Democratic Committee of neighboring Essex County, said he found out about Sanders from the Burlington NBC affiliate, WPZT, not too long after moving to Saranac Lake in 1978. "He has not changed his story since he first ran for mayor," Touby said.
Shelby Kleiman, a bartender sporting a "North Country for Bernie" sign, moved to Plattsburgh only a year and a half ago and doesn't trust the news, so she doesn't watch the news. But she found out about Sanders anyway before the rest of the world.
"You'd go to a punk rock show and see all these people wearing Bernie shirts and I said, what the hell? They're supposed to be against all that," she said.
Even the lone counter-protester, holding a "Veterans for Trump" sign and a chomping on a large cigar across the street, said he couldn't escape Sanders.
"People have been complaining for years that all we get is Vermont is news, but what are you going to do? It's the larger market over there so the TV stations are just doing what they need to for business," said Walter Latour, a Navy veteran from Plattsburgh.
Sanders' unusual connection to the North Country has produced a bumper crop of eager recruits for pro-Sanders organizations and will likely translate into extra votes.
Marti Martin, a retired teacher from Plattsburgh, helped organize a party to watch a livestream of Sanders kick off his campaign last year and was shocked when 200 people showed up on the hottest day of the year. "It's hard not to hear about Bernie here," she said.
Vermont residents have also come over the lake to help canvas New York homes, such as the 50 who made the 15-minute ferry ride last weekend to go door-to-door.
"I think it's a real asset," said Tad Devine, Sanders' top strategist of the connection. "I just wish it were a more populous media market."
"Nevertheless, we'll take it," Devine added.
RELATED: Could Sanders supporters form a new party?
While parts of upstate New York vote Republican, all three counties are safely Democratic -- and they are representative of many parts of upstate New York, which have become Sanders strongholds.
Adam Guillette of Plattsburgh, who organized the rally Saturday with Upstate NY for Bernie, an unofficial volunteer group, went out and bought 100 Sanders bumper stickers as soon as he announced his bid. Sanders' long presence in the area has been helpful in recruiting and organizing efforts, Guillette said, and will pay off Tuesday.
But Sanders is still up against someone with her own longtime connection to the state. "He's probably still less well known than Hillary Clinton," Guillette acknowledged.