DES MOINES, Iowa  -- Dramatically highlighting his contrasts with Hillary Clinton, Sen. Bernie Sanders used his speech to the Iowa Jefferson-Jackson dinner Saturday night to make his sharpest and most aggressive critiques of the Democratic front-runner thus far.
The dinner is considered the marquee event of the Democratic presidential campaign circuit, attracting more than 6,600 party activists this year in the state that holds the nation's first nominating contest. It has a history of shaking up races and knocking front-runners off their perch, as it did to Clinton in 2007 when then-Sen. Barack Obama wowed crowds here.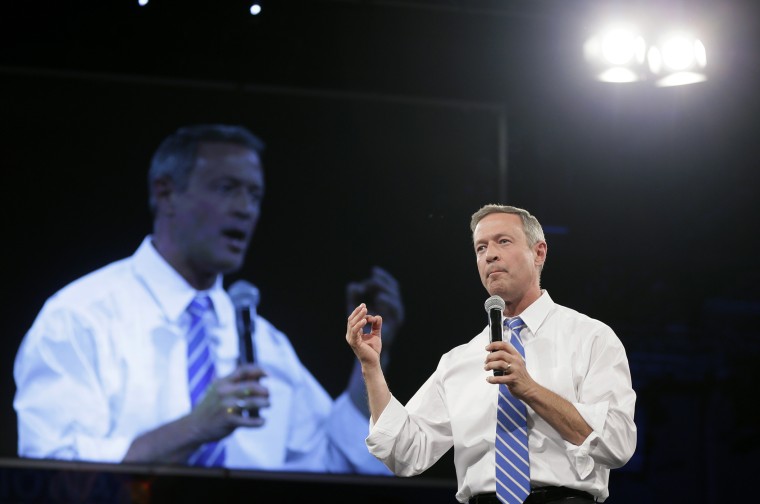 Clinton came into the event riding a wave of momentum built up after two weeks of non-stop victories and seemed relaxed when she took the stage. While she and challenger Martin O'Malley -- who was hoping for a breakout performance -- largely stuck to their stump speeches, Sanders threw out his script. It was an especially notable departure for someone who has given roughly the same speech for 40 years. 
Without mentioning her by name, Sanders fired off a series of back-to-back jabs clearly aimed at the weakest parts of Clinton's resume as he portrayed himself as the true progressive in the race who "will govern based on principle not poll numbers." 
On the Trans-Pacific Partnership trade deal, which Clinton recently opposed, Sanders said he was there first. "I did not support it yesterday. I do not support it today. And I will not support it tomorrow," he said. "It is not now, nor has it ever been, the gold standard of trade agreements."
RELATED: Bernie Sanders calls for a 'political revolution'
Clinton once called the TPP the "gold standard" of trade deals as she helped negotiate it as President Obama's secretary of state. 
On the Keystone XL pipeline, which Clinton seemed to favor as secretary of state but recently opposed, Sanders said he was there first, too. "If you agree with me about the urgent need to address the issue of climate change, then you would know immediately what to do about the Keystone pipeline. Honestly, it wasn't that complicated," he said. "To me, that was a no-brainer and that is why I have opposed the Keystone Pipeline from the beginning."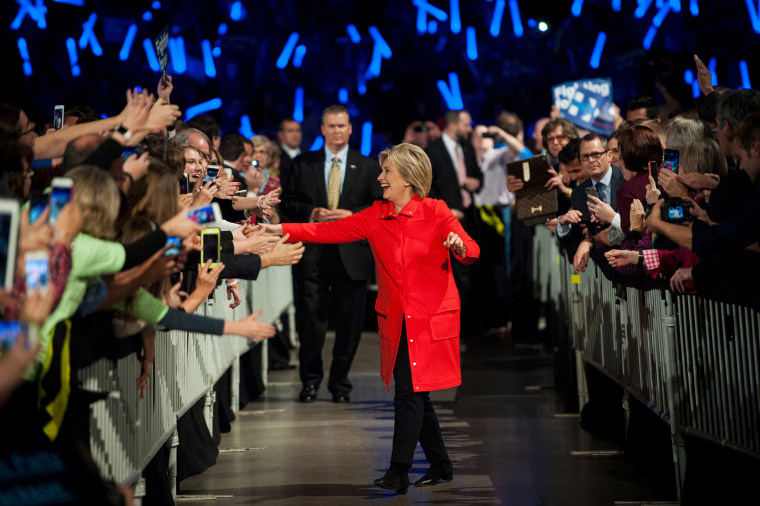 On the Iraq War vote, where Clinton now says her "yes" vote was a mistake, Sanders said he was right about the conflict from the beginning. "Let me tell you that I listened to what Bush had to say, to what Cheney had to say, to what Rumsfeld had to say. I didn't believe them and I voted no," he said.
And on the Defense of Marriage Act, the 1996 law signed by Former President Bill Clinton that banned the federal government from recognizing gay marriages -- which Hillary Clinton now opposes -- Sanders said he was on the right side of history once again.
"Today, some are trying to rewrite history by saying they voted for one anti-gay law to stop something worse. Let us be clear. That's just not true," he said. "There was a small minority opposed to discriminating against our gay brothers and sisters. Not everybody held that position in 1996."
Clinton told MSNBC's Rachel Maddow Friday that her husband supported DOMA as a "defensive action," since something worse would have been passed in its stead.
On every issue, Sanders said he faced a "fork in the road."
"I am proud to tell you when I came to that fork in the road I took the right road even though it was not the popular road at the time," he said.
And one of his biggest applause lines, ostensibly on campaign finance, was also a veiled shot at Clinton. "I am the only Democratic candidate for president who does not have a super PAC and we are going to prove them wrong," he said. Clinton has two super PACs.
Sanders sought to position himself as the rightful heir to Obama, who stunned observers at this very event in 2007 by delivering an inspiring speech that drew clear contrasts with Clinton. "Eight years ago the experts talked about how another Democratic candidate for president, Barack Obama, couldn't win. How he was unelectable. Well Iowa, I think we're going to prove the pundits wrong again. I believe we will make history," he said.
Clinton, meanwhile, drew her own contrast with Sanders on guns, a major weakness for the insurgent, reciting a line she used since last week's Democratic presidential debate in Las Vegas. "I've been told to stop shouting" about guns, she said. "Sometimes when a woman speaks out some thinks it's shouting."
The candidates spoke in the round, surrounded by their supporters, who were sectioned off from each other. Each bloc competed for the loudest cheers, cleverest chants, and biggest shows of strength 
Sanders supporters supplemented their official gear with home-made signs and T-shirts, and chants often arose organically. Clinton's supporters, meanwhile, appeared as a blue army dressed in campaign T-shirts and armed with double-fisted glowing foam wands.
Earlier in the day, the campaigns held pep rallies across the Des Moines River from each other. Sanders' featured an eclectic mix of musicians, including black gospel singers. Clinton's campaign flew in pop star Katy Perry, who delighted 4,000 fans and donned a dress decked out with red and blue "H" logos for the campaign. Later, she sat at a table with Clinton volunteers near the stage.
Clinton had another special guest up her sleeve too – her husband. Bill Clinton made his debut on the campaign trail for his wife's second presidential bid, joking that it was time for a first gentleman. "I want you to support Hillary for me too because I want to break a ceiling. I am tired of the stranglehold that women have had on the job of presidential spouse and I want you to help me deal with that," he said.