Ever since President Obama signed an executive order, on his second day in office, to close the prison at Guantanamo Bay, Republicans have blocked the effort with a steady stream of obstacles, including cutting funding for prisoner transfers to the U.S. and calling for impossible guarantees that released detainees would never pose a threat to America. As the White House's political will to overcome these hurdles waned, Obama's supporters had reason to wonder if he would make good on his promise.
But when Obama exchanged five Taliban prisoners being held at Guantanamo for U.S. soldier Bowe Bergdahl, he demonstrated that despite the best efforts by Republicans to keep scores of men - most of them never charged with any crime - detained indefinitely, he has the power to both move prisoners and close the prison he once called a "stain on America." And he stands by his decision.
At a press conference in Brussels Thursday with British Prime Minister David Cameron, Obama said he would "make absolutely no apologies" for the swap, and that "this basic principle that we don't leave anybody behind and this basic recognition that often means prisoner exchanges with enemies is not unique to my administration, it dates back to the beginning of our republic."
Since 2010, Congress has included provisions in the annual National Defense Authorization Act that have made it more difficult for Obama to complete detainee transfers. Those restrictions have been relaxed over the years, but they have still left 149 men under heavy guard and subject to brutal treatment, thousands of miles from their homes.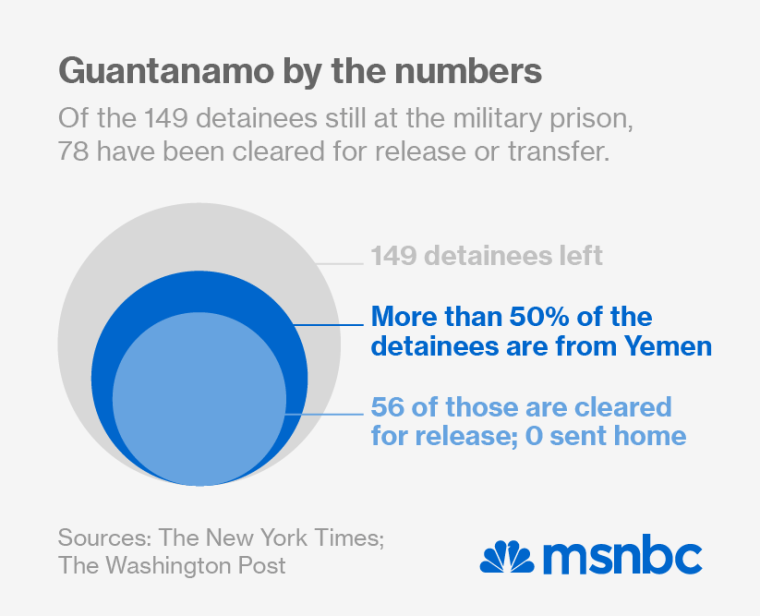 Even some Republicans who decried the prisoner swap that ended Bergdahl's five years in captivity have supported closing Guantanamo. Last July, Sen. John McCain, R-Ariz., one of the most vocal critics of the deal, called for the prison to close after a visit there with Sen. Dianne Feinstein, D-Calif. "We continue to believe that it is in our national interest to end detention at Guantanamo, with a safe and orderly transition of the detainees to other locations. We intend to work, with a plan by Congress and the Administration together, to take the steps necessary to make that happen," they said in a statement.
But that was last year. This year, with periodic review boards clearing detainees for transfer, more than half of the men who sit in Guantanamo still wait, and innocent men are again called hardened criminals. Once the review boards finish going through all the cases, more than 100 could be eligible for release or transfer. Congressional leaders have complained that they were not notified in advance of the prisoner trade, as the law says, but since taking office, Obama has kept Congress informed of efforts to relocate prisoners and eventually close the prison.
"These circumstances were unique in terms of why the notice was not complied with," Pardiss Kebriaei, senior attorney at Center for Constitutional Rights who represents several Guantanamo detainees, told msnbc. Fears that the President will cut Congress out of the loop are unfounded based on the administration's earlier prisoner transfers. "Every other transfer by this administration has complied with the security and notice requirements."
"He's demonstrated that he has the ability to move prisoners from Guantanamo when he's willing to invest the political capital to make it happen," former Guantanamo chief prosecutor Col. Morris Davis said in an interview. If Obama determined he had the power to make that deal, there's no reason he can't act faster on other transfers. "Now that he's done it [and gone around Congress], he shoots in the foot the argument that congress has made it impossible" to release detainees and close the prison. 
Whether he works within the existing legal framework or invites the wrath of congressional Republicans by sending detainees home unilaterally, there are ways to deal with the different groups that make up the prison's population.
Most of the men cleared for release or transfer are from Yemen, and the administration banned transfers for years over political concerns. While the U.S. wants some of these men to be released under restrictions similar to those placed on the Taliban fighters released to Qatar, others could be settled in third countries.
Last year, it was reported that the administration was in talks with Yemeni officials to build a prison to house Yemeni detainees, a solution that would help empty Guantanamo but do little to address human rights concerns about illegal detention. While the idea has not died, without funding, it cannot move forward. More Yemeni men are likely to join the ranks of those waiting to go home as they are cleared by the periodic review board.
There have been many countries that have volunteered to take detainees over the years, and Clifford Sloan, the special envoy in charge of closing Guantanamo, continues to work with his staff to find more that are willing to play host. Six men have been waiting for the outcome of negotiations between the U.S. and Uruguay over possible resettlement. It is not yet clear how the deal for Bergdahl might affect those talks. On Thursday, Sen. Lindsey Graham, R-South Carolina, threatened Obama with impeachment if he released detainees in a way that upset Congress. "It's going to be impossible for them to flow prisoners out of Gitmo now without a huge backlash," Graham said.
Not all Guantanamo detainees are waiting to go home. There are 33 who could face charges, and seven are currently facing military commissions. Five, including Khalid Sheikh Mohammed, are on trial for the September 11 attacks, Abd al-Rahim al-Nashiri is facing charges related to the 2000 bombing of the USS Cole, and another had charges against him referred to a military commission on Monday.
The question of what to do with prisoners waiting for possible charges and those who are not cleared to leave but who cannot be charged – which could be anywhere from 38 to none – is much murkier. At one time, President Obama had proposed converting a prison in Illinois into a facility that could house them, and the government went so far as to buy a facility in 2012, but Congress passed laws making it impossible to bring detainees to the U.S. for trial in civilian courts. Without the ability to do that, there will almost certainly be some detainees trapped in legal limbo.
These plans do not solve all the problems that Guantanamo represents. Any plan that would see men held without charges in a U.S. prison would raise constitutional and international legal questions. As Kebriaei put it, "It is not a tenable position to hold people indefinitely if you're not going to charge them on the basis of credible evidence." And human rights questions still remain about whether military commissions can deliver a fair trial for the men facing them. What is undeniable is that there are dozens of men who can leave captivity if the President decides to make it happen.
"This development shows that the Secretary of Defense and the administration have the authority they need in the law [to release detainees safely], and that there are countries that can be found to accept detainees," Kebriaei said. "Once again, the sky does not fall when people leave Guantanamo. It can close."