With one month to go until Election Day, contenders in this year's tightest Senate contests are kicking it into high gear—ramping up travel schedules, making last minute appeals for cash and churning out attack ads.
While the GOP is expected to remain comfortably in control of the House of Representatives and could even pick up a few seats, the battle for the Democratic-held Senate is a  different story. As of now, the odds are tilting toward the Republicans, with the party needing to win six seats to take control.
In recent weeks, Republicans have been gaining ground against Democratic incumbents running in red states like Louisiana, Arkansas, and Alaska. Democrats, meanwhile, appear to be holding their own in North Carolina and have had a fundraising advantage against the GOP. 
Democrats in the most heated races are making an explicit appeal to women voters, skewering Republicans who've pushed harsh anti-abortion measures or voted against legislation like the Violence Against Women Act. It's a message aimed at boosting the turnout of younger, single women who tend to sit out midterm elections
Meanwhile, Republicans in key races are trying to tie vulnerable Democratis to President Obama, who remains unpopular in many of states. They are seizing on a range of issues to sink their Democratic opponents, including Obamacare (which ironically, is working better than many expected) the rise of the terrorist group known as ISIS, and Obama's past advocacy for gun control measures and cap and trade legislation aimed at slowing global warming.
The confluence of issues has created a perilous environment for Democrats. 
Obama has noticeably been absent in the red states where Democrats are fighting for their political lives. His main point of involvement has been raising money the Democratic Senate Campaign Committee. 
Super PACs and other so-called "dark money" groups are continuing to play an outsize role in campaigns, as they have since the 2010 Citizens United Supreme Court decision. According to an analysis by the Wall Street Journal, Democratic-leaning groups since July 3 have spent $60 million to the GOP's $38 million. The Democratic groups also have much more cash on hand-- $25.4 million compared to the GOP super PACs' $7.7 million. But another analysis found Republicans have been catching up recently. 
A series of third party candidates could be spoilers in some states, as could a big swing from undecided voters. A GOP takeover, while favored, is far from certain. Here's a look at the state of play in 11 key Senate contests: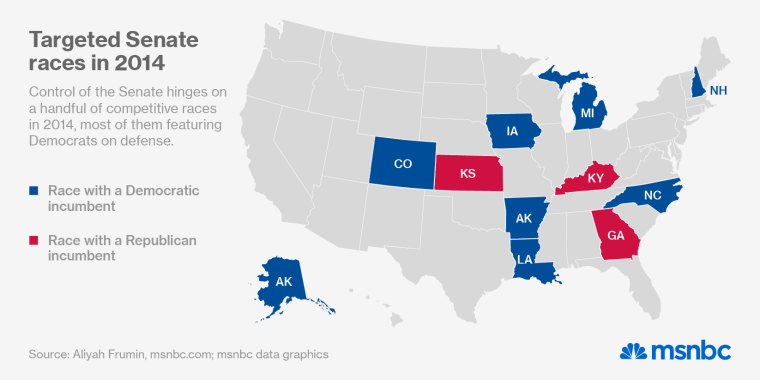 Alaska: Incumbent Democratic Sen. Mark Begich is in trouble, with a recent wave of polls showing Republican candidate Dan Sullivan pulling into a lead. 
Begich has been trying to distance himself from President Obama in this red state, especially on issues like gun control and Obama's handling of the terrorist group known as ISIS. Committing a bad blunder, Begich last month was forced to pulled a controversial television ad accusing Sullivan, a former state attorney general, as being soft on crime. 
Democrats have been hitting Sullivan over residency claims and his stance on women's issues—including his support for overturning Roe vs. Wade and the Supreme Court's Hobby Lobby ruling, which allowed some companies to opt out of providing free contraception to their employees on religious grounds. 
Arkansas:
Incumbent Democratic Sen. Mark Pryor may be this year's most vulnerable incumbent. Recent polling shows his opponent, Republican Rep. Tom Cotton, a decorated Army vet and Harvard grad, up by two to five points.
Pryor has been trying to woo women voters, going after Cotton for voting against both equal pay legislation and reauthorizing the Violence Against Women Act.  Cotton is trying to tie Pryor to the president, using the slogan on the campaign trail:  "a vote for Mark Pryor is a vote for Barack Obama."
Cotton has always been popular in the state that Mitt Romney easily won in 2012 by 24 points.
Colorado:
One-term incumbent Democratic Sen. Mark Udall is in a tough race against GOP Rep. Cory Gardner after narrowly leading Gardner for months. Two new, non-partisan polls show Udall trailing -- a Qunnipiac University poll puts Gardner up by 8 points while a USA Today/Suffolk University survey shows a slimmer Gardner lead.
The latest surveys are the first time Udall has been behind since July.
Udall is stressing his support for abortion rights and contraception in order to woo young single women who often don't vote in midterm elections. He's gone after Gardner for his support for "personhood" legislation, which could restrict access to certain types of birth control. Republicans in term have repeatedly attacked Udall for voting for Obamacare.
Georgia: 
Republican David Perdue and Democrat Michelle Nunn—daughter of former  Sen. Sam Nunn—are in a tight race for retiring GOP Sen. Saxby Chambliss' seat.
Nunn polled well at the start of the election cycle but has since fallen behind and is narrowly trailed Perdue. Like Louisiana, if no candidate gets 50% of the vote, there would be a Jan. 6 runoff election. Libertarian Party candidate Amanda Swafford has also been picking up about 5% support and could force a runoff if she picks off votes from Perdue.
Nunn has had major star power on the campaign trail, with both former President Bill Clinton and First Lady Michelle Obama stumping for her.
Iowa:
Democrats are in real danger of losing a seat long held by Sen. Tom Harkin, who is retiring. The race has been close throughout the election cycle, but a recent Des Moines Register poll showed Republican Joni Ernst pulling ahead of Democratic Rep. Bruce Braley by six points. Twelve percent of likely voters remain undecided, the poll found.
Among other things, Republicans have been taking advantage of a sound bite in which Braley – once considered a shoo-in to win the raced –called the state's senior senator, Republican Chuck Grassley a "farmer" who lacks credentials to become chairman of the Senate Judiciary Committee. Democrats are trying to paint Ernst, a state senator and military veteran popular with tea party supporters, as being too conservative for the state, especially on issues like the minimum wage, reproductive freedom and climate change.
Kansas: 
This Senate race has thrown a curve ball into both parties' plans. Democratic candidate Chad Taylor dropped out of the competition last month, leaving  incumbent Republican Sen. Pat Roberts trying to secure a fourth term against independent candidate Greg Orman.
Surveys show Orman holding a slight lead against Roberts—who narrowly  beat out Tea Party challenger Milton Wolf in the state's GOP primary. Orman, however, has said he isn't sure which party he's going to caucus with.
Kentucky: 
In one of the most watched races this year, Republican Sen. Mitch McConnell is fending off a challenge from Democrat Alison Lundergan Grimes.
McConnell, the Senate minority leader, has picked up steam recently with new polls showing him running ahead of Grimes. The latest  WKYT/Herald-Leader Bluegrass poll shows McConnell with a four-point lead.  Both McConnell and Lundergan Grimes have had major political powerhouses campaign for them, including Romney for McConnell and  Clinton for Grimes.
This race has been particularly negative with attack ads flying left and right. Grimes recently released an ad criticizing McConnell for missing hundreds of Senate Committee meetings and has painted him as a D.C. insider and someone who is perpetuating the so-called "War on Women." McConnell has gone after Grimes, trying to argue she's for Obama's policies to help the coal industry.
Louisiana:
It's not looking great for incumbent Democratic Sen. Mary Landrieu, who is being challenges for a fourth term by Republican Rep. Bill Cassidy and Tea Party candidate Rob Maness. While polls have consistently showed Landrieu with a lead, she's not near the 50% threshold required by the state to avoid a runoff election between the top two candidates.
A new CNN/ORC poll shows the Democrat with 43% of the vote compared to Cassidy's 40% and Maness' 9%. In a hypothetical run-off race, however, Cassidy would beat Landrieu 50% to 47%. The likely Dec. 6 runoff is expected to be brutal, especially if the outcome will determine which party controls the Senate.
Republicans have aired ads skewering Landrieu's support for Obamacare. Landrieu, meanwhile, is trying to distance herself from Obama's energy and healthcare policies.
Michigan:
Democratic Rep. Gary Peters and former Republican secretary of state Terri Lynn Land are battling it out for retiring Democratic Sen. Carl Levin's seat.
Recent polls have Peters regaining a lead on his challenger, with the latest EPIC-MRA survey showing Peters up by 9 points. Democrats are trying to paint Land, a former secretary of state, as someone with little national experience but who was against the auto industry bailout. But she did get help from former GOP presidential nominee Mitt Romney, who stumped alongside her in the Wolverine State this week.
New Hampshire:
The Senate race in New Hampshire is getting heated, with a New England College poll released Thursday  showing Democratic Sen. Jeanne Shaheen in a statistical dead heat with Republican challenger Scott Brown. But polling in this race has been erratic. Just two weeks ago, the same pollster showed Shaheen winning by 11 points.
Brown, a former Massachusetts senator defeated in 2012 by Elizabeth Warren, has been trying to tie Shaheen to Obama's positions on healthcare, immigration and foreign policy as the president remains unpopular in the state. Shaheen, in turn, has accused Brown of being a carpetbagger and has called him a protector of big oil companies.
North Carolina: 
Incumbent Democratic Sen. Kay Hagan is trying to hold on in this conservative-leaning state.
Recent polling suggests Hagan holding a small but consistent lead against her Republican rival, House Speaker Tom Tillis. A new CNN/ORC survey shows Hagan ahead by three points. She has repeatedly criticized Tillis on cuts to education spending, his support for a constitutional personhood amendment and for pushing a photo voter ID law in his state. In recent weeks, Tillis has launched attack ads on Hagan, accusing her of being mum on ISIS and missing meetings of the Senate Armed Services Committee, of which she is a member.
Libertarian candidate Sean Haugh (a pizza delivery man) could shake up the race. He has been consistently taking 5 or 6 points, and strategists believe he could siphon votes from Tillis and essentially help hand Hagan a win.
Editor's note: msnbc reporter Benjy Sarlin contributed to this report.