The gun smoke of the last American-Indian war cleared more than a century ago. But descendants of the San Carlos Apache have been waging a new federal battle for more than five months, defending their land — and, in recent days, allowing themselves to hope that this time they might even keep it. 
The assault began late last year, when Sens. John McCain and Jeff Flake of Arizona slipped a fine-print rider into a thousand-page bill to fund the Pentagon. The National Defense Authorization Act of 2015 gave essential money to the U.S. military. Thanks to the rider, however, the must-pass legislation also offered a surprise giveaway to the world's largest mining company: a sacred stretch of Apache land.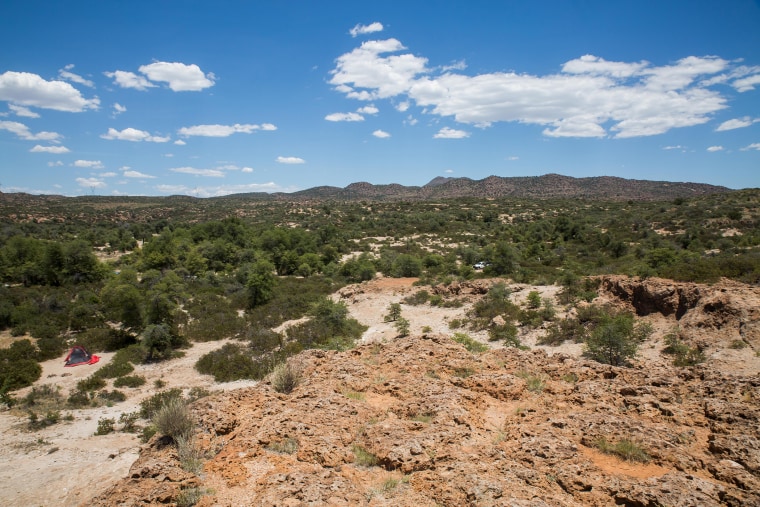 The land — known as Oak Flat — lies about 70 miles east of Phoenix. It's been protected under federal law since 1955, when President Dwight D. Eisenhower closed the area to mining. That ban was renewed by Richard Nixon's Interior Department in 1971. But Oak Flat sits on a massive copper reserve, which has attracted suitors with deep pockets and lots of dynamite. 
The clash comes down to commerce versus religion: Oak Flat is the Mount Sinai of the San Carlos Apache, a place where the equivalent of the Holy Spirit came to earth. It functions like an outdoor church, mosque or synagogue: a setting for prayer and coming of age ceremonies, especially for girls. The Society of American Archaeology says the Apache have been there "since well before recorded history." 
But soon Oak Flat will belong to Resolution Copper, a subsidiary of the Australian-British mining giant Rio Tinto. The simple language of the rider says that 60 days after the government completes an "environmental impact statement," Oak Flat will officially transfer to Rio Tinto, regardless of what the impact statement actually says.
That's an outrage, according to critics. But it's legal under the law. It's a breach of an informal protocol for federal-tribal relations, according to the federal government — and a return to past crimes, according to the tribes. 
RELATED: Take genocide off the $20 bill
Rio Tinto's mining plan calls for a modified version of "block-cave" extraction. Workers will hollow out a 1.8 mile area beneath Oak Flat, leaving a crater so larger the company itself compares it to a meteor strike.  
McCain and Flake have both received campaign contributions from Rio Tinto, and Flake is a former Rio Tinto lobbyist. The company has been lobbying to gain control of Oak Flat for years. And the San Carlos Apache Reservation has been trimmed in the past to make way for mining companies. 
But if the senators and corporate strategists thought the San Carlos Apache were going to give in this time, they were wrong. 
"We're fighting to be free. We're fighting to be who we are," said Naelyn Pike, a 16-year-old member of the tribe. "It's like we're almost an extinct people and that is no longer going to happen from today on. They're going to see that we still exist. They're going to see that we have not yet surrendered." 
She spoke to msnbc back in February, on the first day of a 44-mile march from tribal headquarters to the holy place of Oak Flat, where she had her own "sunrise ceremony" and where she hopes a future daughter will as well. For months Pike and the tribe "occupied" Oak Flat, refusing to leave and igniting a growing movement to repeal the deal. 
Neil Young is a supporter of their cause, taking Pike and some of her friends on tour with him this summer. The White House is also working "to preserve these sacred lands," after a "Stop Apache Land Grab" petition got 106,000 signatures in less than a month. And this week the millionth person signed a different petition calling on Congress to repeal the rider. 
That would be a short-sighted and dangerous move, according to senators McCain and Flake. "To maintain the strength of the most technologically-advanced military in the world, America's armed forces need stable suppliers of copper for their equipment," they said in a joint statement last year. 
In response to questions from msnbc, McCain argued that the mine would save the local economy, providing 3,700 jobs and $60 billion in economic activity in the decades ahead. Besides, he comforted, "Native Americans can continue to access the campground [Oak Flat] for many years until the company needs to mine underneath it." 
Resolution Copper was equally upbeat. "Mining has co-existed with recreation, ranching and cultural preservation for 100 years [around Oak Flat]," a spokesperson told msnbc. "And Resolution Copper is confident that they can continue to co-exist for decades to come." 
Congressman Raul Grijalva of Arizona is the ranking member of the Democratic National Resources Committee, however, and he sees two irreconcilable facts. The first is that Oak Flat is a sacred religious space for the Apache. The second is that Oak Flat will be severely damaged by a meteor-like mining effort. 
Now Grijalva is loudly pushing back at the quiet rider that threatens Oak Flat. "Congress shouldn't be in the business of helping big corporations at others' expense," he said in a statement, "and it certainly shouldn't break faith with Native American communities."