For roughly six months, the wife of NBA superstar Stephen Curry has been the subject of an Internet meme used to slut-shame other women. And now, Ayesha Curry herself is saying: enough is enough.
It all started last December when Curry, who made a name for herself with a popular series of YouTube videos and now hosts a cooking show on the Food Network, tweeted critical remarks of women who are scantily clad, directed at no specific person. "Everyone's into barely wearing clothes these days huh? Not my style," she wrote. "I like to keep the good stuff covered up for the one who matters."
A few minutes later she added: "Just looking at the latest fashion trends. I'll take classy over trendy any day of the week. #saturdaynightinsight."
Her comments were widely shared and drew nearly 100,000 likes, but they also inspired a legion of social media users to use her image to make unflattering comments about other women who don't measure up to her romanticized, squeaky clean image.
For instance, when reality TV star Kim Kardashian posted a nude selfie on Instagram in March, some people seized the opportunity to juxtapose her photo alongside pictures of Curry with her two kids or with her mother. As Damon Young wrote on the blog Very Smart Brothas, "The message, of course, being that one of these women is fit to be a wife and mother, and one is not, and women are either one or the other."
Multiple tweeters have taken to using images of Curry preparing meals on her show "At Home With Ayesha" and adding captions which take potshots at supposedly inferior women: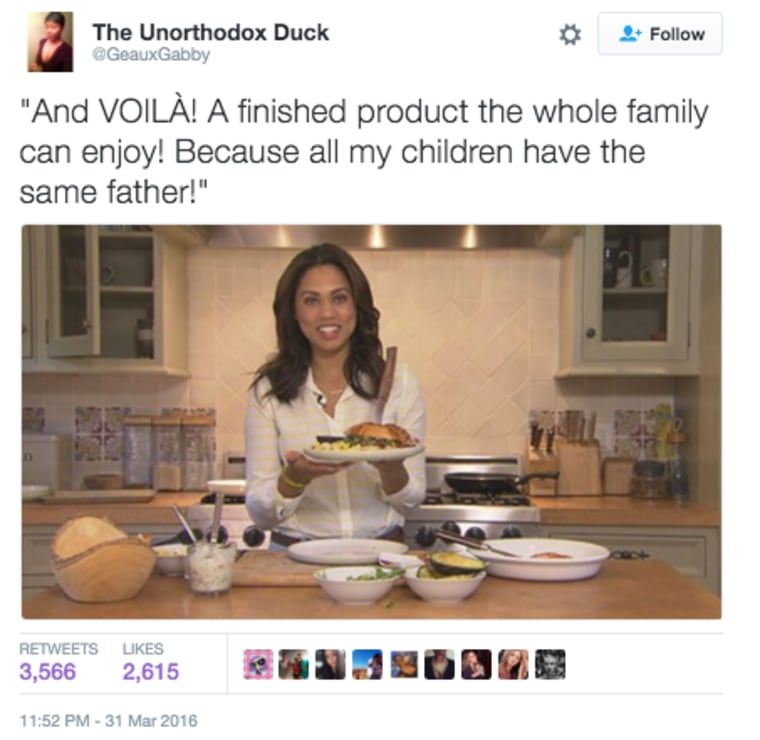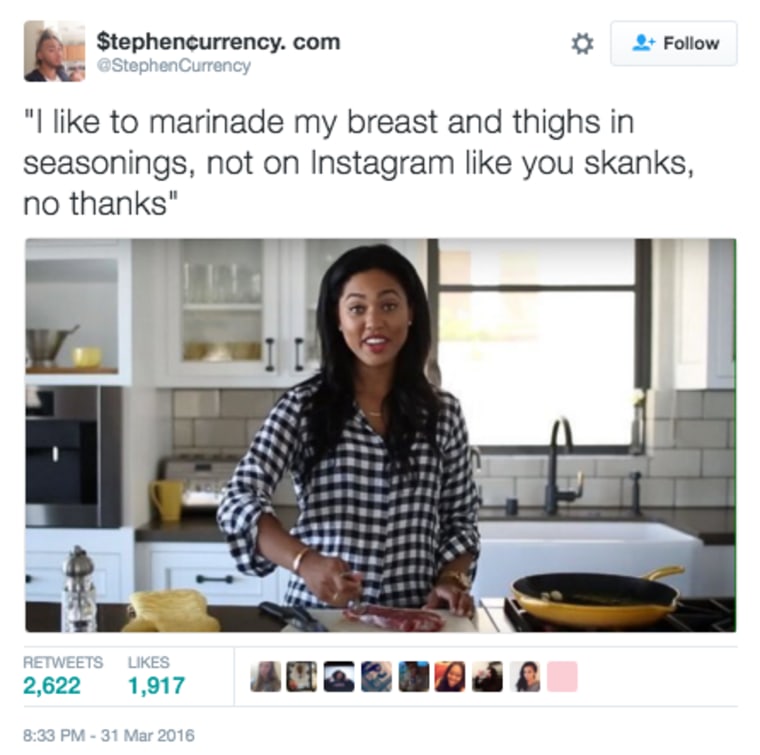 Now, Curry is speaking out. And while she is not taking sides, she is politely requesting that she no longer be used as a weapon in the back and forth over so-called black respectability politics.
"I wonder why people are so hateful sometimes. I just don't get it. I want people to know these memes aren't coming from me and I didn't endorse them," Curry told Essence magazine in an interview published last week. "I have a feeling whoever is making them is mostly men trying to pin women against each other and that's something I don't stand for, especially with us black women. I just wish we could support each other a little bit more. I want everybody to succeed."
But why did Curry become such a cultural lightening rod in the first place? "It's a tale as old as time," Lori Adelman of Feministing.com told MSNBC on Monday. 
"Patriarchy has always relied on a false dichotomy between good girls and vixens, madonnas and whores. The sports world has not been immune to that, and has in fact historically perpetuated many sexist stereotypes in pursuing a culture of hyper-masculinity. Ironically and tragically, respectability has always been a moving target for women, and despite the messages we receive from the media, aiming for that target will not save you," she added. "Anyone can be labeled a slut at any time, regardless of their sexual activity. That's why I'm glad to see Ayesha calling out this unauthorized use of her likeness and using her platform to make the case for women supporting women, in all their multitudes. " 
"Why turn someone so positive into a negative meme made to make another black woman feel bad about themselves and their ability to have a healthy, loving relationships? And why use Ayesha? Because everyone wants the perfect romance with success and children in the mix like she and her husband Steph do," Taj Rani, a content producer for Essence, told MSNBC on Monday. "However, everyone's path is different and the leaders of a lot of the shaming are men on the Internet who probably need to turn the mirror on themselves and reflect on who they are and how they treat people also."
"It's all about Ayesha, but nobody ever takes the time to acknowledge the work and time that Steph puts into their relationship which is what a lot of people are missing," she added. "The bottom line is, shaming will get this community nowhere, especially when it comes to something as personal and as delicate as love."