Of all the transformations Hurricane Katrina left in its wake, the story of one child's journey may be the most striking.
We first met Arianna Evans as 9-year-old Charles in the days after the storm. Standing outside the New Orleans' Superdome, Evans became the face of the tragedy when an NBC News cameraman captured the child eloquently making a plea to the world.
WATCH: City's poor still catching up after Katrina
"We just need some help out here," the child said to the camera. "It is just so pitiful. Pitiful and shame .... We have over 3,000 people out here with no home, no shelter. What are they gonna do? What we gonna do? Take a look at all of this. Now what they gonna do if the hurricane come again?"
The picture and words captivated the country in the days after the levees broke, and Evans became something of a celebrity, getting on stage at the 2005 Emmys and making a guest appearance on the "TODAY" show.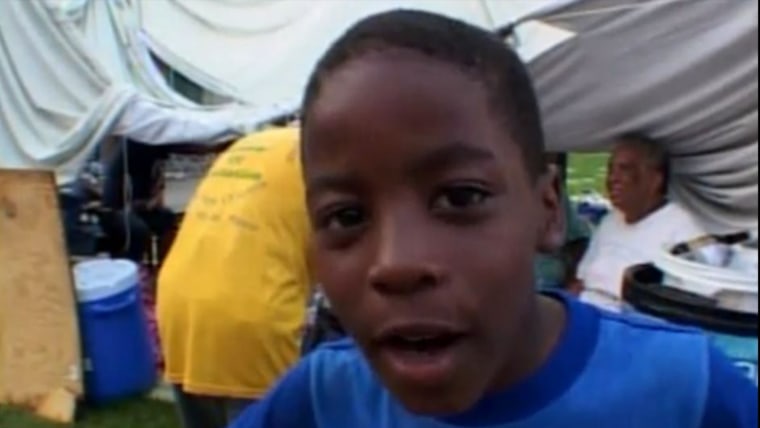 But her story had just begun.
In the years that followed, Evans endured more tragedy even as she came to an understanding of being "trapped in the wrong body." In May, she began taking hormones to become a woman. Now, 19, she has traveled a long road from tragedy to triumphant self-realization.
Evans was raised by her great-grandmother, Ophelia, in their Ninth Ward home after her mother, who battled drug addiction, gave birth at just 15 years old. After the storm obliterated their home, great-grandmother and great-grandchild relocated to Mesquite, Texas, and lived with a relative. Eventually, they returned to New Orleans.
"The house was destroyed, but the foundation of the house was still here. So, my grandmother had a choice to rebuild," Evans said. "We couldn't move back in until two and a half years ago. A contractor ripped her off for like $104,000 …"
Evans became a certified nurses assistant in order to take care of her now-blind 87-year-old great-grandmother.
WATCH: Is New Orleans safe 10 years after Katrina?
When her emotional cry for help was aired, Evans and her family started receiving calls and offers of donations. One woman seeking to help was Wanda Felton, a former investment banker, who has become a major part of Evan's life.
"She's always said that she felt the need to do something bigger than just writing a check. She wanted to actually come down and get to know me personally," she said. "Wanda doesn't have any kids of her own, as time and years have went by, she considered me to be one of her own."
Evans and Felton have visited Martha's Vineyard, Vermont, Miami and Mexico together, which Evans says has helped to broaden her horizons.
"I was pretty much surrounded by New Orleans," she explained. "And it's hard to actually think outside of the box when you're pretty much -- boxed in."
Felton's influence was a game-changer, made even more important after Evans' mother and cousin were killed in drug-related murders in 2007.
"That experience was very detrimental to me, and it was just very dreadful," Evans said. "I lost a lot of my family, and we lost a lot but afterwards we gained so much more," she said.
For her part, Felton says that her goal was to expose Evans to new places and other ways of life in an effort to help break the cycle of poverty.
"I just felt the need to roll up my sleeves and do something more tangible," Felton said. "I hoped it would help provide the motivation to do well in school and to really live a bigger life."
WATCH: Eyewitness recounts Katrina 10 years later
As for Evans' transition to a woman, Felton believes that her sexual identity was lightly veiled even as a young child, recalling that Evans was always "precocious" and somewhat "effeminate." Regardless, Felton remains Evans' biggest supporter
"I think it was always apparent… I was never uncomfortable with it — it was just who he was," she said. "I am supportive of it."
Evans says it was difficult to see what the light at the end of her tunnel was but she felt a burgeoning sense of her true identity. Her life today as a transgender woman is the culmination of that realization, which began as a young boy who always stood out from others.
Read more at NBCNews.com. NBC News' Erin Calabrese contributed to this article.