Every now and then, the American right demonstrates its patriotism by proposing (or exalting) secession from the country it professes to love -- or denying its legitimacy altogether. A parallel oddity is that those regions of the U.S. most dependent on government-owned resources (Alaska, for instance, or much of the American West) are the most militant when it comes to the sanctity of private property. These two madcap streams converged this week in the case of Nevada rancher Cliven Bundy, who for 21 years has refused to pay more than $1 million in fees and penalties incurred by grazing his cattle on federal land.
Even those Bundy supporters sane enough to concede he doesn't have a legal leg to stand on believe the lesson of the Nevada standoff is that the federal government defends its prerogatives with a deplorably heavy hand. But if that were true, the Interior department's Bureau of Land Management (BLM), which recently rounded up 400 of Bundy's cattle, wouldn't have been so quick to give them back after armed protesters arrived on the scene.
In fact, precisely the opposite is true. Federal agencies routinely get taken advantage of -- to an extent no corporation would tolerate -- when land and other assets that belong to all Americans are made available to a select few for private profit.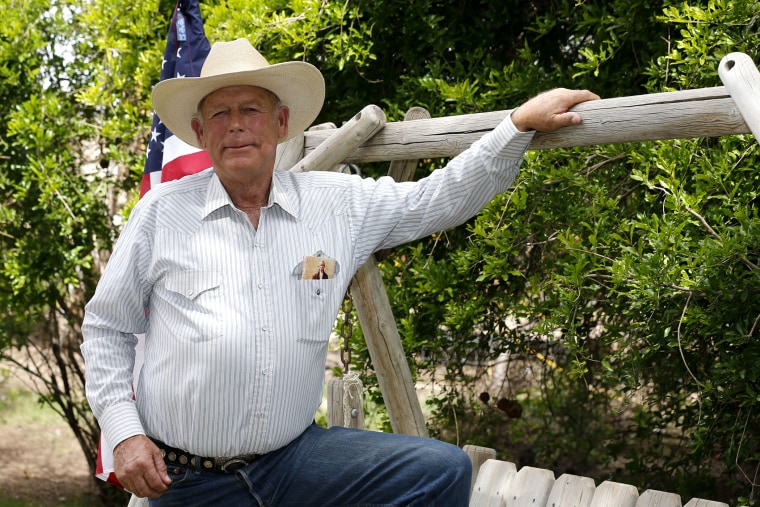 Start with that grazing fee Bundy refuses to pay, which is absurdly low. For most of the past three decades, BLM has charged $1.35 per animal unit month (AUM). That covers only a fraction of BLM's own costs in managing the program; in 2009, for instance, it covered less than one-quarter. The BLM fee is also well below the grazing fees charged by private industry. As of 2004 (the last time the Government Accountability Office looked into this), private businesses charged in the range of $8 to $23 AUM—the equivalent, after inflation, of $10 to $29 today. State governments charge more, too: In 2004, state grazing fees ranged from $1.35 to $80 AUM, or the equivalent of $1.69 to $100 today.
In 1993—the same year Bundy stopped paying grazing fees—the Clinton administration proposed raising BLM's grazing fee to about $4 AUM and indexing future fees in accordance with private land lease rates. Jim Baca, then the director of the BLM, said that western ranchers were "so successful in stopping any progress on this issue" that "these guys have to change." But in the uproar that followed, then-Interior Secretary Bruce Babbitt reversed course, and Baca lost his job.
"The federal government does not trample in jackboots those with whom it does business. It wraps them in cotton batting and, when they express ingratitude, apologizes profusely."'
Of course, when it comes to fleecing the federal government, ranchers have nothing on oil and gas companies. Remarkably, BLM's 12.5% royalty rate for extracting oil and gas on land (as opposed to offshore) hasn't changed since the 1920s. It is well below state rates in Wyoming (16.7%), New Mexico (18.8%) and Texas (25%). According to a 2007 GAO report, the U.S. receives "one of the lowest government takes in the world" from oil and gas extraction.
It's much the same with BLM's coal-leasing program. A 2012 report by the Interior department's inspector general concluded that BLM was accepting lease bids below full market value.
But why beat up on BLM? The government's failure to extract fair value extends well beyond the Interior department. Consider the following:
In 2003, the Bush administration extended Medicare coverage to prescription drugs, but stipulated that the federal government could not use its new market leverage to negotiate lower prices, as any private business would do. Barack Obama pledged in his 2008 presidential campaign to undo this restriction. But the pharmaceutical industry made it an issue when the Obama White House sought its support for health care reform, and the prohibition remained in place. Removing the restriction just for low-income seniors would save the government, by one estimate, $112 billion over a decade. 
The federal government bailed out too-big-to-fail banks in 2008. A round of mergers followed, with the result that the biggest U.S. banks grew even bigger. Today, the market operates on the assumption that if these banks were to fail, the federal government would bail them out again. That assumption has a market value: According to the International Monetary Fund, the effective subsidy to the largest U.S. banks is between $50 billion and $70 billion annually.
When the Internal Revenue Service allows a private business to incorporate, it bestows something of great value: The promise of limited liability to creditors. ("LLC" means "limited liability company.") What does the government get in return? Apart from a trivial incorporation fee (typically less than $500), it gets nothing. A corporation may pay taxes if it makes a profit, and it's often said that corporate tax rates are higher in the U.S. than in other countries. But the effective tax rate on multinationals (after innumerable loopholes work their magic) is, according to the nonprofit Citizens For Tax Justice, about 12% lower than the rate multinationals pay in other countries.
At one time, corporations were expected to meet certain public obligations in exchange for limited liability protection. But when Mike Alberti of Remapping Debate last year surveyed 15 U.S. corporations about what they perceived their obligations to be, the majority declined to answer—and a few disputed that they should be considered "American" at all. Courtney Boone, a spokesperson for U.S. Steel—U.S. Steel!—said it preferred to be thought of as "a company with headquarters in the United States and operations globally."
Cliven Bundy would understand. The federal government does not trample in jackboots those with whom it does business. It wraps them in cotton batting and, when they express ingratitude, apologizes profusely. No wonder these clients act like spoiled children. Nobody ever taught them to behave differently.