More than $70 million has been spent on advertisements in Iowa, according to the final batch of ad-spending numbers from SMG Delta before Monday's Iowa caucuses.
The biggest overall spender in Iowa has been Jeb Bush's Super PAC, which has aired nearly $15 million in ads in the Hawkeye State.
That's followed by the nearly $12 million that Marco Rubio's campaign, Super PAC, and 501c4 outside group have spent.
On the Democratic side, Hillary Clinton's campaign has aired more than $9 million in Iowa, while Bernie Sanders has spent $7.4 million.
As for the two leading Republicans in the Hawkeye State, Donald Trump has doled out $3.3 million on ads, while Ted Cruz (via his campaign and Super PACs) has spent $6 million.
Overall - in Iowa, New Hampshire, South Carolina, and elsewhere - Team Bush has spent more than $62 million on ads, Team Rubio has spent $39 million, Team Sanders has spent $16.4 million, and Team Clinton has spent nearly $15 million.
Total Iowa ad spending so far:
Team Bush: $14.9 million (all from the Right to Rise Super PAC)
Team Rubio: $11.8 million ($4.6 million from campaign, $4.7 million from Super PAC, $2.5million from 501c4
Team Clinton: $9.4 million (all but $50K from campaign)
Team Sanders: $7.4 million (all from campaign)
Team Cruz: $6.0 million ($2.2 million from campaign, rest from outside groups)
Team Trump: $3.3 million (all from campaign)
Team Carson: $3.5 million ($3.2 million from campaign, $300K from Super PAC)
Team Jindal: $3.3 million
Team Huckabee: $2 million (all from Super PAC)
Team Paul: $1.1 million
Team Walker: $1 million
Team Perry: $814,000
Team O'Malley: $219,000 (all from Super PAC)
Team Santorum: $3,000 (all from campaign)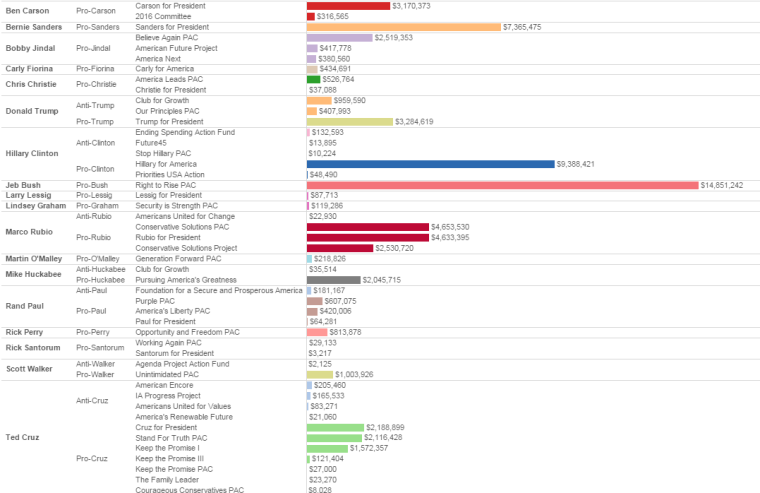 This story originally appeared on NBCNews.com