Meet Ra'ouf. He is a 10-year-old boy from Daara, Syria, and hopes to become a doctor. For the past three years, Ra'ouf has lived in the Za'atari refugee camp in Jordan. A victim of displacement due to the ongoing conflict in Syria, Ra'ouf is one of the millions of children who have seen their classrooms bombed or destroyed. And despite a limited number of pop-up schools available in the refugee camp, Ra'ouf is traumatized and unable to enter a classroom, a place he hasn't been in more than three years. 
We were introduced to Ra'ouf at a screening of "Salam Neighbor," a documentary film in which filmmakers Chris Temple and Zach Ingrasci lived in the Za'atari camp for one month alongside Syrian refugees. We were moved by the stories of all of these refugees, but Ra'ouf's story stuck with us. It highlighted the immense challenges that children face in emergency situations. There are obvious emotional and psychological tolls of living in conflict, but there are also numerous infrastructural limitations that hinder or prevent children's ability to recover from what they have experienced.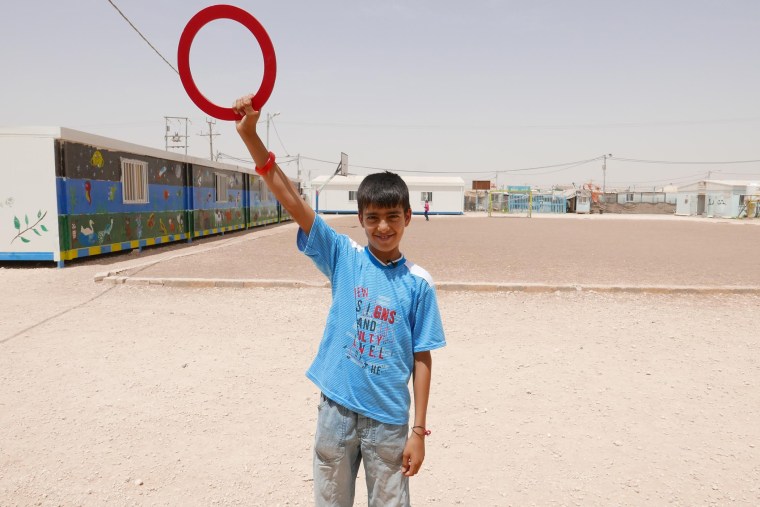 Yet there is a clear way to mitigate the effects of humanitarian crises on children: education services and learning activities. Through the tools these basic services give to children, we can ensure that an entire generation of young Syrians can prepare themselves for life after war.
We know that this is neither cheap nor easy. There are significant funding gaps for global education provision in general. And when you look at the funding for education in emergencies, the situation is even more dire. The United Nations estimates an annual funding gap of $38 billion to provide primary and secondary education services in developing countries. And in looking at Ra'ouf's situation alone, of the $16.6 billion in aid contributed toward the Syrian crisis between 2011 and 2015, only $208 million has gone towards education specifically — that's a little more than 1 percent.
RELATED: Lost Cities- Inside Jordan's massive camps for Syrian refugees
The Syrian crisis has gone on for five years and has kept millions of children out of classrooms. There are limited options for access to continued education and learning in refugee camps, as well as for children living in Syria as internally displaced people. With more than 4 million Syrian children at risk of losing opportunities because of a lack of education, this funding shortfall must be addressed urgently. To make matters worse, the Syrian crisis is only one component. Around the world, nearly 80 million children in Niger, South Sudan, Afghanistan, Yemen and beyond that have been missing out on education — some of them for more than five years. More than half of these children are girls.
This month, the United Nations will host the inaugural World Humanitarian Summit, an initiative to improve humanitarian aid around the world. We are calling on the United States government to attend the summit at a high level and commit an additional $750 million over the next five years to directly support education for children and young people affected by humanitarian emergencies. It is critical that this funding not come at the expense of other global education programs that our country is already funding. 
We risk losing a generation of our brightest minds to the cruel cycle of a protracted crisis. We need donor countries — especially the United States — to lead the charge and ensure that all children have access to education, today and in the future. 
Funding education programs can reap economic rewards globally, while protecting the United States' security interests. Educated populations are more likely to escape poverty and become productive citizens. With increased purchasing power, educated kids will contribute greatly to their own country's GDP and to the global economy. Educated populations also contribute more positively to the stability and security of their home nations. As the Syrian crisis has shown us, the stability of the developing world is vital for the security interests of the United States. Investing in a more secure future for children is the way to protect those interests and combat extremist forces that prey upon disengaged youth.
RELATED: How Libya became the gatekeeper of Africa's migrant crisis
We know firsthand the importance of humanitarian aid. We have worked on humanitarian missions and have seen firsthand the impact of war on the youngest victims, children. We know that addressing humanitarian issues is about more than just lifting people out of dangerous situations. It is about building an environment of stability, prosperity and purpose in which they can rebuild and thrive. As a part of this environment, education is essential to the peace process and to global political stability.
Ra'ouf is just one of the many millions of children globally whose futures are at stake. The loss of opportunities for this entire generation will have consequences on the whole world. It is imperative that the United States and other countries act as leaders and support critical, lifesaving funding for education in humanitarian emergencies.
Congressman Ted Lieu represents California's 33rd District, as a member of the United States Air Force he participated in Operation Pacific Haven, a mission to airlift thousands of Kurds out of Iraq following the Gulf War. 
Judith Rowland is the U.S. Policy and Advocacy Manager at Global Citizen.