The House of Representatives will vote this week on more than a dozen bills to combat opioid addiction. On Wednesday, they passed a bipartisan bill to address pain management prescription practices, and there will still be votes on gathering data on infants affected by opioid abuse, and establishing federal grants to prevent and treat opioid addiction. This push comes in the wake of a broad opioid addiction bill passed earlier this year by a 94 to 1 margin in the Senate.
It's encouraging to see bipartisan legislative efforts to address the opioid epidemic in our country. In doing so, lawmakers should pay attention to a public health strategy with growing support — supervised drug injection sites. 
In February, Svante Myrick, the mayor of Ithaca, New York, made national headlines by announcing plans to create a supervised heroin injection facility to address the heroin crisis crippling his city. As proposed, drug users would be allowed to bring heroin into a health care facility and then inject the drug under clinical supervision.
RELATED: Sen. Casey on 2016, America's opioid crisis
Myrick's proposal drew quick opposition from law enforcement and drug policy groups. Critics argue supervised injection sites will merely exacerbate the problem by promoting drug use. After all, the logic behind supervised injections seems absurd. If we want to fight heroin use, why would we make it easier for people to use heroin?
Other parts of the world have effectively answered that question for us: Supervised injection sites have existed for years in countries like Canada, Australia, Spain, and Switzerland. According to a 2015 report by the European Monitoring Centre for Drugs and Drug Addiction, decades of international research have found "no evidence to suggest that the availability of safer injecting facilities increases drug use or frequency of injections."
Instead, this report details a long list of public health benefits from these facilities. Research suggests safe injection sites lead to reduced numbers of fatal overdoses, decreased risky injection behaviors, decreased public drug use, and increased entry into drug treatment. In one striking example, a 2011 study of a Vancouver injection site found the rate of overdose deaths decreased by 35 percent in the surrounding area following the facility's opening.
Myrick may be onto something. After all, when it comes to combating the health effects of injection drugs, absurd ideas often prove to be the best ones.
In the 1980s, as the HIV epidemic swept the nation, public health experts promoted a similarly absurd idea — needle exchange programs. These programs allow IV drug users to drop off dirty needles and pick up clean ones, in the hopes that distribution of sterile injection equipment will reduce disease transmission.
Critics vehemently opposed these proposals, and Congress subsequently banned federal funding for needle exchange programs — a ban which remained intact for most of the next three decades.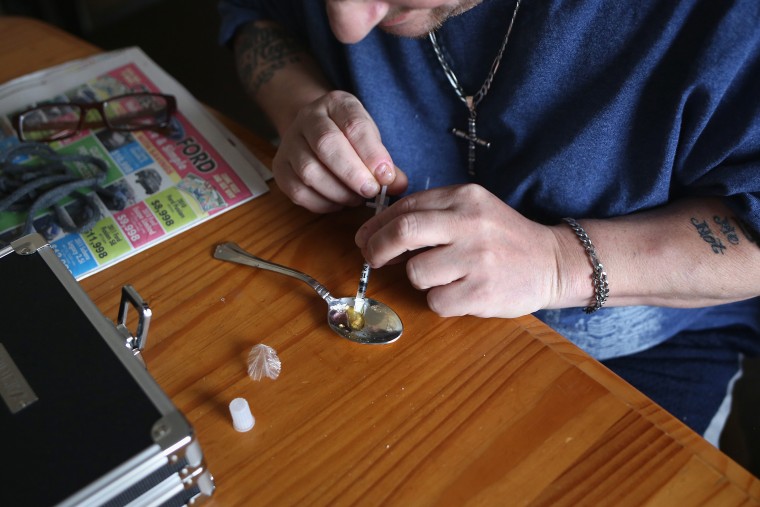 But research has consistently refuted these fears. In 2004, the World Health Organization released a report, concluding that needle and syringe programs "cost effectively reduce the spread of HIV … without evidence of exacerbating injecting drug use at either the individual or societal level." A 2013 review of studies found sterile needle distribution led to "significant public health benefits," considerably decreasing infection rates of hepatitis C and HIV.
The evidence has become so overwhelming that a number of political leaders have since switched sides. In 2015, Governor Mike Pence of Indiana, a longstanding opponent of these programs, signed an emergency order authorizing a needle exchange in his state amidst a large HIV outbreak. Earlier this year, Representative Hal Rogers (R-KY) and Senator Mitch McConnell (R-KY) reversed their positions on needle exchanges and led Congress to effectively repeal the ban on federal funding for these programs.
Then there's the case of naloxone, better known as Narcan.
Health experts have long advocated expanding access to the overdose-reversal drug in the community. But critics have again feared this will encourage drug use. For example, Gov. Paul LePage of Maine, a leading figure against these reforms, has described naloxone as "an excuse to stay addicted."
RELATED: Obama pushes for more treatment for opioid addiction
Once again, these fears appear unfounded. Existing research hasn't shown naloxone access to increase drug use; rather, some studies suggest supplying naloxone to the community might actually reduce drug use. Meanwhile, laypeople have used naloxone to save drug users from over 26,000 overdoses since 1996, according to the Centers for Disease Control.
In recent years, states from coast to coast have passed laws expanding access to naloxone. The White House announced millions in funding for naloxone training and distribution. Several bills under consideration by the House this week would make naloxone more available, and one bill seeks to study Good Samaritan laws that protect those who administer opioid-reversal drugs from legal action.   
So distributing clean needles and overdose-reversal drugs has shown promise — but supervised injection sites deserve consideration as well. Of course, Myrick's proposal will face stiff headwinds, from both public opinion and legal standpoints. But he isn't alone.
The idea of supervised injection sites is spreading nationwide. Policymakers in California, Massachusetts, and Washington, among other places, are now considering similar proposals. Last year, the editorial board of The Boston Globe came out in favor of safe injection sites.
Thousands of Americans are dying as the opioid crisis rages across the country. Why are we still resisting evidence-based approaches to save them?
Nathaniel P. Morris is a graduating student at Harvard Medical School and will begin his residency training in psychiatry next month. His writing has appeared in The New York Times, The Washington Post, and The Boston Globe, among other places.