As our congressional leaders flew back to Washington, D.C., earlier this month, the smoke from 44,000 wildfires followed them. Nearly nine million acres have already burned so far in 2015, which means this could be the worst fire year in many decades. The third most destructive fire in state history, the Valley Fire, has just been contained, after destroying 1,200 homes and claiming four lives since it began north of San Francisco in mid-September. The Valley Fire's severity prompted President Obama to declare the fire a national disaster last week.
Here in Sacramento, the capital of the world's eighth largest economy, the sun literally rises and sets on fires to our east and west. The smoke in the air may make for colorful California sunsets, but enthusiasm is dampened knowing those fires carry the cost of lives endangered, property lost, and already precious drinking water put at risk.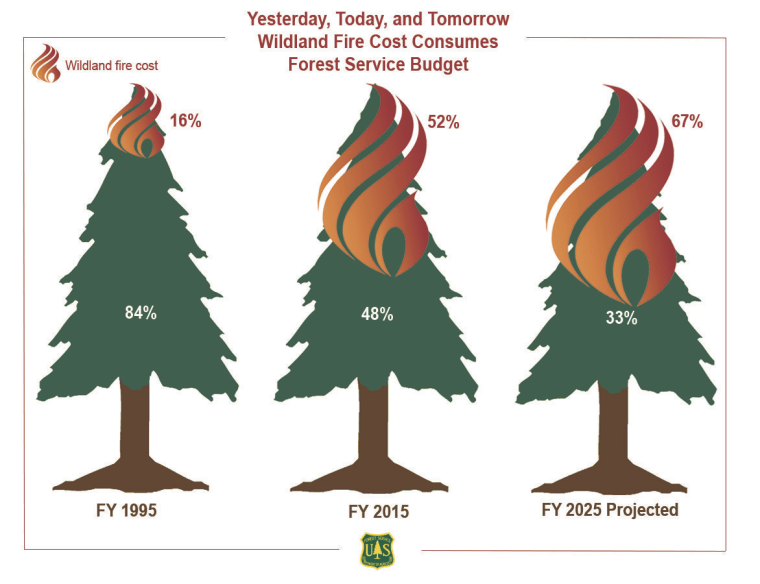 Like a stubborn re-kindling forest fire, these fire issues keep appearing year after year. As a scientist, I know that some fire is natural, normal, and needed by our forests to remain healthy. But data suggests fires in recent years are in a whole different category than wildfires from years past. The fire season starts earlier, burns later, and the sizes of fires over the past decade are growing. Add to this challenge the fact that many of our nation's forest lands are unhealthy, with too much brush and crowded, sickly trees that provide extra fuel for fire. The U.S. Forest Service estimates that nearly 100,000 square miles of the lands they manage -- an area the size of Colorado -- is at risk to severe fires today.
We have reached a new fire normal, a clear signal that a changing climate will inevitably require an adjustment to how we manage our forests if we wish to maintain the benefits they offer, such as providing half of our nation's water supply.
In response to this unprecedented wildfire risk, for the first time in its history, the U.S. Forest Service will spend more than half of its budget fighting fires this year -- three times what they were spending just 20 years ago. By 2025, if nothing changes, nearly two-thirds of the Service's budget will be spent on putting out fires.
WATCH: Mad dash to escape wildfires in Northern California
Ironically, this increased spending often comes at the cost of programs designed to prevent devastating megafires in the first place, including forest restoration efforts like controlled burns and strategic thinning that helps to reduce fuel loads, making forests safer and healthier. Just last week, the Forest Service announced that they are diverting another $250 million from non-fire conservation efforts to fight emergency fires.
Fortunately, there are two things Congress can do to improve the situation. 
First, they can achieve one immediate fix by passing the Wildfire Disaster Funding Act. If passed, the act would fund the response to emergency fire disasters similar to how we fund responses to other natural disasters, such as hurricanes and floods. This would ensure agencies aren't forced to raid vital forest restoration programs when firefighting funds run out, bring up-front funding certainty for firefighters, and offer stability for a myriad of important programs that conserve water, wood and wildlife. The Wildfire Disaster Funding Act has the most bipartisan backing of any bill on the docket this year, with support from firefighters, foresters, conservationists, the outdoor industry, sportsmen, local governments and more.
Second, we need to step up to a new way of thinking about America's forests by implementing the "National Cohesive Wildland Fire Management Strategy," which was released in 2014 by the U.S. Departments of Interior and Agriculture. This strategy is a result of four years of planning from fire experts at the federal, state and local level. It offers a new, coordinated approach that unites all levels of government and private landowners to restore and maintain healthy lands, help communities become fire-adapted, and improve fire response by teaming preventive measures, such as controlled burns, with effective smart design rules to protect communities. 
Washington can't snap its fingers to fix climate change or the devastating side effects that come with increasingly extreme weather on our lands. But Congress can help us prepare for what's ahead. By passing the Wildfire Disaster Funding Act and installing the National Cohesive Wildland Fire Management Strategy, Congress can make immediate fixes to keep our people, water, and wildlife safer from megafires. 
From one capital to another, we can't let the sun go down on this opportunity one more year.
Edward Smith is a forest ecologist for the Nature Conservancy in California.