LONDON — Besieged inhabitants of Aleppo are witnessing "deaths everywhere," one resident told NBC News, as the U.N. warned that 300,000 people in the Syrian city could be cut off from vital aid.
Government forces battling to regain full control of Aleppo from rebels have cut off aid supplies to the city from the north, triggering a flood of refugees towards neighboring Turkey.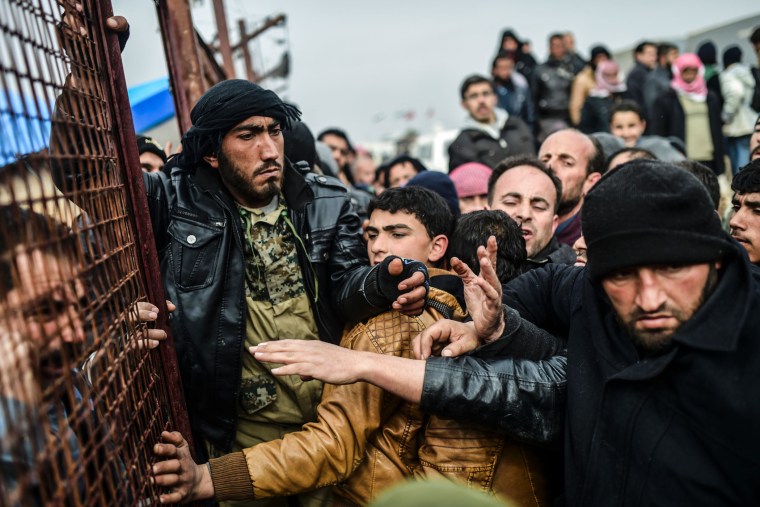 Aleppo resident Hussam — who would only give his first name out of fears for his safety — said reports of an exodus were "an exaggeration" but that many thousands had fled amid intensified fighting.
"It's war," Hussam, 27, said in a phone interview. "There is shelling, there are deaths everywhere."
He said water supplies have been cut off for almost four weeks and the situation was dire, with locals drawing from wells with water unfit for drinking.
Power lines were cut for months ago after a major offensive by rebel forces, and all efforts to repair them have so far failed.
RELATED: U.N. report: Syria's detainees suffer 'unimaginable abuses'
"The city has been completely been in the dark since October," Hussam added.
While he said Aleppo has "plenty of food" — albeit at inflated prices — the United Nations' humanitarian office said Tuesday that the city could soon be cut off from humanitarian aid because of the escalation in fighting.
It said 300,000 people could be cut off from aid if the Syrian government and allied forces encircle Aleppo and deprive those fleeing from their last way out, urging Turkey to open its border to help those fleeing the violence.
Laying out contingency plans, OCHA said local leaders believe up to 150,000 people could try to flee to nearby Afrin and the surrounding countryside.
Turkey, which is already home to 2.5 million Syrian refugees, instead called on the international community to speak out against Russia for what Prime Minister Ahmet Davutoglu described as "mercilessly bombing civilian targets."
Aleppo — Syria's largest city — was the country's commercial hub before war broke out.
Hussam said despite the dire situation, he and others in his government-controlled neighborhood are "managing" for now.
"There are certain areas that are more hazardous and more dangerous than other areas," he said. "Our first hope is for water to come back, that would be great. And power. Then to see this country peaceful and prospering as it was."
The story originally appeared on NBCNews.com.