A law that would have closed three out of Alabama's five abortion clinics is unconstitutional, ruled a federal court judge on Monday. The 2013 law, similar to legislation passed across the country, would have required abortion providers to seek admitting privileges at local hospitals.
Alabama's attorney general said the state would appeal. 
In an encyclopedic 172-page decision that followed a three-week trial, Judge Myron H. Thompson wrote that the law violated the standard set by the Supreme Court mandating that states can not place an "undue burden" on woman seeking an abortion.
"The court is convinced that, if this requirement would not, in the face of all the evidence in the record, constitute an impermissible undue burden, then almost no regulation, short of those imposing an outright prohibition on abortion, would," wrote Thompson.
That evidence included the fact that no hospital would grant the doctors privileges, often because they provide abortions. In addition, the law would cause major hardship for low-income women, and, despite the state's claim that the law protected women's health, it would actually make women less safe. "These obstacles create a significant risk that some women would pursue dangerous, illegal abortions," Thompson wrote.
Not all courts agree with that interpretation: The 5th Circuit Court of Appeals allowed the same law to take effect in Texas, shrinking the number of abortion clinics there from 41 to 19. A trial began today on whether the law was unconstitutional as applied to two clinics that have already closed.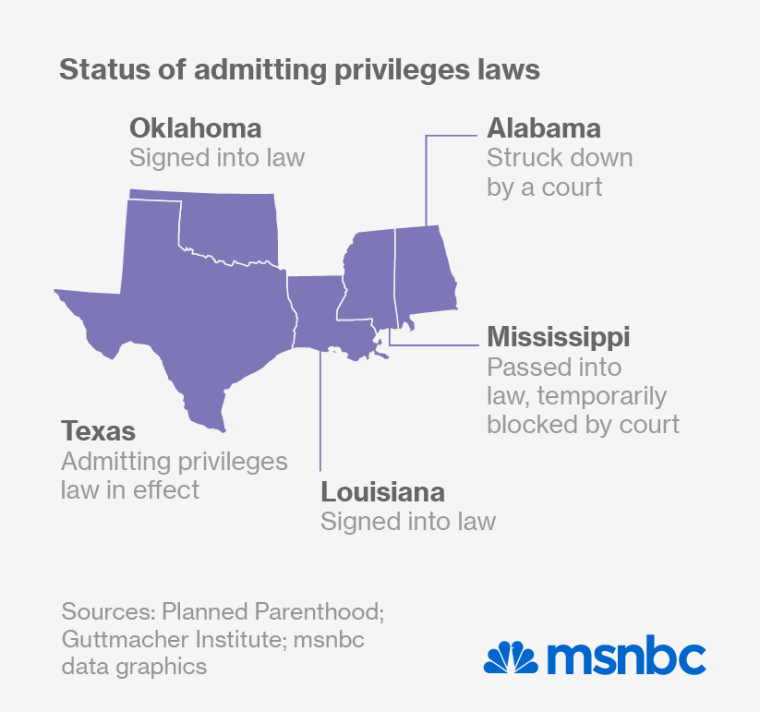 Last week, a different panel for the 5th Circuit Court of Appeals considered a similar law in Mississippi that would have closed that state's last abortion clinic. That court narrowly ruled that the law was unconstitutional as applied to that clinic. A ruling is expected soon on an equivalent law in Wisconsin, where a trial took place in May. That state law has been temporarily blocked from taking effect.
In Alabama, the law would have closed the sole clinics in Montgomery, Birmingham, and Mobile, leaving only clinics in Tuscaloosa and Huntsville, even as clinics shutter in states to the west of Alabama.
Thompson's opinion included an exhaustive history of violence against abortion providers, including in Alabama.
"The first abortion doctor in the nation to be murdered, Dr. David Gunn, provided abortions at the Montgomery clinic, among other clinics. He was murdered in 1993," Thompson noted. "A now-closed clinic in Birmingham was bombed, killing an off-duty police officer serving as a security guard and wounding a nurse. Not long after, the Tuscaloosa clinic was essentially destroyed by an arson. That clinic was later attacked by a driver who ran his car into the front of the building. There were other incidents of violence as well."
Thompson said that violence had to be considered as a backdrop to the law, partially because it explained both hospitals' reluctance to help the doctors comply with the law and also the barriers that women already face in accessing abortion. "Against the backdrop of this history of violence, abortion providers and women seeking abortions in Alabama today live and work in a climate of extreme hostility to the practice of abortion," he wrote.
In one case, a doctor tried to return to a faculty position that would include admitting privileges, and the "chair of the OB/GYN department, who had not been there when [the doctor] was on faculty, explained to her that he would not hire her because of her work providing abortions and serving as medical director for Planned Parenthood," the judge wrote. In addition, the fact that many abortion providers commute to Alabama — one from as far as Nigeria – works against their admitting privileges pleas, since hospitals often have written preferences for local practices. 
Thompson also carefully evaluated the existing response of the clinics to emergency situations, which the state claimed required a relationship with a local hospital, and emerged "firmly convinced that the Birmingham, Mobile, and Montgomery clinics currently have strong complication-care policies in place and, when complications have arisen, they provided quality care to their patients."
Thompson asked for more input from the parties about how precisely to implement the decision, but it was not expected to change the ultimate outcome
Advocates for abortion rights cheered the decision. "This ruling will ensure that women in Alabama have access to safe, legal abortion," said Cecile Richards, president of Planned Parenthood Federation of America, in a statement.  
"As the judge noted today, the justifications offered for this law are weak at best," said Louise Melling, deputy legal director of the ACLU.  "Politicians, not doctors, crafted this law for the sole purpose of shutting down women's health care centers and preventing women from getting safe, legal abortions."