Union activists protesting nearly 3,000 proposed layoffs at Air France stormed the headquarters during a meeting Monday, zeroing in on two managers who had their shirts torn from their bodies, scaled a fence and fled under police protection.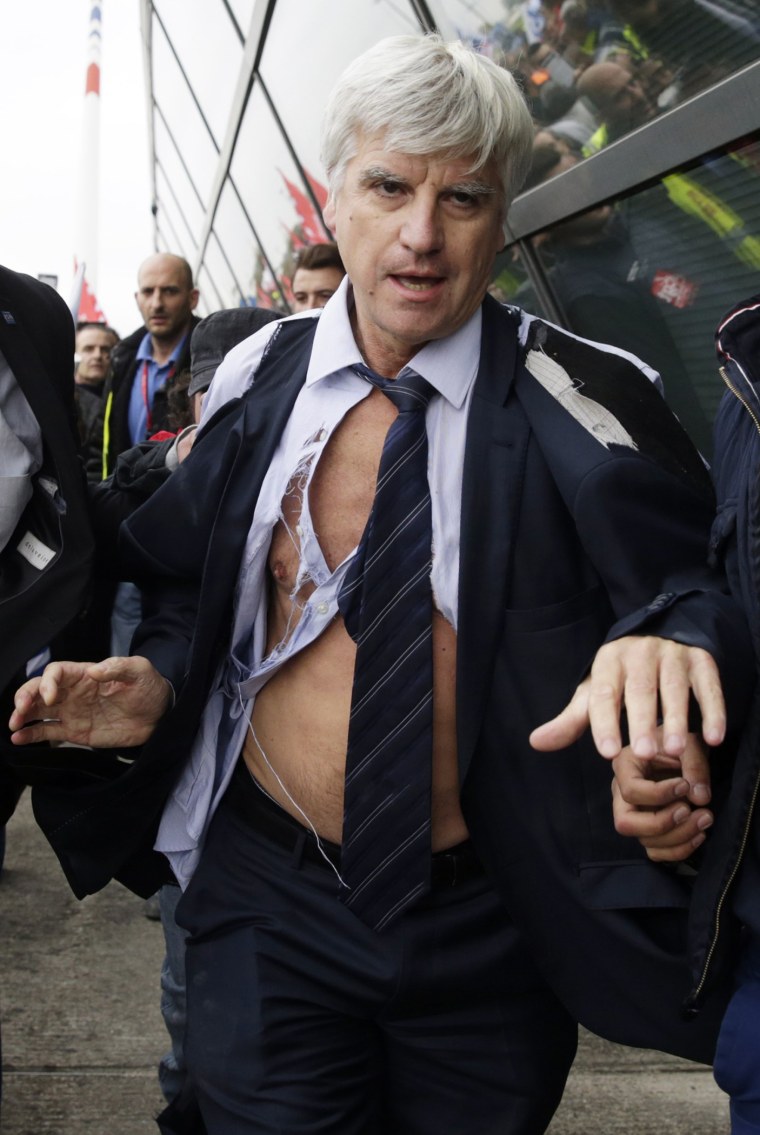 An Associated Press photographer saw about a hundred activists rush the building after breaking through a gate. Shortly afterward two high-level managers fled, one bare-chested and the other with his shirt and suit jacket shredded.
Road access to Charles de Gaulle airport in Paris was briefly disrupted, and some flights suffered delays. Although Monday's scuffle was unusually violent, labor relations in France are commonly testy, with unions sometimes even resorting to holding managers hostage — or "boss-napping" — to make a point.
Air France denounced the violence and said it will push ahead anyway with its restructuring plans, after failing to reach an agreement with pilots.
Alexandre de Juniac, the CEO of Air France-KLM, said the company is being squeezed by low-cost airlines in Europe and Gulf carriers for long-haul flights. Monday's meeting was intended to detail the cuts. Airline executives told reporters Monday the plan involves laying off 2,900 staff, abolishing five routes and 35 weekly long-haul flights, primarily in Asia and the Middle East.
Among those at Monday's protest was Yves Porte, an activist who represents cargo workers. "The Gulf companies, who have low fuel prices and who receive government subsidies, compete with us. It's impossible, we are not on a level playing field," he said.
RELATED: Transgender woman says she was delayed by TSA for anatomical 'anomaly'
Air France said it would file a complaint for aggravated assault. France's transport secretary, Alain Vidalies, condemned the violence, saying in a tweet it was "unacceptable and must be punished."
Deputy human resources director Xavier Broseta, one of the executives disrobed by protesters, told reporters later that he had received messages of sympathy from colleagues throughout the day, including from union leaders.
"We are fighting every day for an Air France that will have lasting growth," he said later, after donning a new jacket and tie. "Violence and intimidation will have no part of that."
This article first appeared on NBCNews.com.