Coming off of key Super Tuesday wins and a victory in the Louisiana primary, Hillary Clinton is up 4 points and Bernie Sanders dropped 3 points nationally in the latest NBC News|SurveyMonkey Weekly Election Tracking Poll.
This is the first large shift in our tracking poll since it debuted the first week of January. Clinton now enjoys a 17-point lead over Sanders headed into Michigan and Mississippi on Tuesday night. These results are from the latest Weekly Tracking Poll conducted online among a national sample of 21,996 adults, including 19,051 who say they are registered to vote.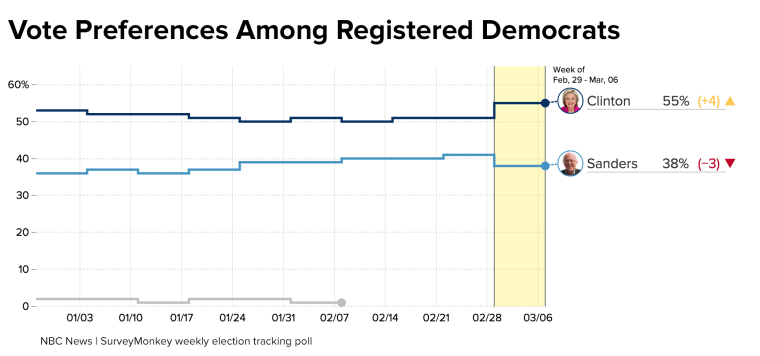 Though the Sanders campaign continues to win caucus states, raise millions of dollars in individual donations and pick up several endorsements as the contest continues, Clinton maintains her status as the candidate who most Democratic and Democratic-leaning voters think will win the eventual nomination.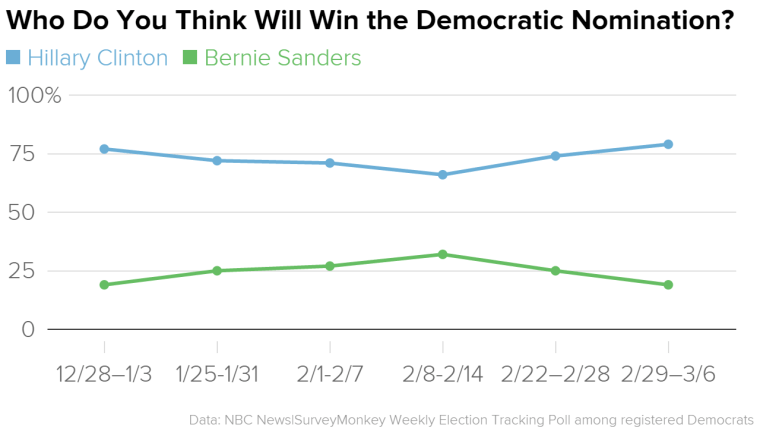 As many look past the primary nominating contests and begin to analyze the political arena headed into the general election, there is evidence that Clinton is gaining support among millennial voters under 30. Sanders has consistently beat Clinton among this age cohort regardless of gender in most of the primary races, but results from our latest Tracking Poll suggest that Clinton may be chipping away at his edge among some of these voters. Clinton, who has been in a tight battle with Sanders among voters age 25-34, is now nearly tied with Sanders in this bloc. This 2-point margin is the smallest it has been between the two candidates since the primaries started on Feb 1 in Iowa. Sanders still holds a commanding lead over Clinton among registered voters age 18-24.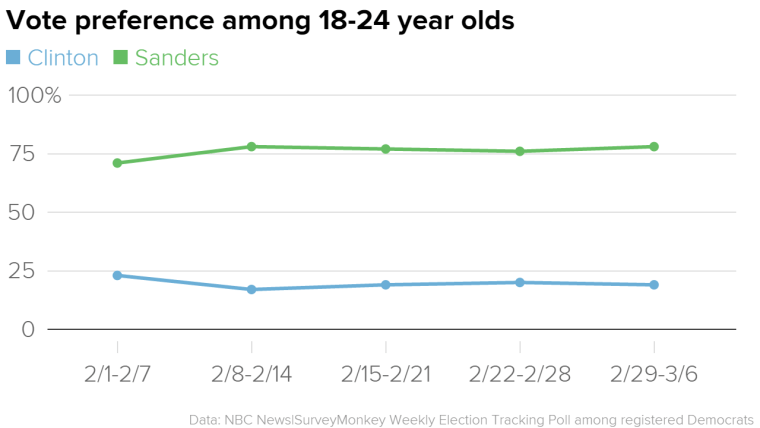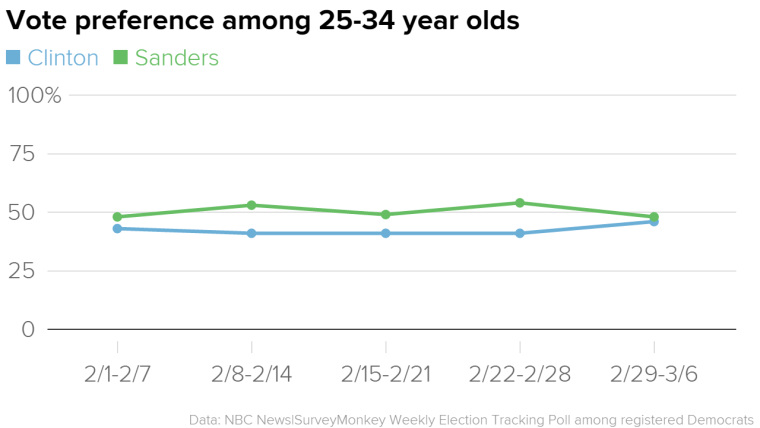 Elections are often about demographics. The shift in younger people supporting Clinton at higher levels in our weekly tracking poll is a significant gain for her campaign. The question is what it will take for Sanders to make inroads in groups he is faring less well with. Perhaps a win in a big primary state like Michigan.
The NBC News|SurveyMonkey Weekly Election Tracking data for the week of February 29, 2016 through March 6, 2016 was conducted online among a national sample of 21,996 adults aged 18 and over, including 19,051 who say they are registered to vote. Respondents for this survey were selected from the nearly three million people who take surveys on the SurveyMonkey platform each day. Data for this week has been weighted for age, race, sex, education, region, and voter registration status using the Census Bureau and Bureau of Labor Statistic's Current Population Survey to reflect the demographic composition of the United States. A full description of our methodology and the poll can be found here.