Stories about the battles over voting rights are often technical, detailing the back and forth between courts and politicians, or speculative, musing on how restrictions like ID requirements might impact groups of people. These are not stories like that.
Voters in 14 states are facing new hurdles this year for the first time in a major election, according to a tally from the Brennan Center for Justice. At least for now, the technicalities of court battles mean little, since any changes to those laws will come after the midterm election on Nov. 4.
The stories below also aren't speculative. Instead, here are the tales of real voters and their firsthand experience with the new voting restrictions:
Time-consuming, costly voter ID restriction in Texas
Texan Ruby Barber is 93 years old and has lived in the state for 77 years. She voted for the first time when she turned 21 and has been a regular voter ever since. This year, Barber was initially denied an Election Identification Certificate (EIC), Texas's voter ID card. The rejection meant that she couldn't vote.
Ruby relies on her son Jim Denton for transportation because her driver's license expired in 2010, and she is ineligible for a new one due to a medical condition. Jim recounted his mother's voting story to msnbc: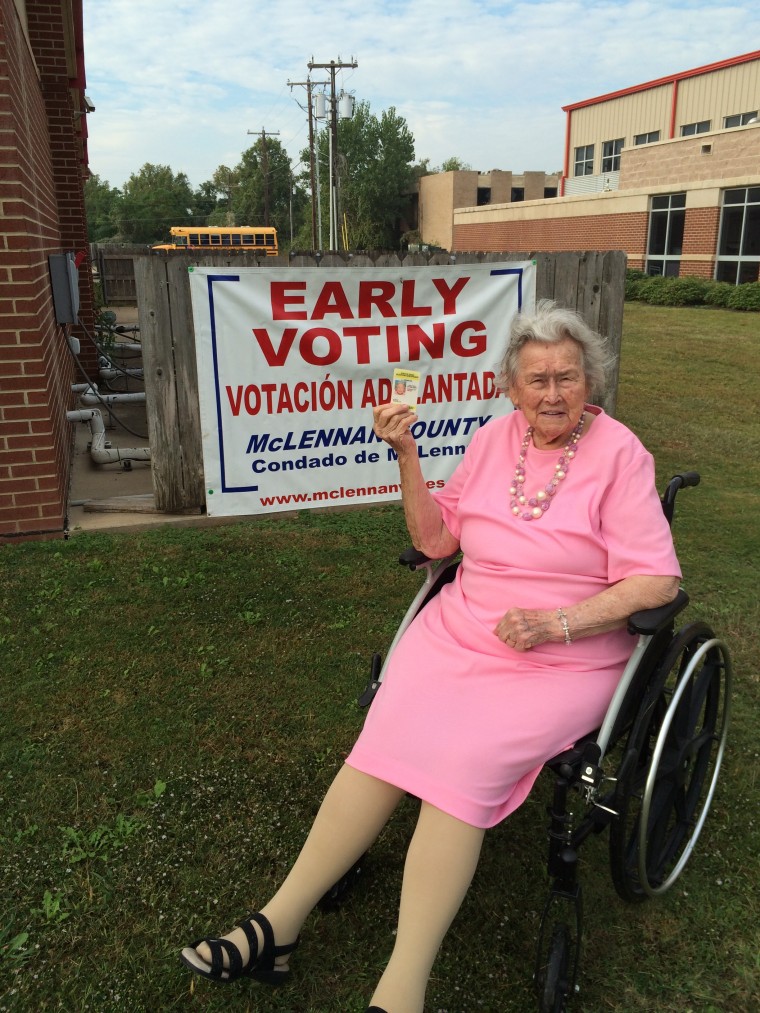 We read about [the new law] in the newspaper. She has macular degeneration so she lost her driver's license in 2010. But she's got her current voter registration card and everything. I thought since she had the driver's license and because she had a current registration it would work.
She goes down to get a voter ID card ... they would not accept her driver's license as a picture ID card so that she could get a voter ID card because ... it was too old.
They said, "Well, you gotta have a birth certificate."
I said, "She does not have a birth certificate, she was born in rural Tennessee in 1921 … there were many cases where people born like that had a midwife and that was it — they didn't have birth certificates, it was just in the family Bible."
They said, "We're sorry, we can't give you a voter ID card."
Shortly after her struggle to obtain the identification required to vote in Texas, the Waco Tribune published a front-page story on Ruby Barber's experience. Two days later, the Texas Department of Public Safety (DPS) invited Barber back, this time with the promise of a voter ID card.
Upon Ruby and Jim's return to the DPS office, employees cited the 1940 Census as proof that Barber lives in Texas, and issued her an ElC.
When asked why Ruby Barber wasn't able to get a voter ID on the first attempt, Texas Department of Public Safety Press Secretary Tom Vinger told MSNBC, "We were able to work with the customer to resolve the issue."
Vinger said that the DPS hasn't made changes to their process since Ruby's experience, but that "when DPS encounters some type of unusual document challenge, we work with the customer to resolve the issue."
Denton's plan if DPS hadn't followed up?
"I was going to go get her a concealed gun license ... take her down there and teach her how to shoot my pistol and get her a license," Denton said. "Because if you've got a concealed gun license in Texas, you can vote."
Ruby Barber cast her ballot on Oct. 22 during Texas's early voting period.
RELATED: The State of Voting in 2014
In Sherman, Texas, a couple hours north of Ruby Barber's hometown, 51-year-old Daniel Jenkins heard about the new ID requirement on the news. Jenkins has lived in Texas for most of his life and voted in "pretty much every election since '86." After looking into the new voting restrictions, Jenkins realized he would need a new photo ID to vote in the midterms. Here's his account of that process: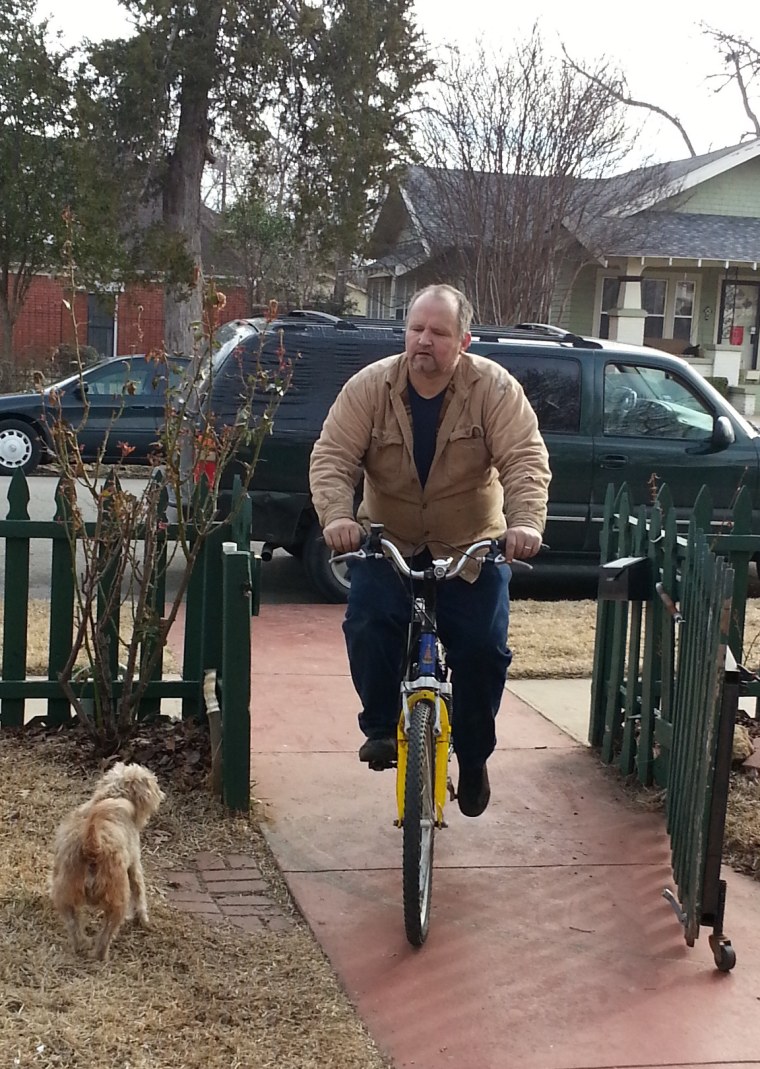 I went to the Sherman, Texas, DPS office in order to acquire a voter ID card in order to fulfill the Texas voter ID requirement. My driver's license expired on 2-25-14 and is not considered a valid form of ID in the November election. 
I said I would like a free election ID card.
I was told that because I was eligible for a license (with liability insurance and a three year payment of $260 a year to the State of Texas) that I was ineligible for a free voter ID.
According to the Texas DPS website, since his driver's license is expired, Daniel Jenkins is eligible for the free EIC. However, because Jenkins was told otherwise, and didn't need a driver's license, he ended up spending $16 on a Texas identification card in order to vote in this election. 
Jenkins followed up with staff member Rebecca Macalik at the Sherman DPS, as well as the Texas Secretary of State's legal office. Macalik told Jenkins the situation was a "misunderstanding." 
"DPS driver license offices serve millions of customers a year, and occasionally there is human error," DPS Press Secretary Vinger said. "In this case, a customer whose driver license had expired was mistakenly advised he was eligible for a Texas ID card but not an EIC (Election Identification Certificate)." He added that Jenkins did not, but still can, request a refund.
While Jenkins insists the $16 was not an issue for him, he expressed concern to msnbc about the effect this fee and "hassle" might have on low income voters.
Texas's voter ID law was passed by Republicans in 2011, but it was blocked by a federal court under the Voting Rights Act (VRA) the following year. It went into effect last year after the Supreme Court weakened the VRA. 
More challenges for the marginalized in Ohio
Darryl Fairchild is a Methodist pastor in Dayton, Ohio. He's lived and voted in Ohio all of his life, except for a few years when he lived elsewhere to attend college and graduate school. Fairchild is also a parapalegic — he was involved in a tragic bicycle accident in 1992, when he broke his back and damaged his spinal cord. He discussed his experience with msnbc. His comments are in italics:
I use a wheelchair. One of the things I know about my life and is also true about other persons with disabilities is you have to really plan ahead in terms of structuring your day. For me it's about the amount of energy I expend in a day … trying to coordinate going and making transfers in and out of my car with my wheelchair, which are time consuming and energy consuming. Having more options to vote gives me more flexibility in scheduling my day.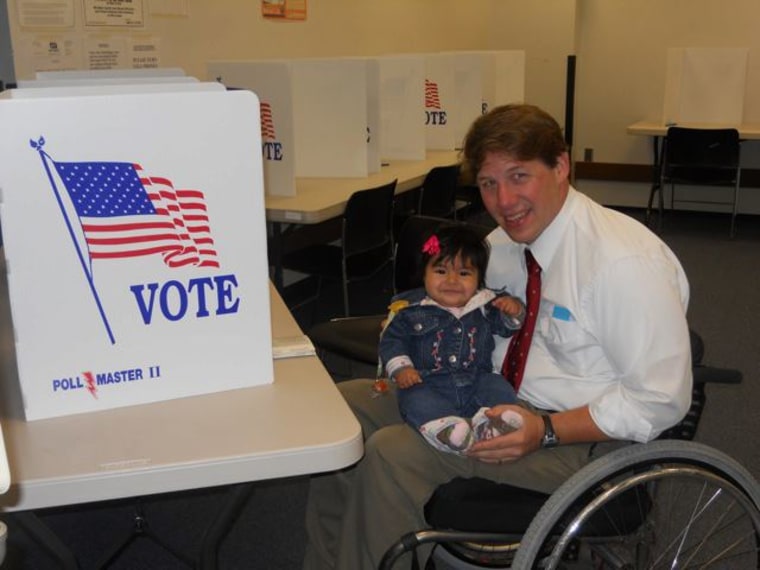 This year, there are six fewer days of early voting in Ohio. The days that were cut were called "Golden Week," a time when voters could register and cast a ballot all in one trip. Additionally, early voting hours have been reduced on weekday evenings and weekends.
I'm a pretty regular voter and restricting hours isn't going to prevent me from voting, but it sure makes it less convenient. 
I'm a pretty healthy person and my disability doesn't restrict me a great amount, but I have friends and colleagues and people I work with whose disabilities are more severe and these issues just get magnified for them.
Fairchild is involved with the League of Women Voters and assists at the polls as a non-partisan poll watcher in most Ohio elections.
It really angers me.
There are people who say, you know, government should be more like a business. And if you had a business and there were days that were popular, you would never close the doors when people were utilizing it. 
In the past, we had seen that the weekend hours, the evening hours, the "Golden Week," were times that people were utilizing to vote.
The Supreme Court ordered Sept. 29 that Ohio's controversial cuts to early voting could go into effect just 16 hours before voting was scheduled to start in the Buckeye State. In addition, this election marks the first since 2004 with only one day of Sunday voting and without weekday voting past 5 p.m. during the early voting period.
Added confusion in Wisconsin
Mary Smiltneek's grandmother was on the first Wisconsin Census of 1848. Smiltneek, who will be 91 on Christmas Day, has lived and voted in Wisconsin for the better part of her life. She first moved to the state in the 1940s. 
Ninety-year-old Smiltneek no longer drives and does not have a Wisconsin driver's license. She relies on her daughter Catherine Hopper for most everything. Implementation of Wisconsin's voter ID measure was blocked by the Supreme Court on Oct. 10, but up until then, Hopper assumed she would have to help her mother get an ID and get to the polls. She told her story to msnbc:
I'm responsible. I'm the one who has to make sure [my mother is] safe and sees the doctors, and all that.
I felt burdened by [the voter ID law]. I felt like, oh my god, one more thing to do. But I certainly would of done it. But I was annoyed.
I would have to take my mother – or one of her 10 children would have to take her – to an office where she could get a photo ID. She does not have a driver's license anymore … that involves going to the Motor Vehicle Department and … sitting around for hours and hours waiting to get through the line. I personally didn't want to be doing that.
Mary Smiltneek was able to cast an absentee ballot for the 2014 elections.
While Wisconsin's voter ID law is not in effect this time around, there are new cuts to early voting that are in place for the first time this year.
Greta McCool is 33, born and raised in Wisconsin. She is a certified nurse midwife in Milwaukee. McCool works at a hospital in the inner city and commutes from the suburbs everyday. 
On Election Day, I happen to be scheduled to work from 7 a.m. – 7 p.m.
Where I am actually able to vote is a good 45 minutes to an hour from where I work, so there's no way that getting to work at 7 or 7:30 a.m., I'd be able to make it ... to the polls.
While limited hours of weekday early voting were preserved, weekend early voting in Wisconsin has been cut altogether. McCool's work schedules changes week to week, and sometimes she has weekdays off.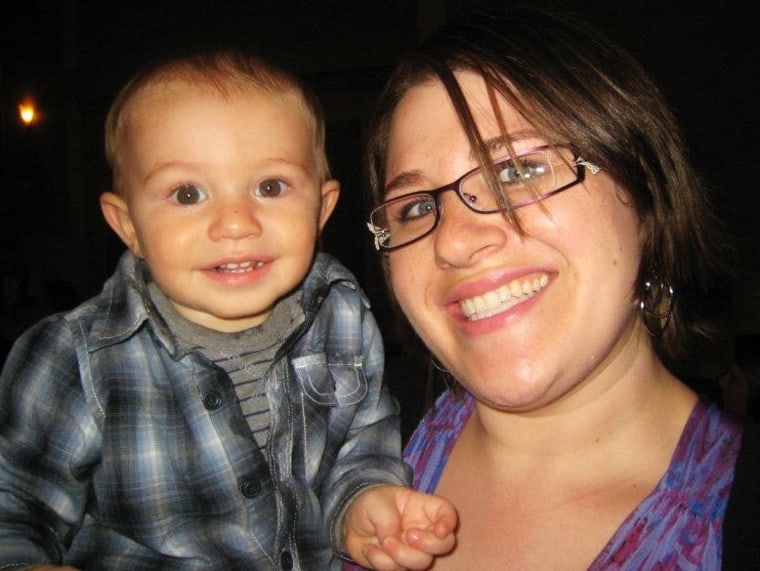 I've got two little kids and a husband in a masters program in a different state … I'm lucky if my teeth get brushed in the morning, much less keeping up on everything else.
So, it's really been through word of mouth that I've picked up on any of this. I happened to hear somebody say that early voting was an option, and I looked at my work schedule and realized that I needed to take advantage of that option. Today is really my only day to be able to do that. Otherwise, I would have been one of those people who needed the weekend or evening hours in order to be able to participate in this November election.
In Wisconsin this year, early voting hours on weekdays are reduced and weekend early voting has been cut altogether. Wisconsin's voter ID measure is currently not in effect for November 2014. The state's ID law was passed in 2011, but it has been the subject of an ongoing court challenge and has not yet been in place for a major election.
New voting laws are clearly making access to the ballot more complicated, costly, and time consuming for voters across the country, but these regular voters have the drive to make it to the polls, even when it requires additional effort.