In Sunday night's nail-biting season finale of HBO's documentary series "The Jinx," Robert Durst, the 71-year-old New York real estate heir and subject of the show, is heard on a microphone seemingly confessing to a series a murders that he has long been suspected of committing over the course of 20 years.
"What the hell did I do? Killed them all of course."'
"What the hell did I do?" Durst is heard whispering to himself in a bathroom, apparently unaware that his mic is still recording. "Killed them all, of course."
A day before the final episode of "The Jinx," Durst was arrested in New Orleans at a hotel where he was using a false name, on a murder warrant issued by Los Angeles County. On Monday, Durst waived his right to an extradition hearing and is expected to return to Los Angeles to face the charge. 
RELATED: Infamous murder suspect Robert Durst arrested in New Orleans
If you haven't been watching "The Jinx," here's what you need to know about the bizarre real estate heir, the stranger-than-fiction details of his life, and the renewed campaign to convict him of murder.
1. He is suspected in his wife's disappearance in New York
In 1982, Durst was questioned (but never charged) by authorities in the disappearance of his wife, Kathleen McCormack Durst, after she went missing from the couple's home in Westchester County, New York. In "The Jinx," several of his wife's friends recounted Kathleen telling them that Durst had become abusive.
2. He is estranged from his family
In the early 1990s, Durst's retiring father passed him over to take control of the family company – picking his younger brother, Douglas, instead. Douglas has admitted to hiring a bodyguard to protect him from his brother, and several family members have taken restraining orders against Durst.
3. He is suspected in his friend's murder in California
In 2000, Susan Berman, Durst's confidante and good friend from college who worked as his spokesperson following Kathleen's disappearance, was found dead with a bullet to her head in her Los Angeles home. Investigators had been planning to speak with Berman, 55, about Kathleen's disappearance.
4. He admitted to dismembering his neighbor in Texas but was acquitted of murder
In 2001, Durst -- who had moved to Galveston, Texas, and had been disguising himself as a mute woman -- was arrested in connection with the death of his 71-year-old neighbor, Morris Black, whose dismembered body parts were discovered in Galveston Bay. After posting a $300,000 bail, Durst became a fugitive when he didn't show up for an arraignment hearing.
Two weeks later, he was caught in Bethlehem, Pennsylvania when he tried to steal a chicken salad sandwich. In court, Durst admitted to dismembering Black, but argued he killed his neighbor in self-defense. The jury agreed and he was acquitted of murder in 2003.
5. He volunteered to participate in "The Jinx"
Bucking the advice of his lawyers, Durst reached out to filmmaker Andrew Jarecki, who had directed a 2010 film adaption of Durst's life, called "All Good Things," which starred Ryan Gosling and Kirsten Dunst. Durst agreed to be extensively interviewed by Jarecki.
 6. The infamous letter
In the second-to-last episode of "The Jinx," Berman's stepson discovers a letter Durst wrote to Berman in 1999. The letter is written in seemingly identical handwriting as a separate, anonymous letter sent to the Beverly Hills police in 2000 that alerted authorities to a dead "cadaver" in Berman's home. Both letters misspell the name of the city as "Beverley."
7. The smoking gun?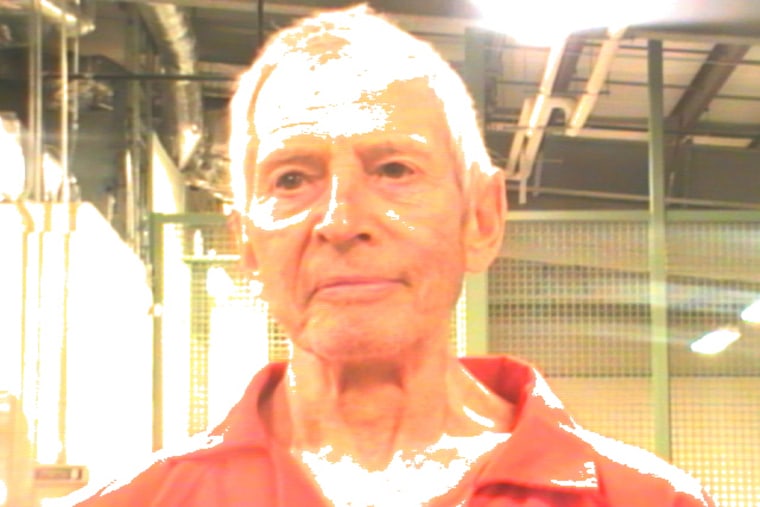 In the season finale, Durst acknowledges on camera that the handwriting on both letters looks similar, but insists that while he did write the 1999 letter to Berman, he did not write the one to the police about the dead body, and that he had nothing to do with Berman's death.
Jarecki concludes the interview shortly thereafter, but Durst's microphone remains on as he goes to the bathroom and begins talking to himself. "There it is. You're caught," he says out loud. "What the hell did I do? Killed them all of course."
His arrest on Saturday in New Orleans comes as Los Angeles officials say they have new evidence linking Durst to Berman's murder. 
"We are relieved and also grateful to everyone who assisted in the arrest of Robert Durst," his brother Douglas, who took over the family real estate empire, said in a statement. "We hope he will finally be held accountable for all he has done."