On Saturday, boxers Floyd Mayweather and Manny Pacquiao will face off at the MGM Grand Garden Arena in Las Vegas in one of the most highly anticipated professional fights in history.
Even their biggest fans would acknowledge that both aging welterweights are not in their prime, and the title belt they're fighting for has little significance to the casual boxing fan.
And yet, the hype for this bout has been unavoidable for weeks now. Here are five big reasons why:
The fight could "save" boxing: For decades, the popularity of boxing has been on the decline. The lack of marquee stars, coupled with the rise of mixed martial arts, has put a real damper on enthusiasm for the "sweet science." It's hard to believe that a century ago boxing, along with horse-racing, was arguably the most beloved of American sports. Last year, in ranked a distant ninth in a Harris Poll.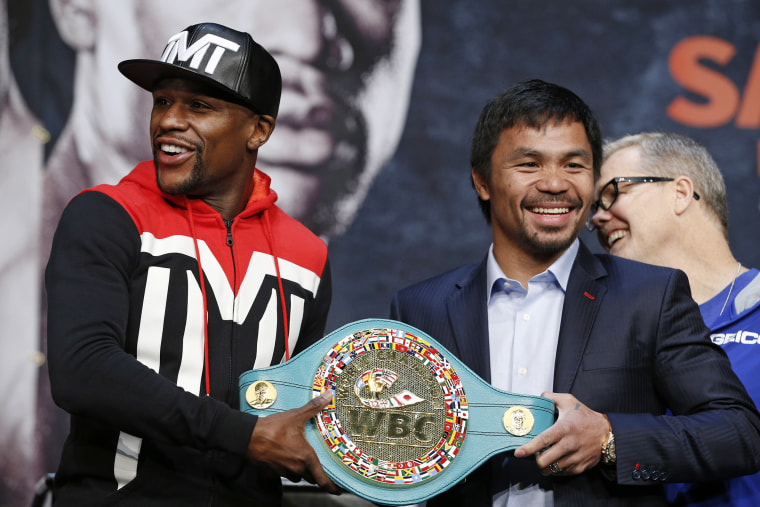 Fans of boxing hope that the sheer excitement and curiosity among the general public for this particular match-up could restore some of the intrigue and luster around the sport. Certainly, the fight will be profitable, not just for the fighters (Mayweather should net $120 million, Pacquiao $80 million), but for Pay-Per-View, which is charging roughly $100 to customers who order it. And that doesn't even take into account ticket sales at the scene of the fight and international sales proceeds.
But if the fight itself isn't competitive or dramatic (a real possibility, given Mayweather's patented defensive style of boxing), it won't matter how big the payday is. So boxing aficionados have a lot riding on this one.
Both boxers have their demons: The two pugilists in this fight are the rare modern boxers with high profiles and lots of name recognition outside of the ring -- and that hasn't always been a good thing. In the lead-up to this match, Mayweather's long history of domestic violence incidents has received intensified scrutiny and criticism. The fighter, who has enjoyed crossover success on "Dancing with the Stars," undeniably has a dark side.
He has pleaded guilty to domestic violence charges on several occasions, the most recent of which in 2012 landed him in prison for two months. And he is currently being sued by a former fiancee who alleges he was both verbally and physically abusive toward her. Mayweather has been widely criticized for refusing to express any remorse publicly for his actions and that may have cost him dearly with potential endorsement deals.
Comparatively, Pacquiao's reputation is squeaky clean. He is a devout Christian and is considered something of a national hero in his native Philippines (he serves as congressman there), where his philanthropic giving is the stuff of legend. Still, there has been some concern that his finances are not as up-to-speed as his punches. In 2013, the Philippines version of the IRS temporarily froze all of his assets, alleging he had failed to pay at least $2.2 million in taxes. That said, Mayweather has had his own tax troubles, getting hit with liens twice in the last decade to the tune of $3.4 million and $5.6 million.
Their rivalry has been brewing for years: Ever since Pacquiao became a bonafide star, boxing fans have been clamoring for him to take on Mayweather. However, Mayweather has spent several years refusing to fight his rival. He has previously accused Pacquiao of using performance-enhancing drugs and insisted the Filipino fighter be tested before they could ever step into the ring. His allegations eventually led to a 2009 defamation suit from Pacquiao's camp and some ugly racist invective out of Mayweather's. 
In a 2010 video released amid stalled talks for a fight, Mayweather called Pacquiao a "little yellow chump," and called on the boxer to "cook me some rice." In an interview this year with ESPN's Stephen A. Smith, Mayweather claimed that he endures a level of racism comparable to what Muhammad Ali faced in his heyday.
"You don't think I deal with racism every day? You don't think I go through this every day? Guess what. It's different because you know why? Everyone sees it now. Back then, only a certain few could see it. Now the world sees it," he told the ESPN anchor.
RELATED: Floyd Mayweather on boxing: It's like chess
Meanwhile, critics of Mayweather have accused him of "ducking" the one fighter whose record stands up against his own. While others have suggested the Pacquiao's refusal to initially acquiesce to Mayweather's blood testing demands proves that there may be some impropriety in his training regimen. 
After years of false starts and failed negotiations, it appears the two fighters have at least put their personal differences aside. They settled the defamation suit in 2012 and have been cordial at all the pre-fight promotional events. But make no mistake about it, there is no love lost between them. "This one is different," Pacquiao said matter-of-factly during a CNN interview on Thursday.
Mayweather's quest for perfection: Right now Mayweather's professional record stands at an impressive 47 and 0. If he can stay healthy and beat Pacquiao, he's on pace to match or surpass one of the longest held feats in sports, Rocky Marciano's undefeated record as a heavyweight: 49 and 0.
While historians have argued that Marciano's accomplishment is more impressive considering his weight class and the caliber of his competition, there is no denying that an undefeated boxing career is still significant.
So much of Mayweather's reputation has been built on his durability and lack of losses. If he were to retire unblemished, he would easily be ranked among the greatest boxers of his era. However, quite a number of former champions have balked at Mayweather's assertion that he may go down in history as the best ever. For instance, Muhammad Ali scolded Mayweather via Twitter last month, after the younger fighter claimed he was on his level during a recent interview. "Don't you forget, I am the greatest!" he tweeted.
Former heavyweight champ and ubiquitous media personality Mike Tyson has also taken offense at Mayweather's boasting. Tyson called Mayweather "very delusional" in an April interview with the New York Daily News. Tyson, who has very publicly picked Pacquiao to emerge triumphant on Saturday, went on to call Mayweather "a very small man, a very scared man."
Still, the man stands to exit boxing as the richest athlete in the sport's long history.
It could be just the beginning: As epic as the initial face-off between Mayweather and Pacquiao might be, there could always be a sequel. Boxing loves a rematch, and in the case of Ali vs. Joe Frazier, or Tyson's '90s-era clashes with Evander Holyfield, sometimes the follow-ups are even more entertaining than the original.
Considering the amount of money to be made and the enormous interest this fight has generated, it stands to reason that both Mayweather and Pacquiao might want to give it another go, whatever the result. Of course, if Mayweather loses, he'll want a shot at redemption to prove his first lost was a fluke. Pacquiao will want to prove his career hasn't come to an end.
Yet neither fighter is about to even entertain the possibility that they will go down for the count. Regardless of who wins, one could argue that this match-up is just a primer for the real fight of the century: Holyfield's upcoming charity fight against 2012 GOP presidential nominee Mitt Romney.