Republican candidates are descending on California this week for the second round of debates. The two events, a prime-time debate and an undercard debate, are hosted by CNN and have the potential to dramatically reshape the race. 
The first Republican debate this cycle was perhaps the most hyped primary event in history thanks to the large competitive field and widespread popular interest in GOP front-runner Donald Trump's unorthodox campaign. At the time, some conservatives speculated the debate, in which Trump refused to rule out a third party bid and clashed with Fox News, could mark the beginning of the end for his campaign. Instead, Trump's only gained ground, despite (or, perhaps, because of) an array of outrageous statements that would have knocked out more conventional candidates. As a result, the rest of the field is treating him as a far more grave and durable threat than they did a month ago. All this adds up to another hotly anticipated debate with high stakes for everyone involved. Here are some of the major storylines to watch for on Wednesday. 
1. Trump vs. everyone
The undisputed center of gravity in the race right now is Trump, and it's easier to list who he doesn't have a feud against. Former Florida Gov. Jeb Bush reorganized his campaign to aggressively confront Trump after getting tired of being called "low energy" on an hourly basis. Bush comes in for by far the most criticism from Trump, but he's taken the occasional potshot at Wisconsin Gov. Scott Walker, who has tried more to imitate Trump than challenge him, and Sen. Marco Rubio, who has thrown at least some shade at Trump recently. Sen. Ted Cruz is the only candidate to unambiguously court Trump's personal approval, and Trump's paid him back with friendly words (even though he's not sure Cruz is legally allowed to be president).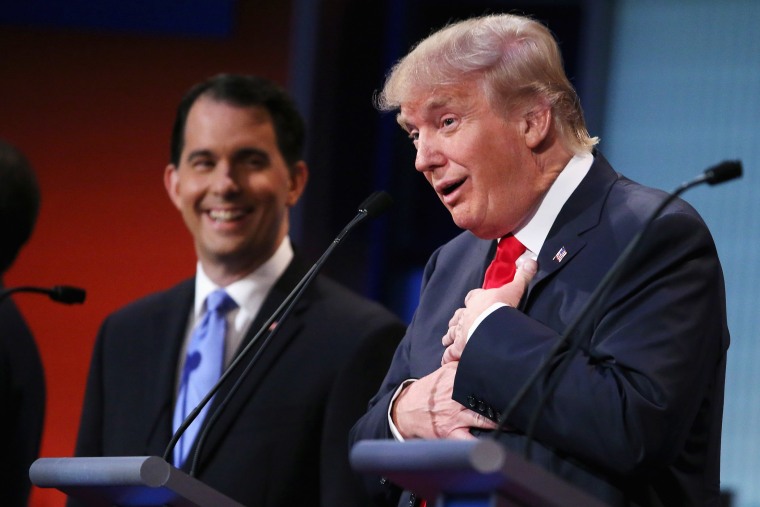 Trump mostly avoided bashing fellow outsiders Dr. Ben Carson and former Hewlett-Packard CEO Carly Fiorina for a while, but that went out the window earlier this month. In Carson's case, the neurosurgeon contrasted his devotion to Christianity with Trump, prompting Trump to call Carson an "OK doctor" and imply he was exploiting faith for votes. Fiorina took shots at Trump in absentia at the so-called "kids table" debate in August and Trump revived the conflict in September by mocking her appearance in a Rolling Stone profile. 
Trump's supporters love watching him deflate establishment favorites like Bush, but it will be interesting to see whether he might go too far in taking on Carson, who has surged into second place in polls since the last debate and is widely beloved on the right. Fiorina, who wasn't on the main stage in the August debate, is a feisty campaigner who seems well positioned to draw out Trump's well-documented issues dealing with female critics. 
In general, the challenge for the field will be to stand out at all in Trump's reality show. Last time, Ohio Gov. John Kasich helped lay the groundwork for a polling bump in New Hampshire with a quietly effective performance. Carson's soothing comments on race went viral among conservatives and fueled his own rise in Iowa. Will anyone else cut through the noise this time? 
2. Trump vs. the debate itself
After tangling with Fox News and especially host Megyn Kelly over their debate questions in August, Trump has already gotten into a fight with this week's co-moderator Hugh Hewitt, a conservative radio host, for stumping him with questions on Middle East policy that Hewitt asked other candidates as well. Last week, Trump also challenged CNN to donate profits from the debate to military causes on the theory that his presence was driving up ad sales.
By preemptively bashing his hosts, Trump is setting himself up to frame any tough questions as yet another elitist conspiracy to stamp him out. It worked wonders for his polls after the Fox debate even as Republicans condemned his nastier attacks on Kelly, so it's easy to see why he's laying the foundation for a repeat performance. How will the moderators handle it? 
3. The "big" three 
Heading into the 2016 race, the three consensus favorites were Bush, Rubio and Walker, each of whom boasted a mix of fundraising and broad appeal across multiple wings of the party that tend to be a prerequisite for any party nominee.
History and political science still favor them as the most credible contenders, but Republican voters sure don't right now. All three candidates, none of whom were doing particularly well heading into the last debate, have lost ground in the five weeks leading up to Wednesday's edition.  
The most dramatic fall from grace has been Walker, whose regional ties to Iowa and solid conservative credentials made him an obvious early front-runner to win the caucus. After leading polls there for several months, he's lost support to both Trump and Carson on the right while blundering his way through questions on birthright citizenship, a border wall with Canada, and Syrian refugees. A Quinnipiac poll in Iowa this month put his support at just 3%, good for 10th place, after leading the same pollster's survey only three months earlier. 
Walker and Bush were widely panned for their August debate performances, which may have contributed to their slides. Rubio earned stronger reviews at the time and is among the most-liked candidates in polls, but he's yet to show any oomph with Republican voters either. A RealClearPolitics average of recent polls puts his support among GOP voters at just 5.5%, versus 8% for Bush and 4.8% for Walker. Can any of the three improve their position with a strong performance or will insurgents like Trump and Carson steal their thunder once again?  
4. The "kids table" debate
The crowded GOP field lost a candidate on Friday when former Texas Gov. Rick Perry announced he was suspending his campaign. That leaves 16 Republican candidates to vie for their party's nomination. That list could shrink before the Iowa caucuses on Feb. 1 if some of the players conclude they have no shot at the nomination.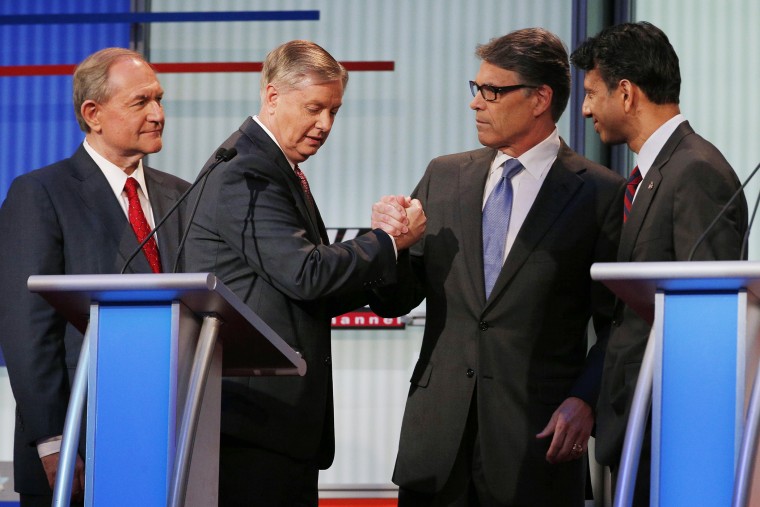 Enter the so-called "kids table" debate, which hosts several second-tier candidates who fell short of CNN's polling requirements for the main stage. If anyone else is going to drop out soon, it's most likely one of the four participants in the undercard round – South Carolina Sen. Lindsey Graham, Louisiana Gov. Bobby Jindal, former New York Gov. George Pataki and former Pennsylvania Sen. Rick Santorum.
All four are barely registering in national and state polls. Graham looks weak even in his native South Carolina. Jindal is desperately lashing out at Trump, a role that he seems even less adept at playing than Perry and Graham before him. Pataki has to fight just to get re-tweeted, let alone covered in the press. Santorum, who rose from the bottom tier to win Iowa in 2012, is struggling to distinguish himself.  
To the extent that there's good news for the gang it's that the last second-tier debate brought in a surprisingly strong 8 million viewers. The extra attention helped standout performer Fiorina earn a boost in the polls that – combined with a tweak to CNN's debate qualifications – promoted her to the big show this week. If they don't break out soon, though, they may struggle just to qualify for the kiddie table next time. Former Virginia Gov. Jim Gilmore, who was in the Fox debate, didn't make the cut this time after failing to hit even 1% in public polling.