Women are at the forefront of many of this year's critical and most-watched races. From candidates for governorships making waves from red-to-blue states, to game-changing senate seats up for grabs, women are making their voices heard now more than ever. Pivotal issues, including equal pay for women, health care, and campus sexual assault are front and center in Washington and statewide with women leading the charge. While the 113th Congress boasted 20 female senators – more than any other Congress to date, women still only make up 24.2% of state legislators in the U.S. With only a few months until the November midterm elections, it's down to the wire for many candidates striving to change all that and bring a female perspective to the table.
To showcase a year of textbook races for women, msnbc introduces '30 in 30,' a new series where the 30 of the most dynamic women candidates seeking office in 2014 will be spotlighted: One a day over the next 30 days. The candidates – Democrat and Republican – have answered questions based on women's issues and being a woman in a male-dominated industry. Welcome to Day 14!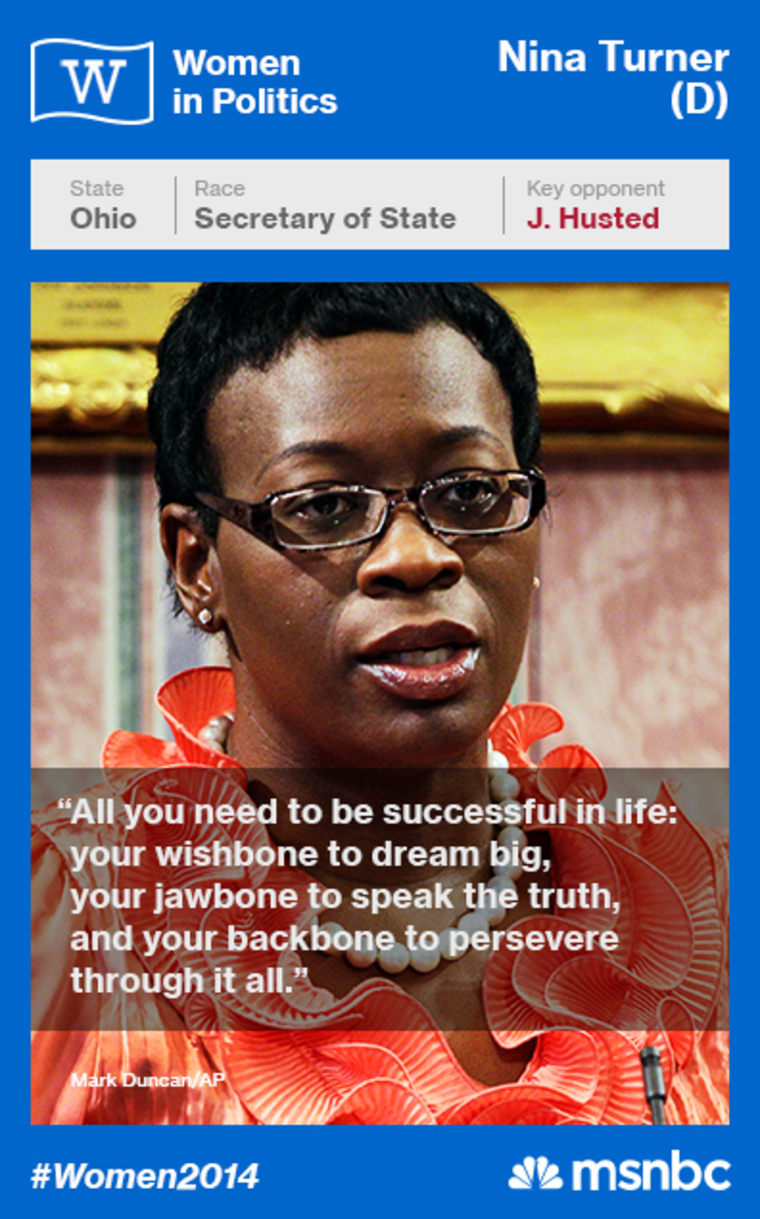 Party Affiliation: Democrat
Race: Ohio Secretary of State
Challenger: Jon Husted
Here's the deal: Turner, the minority whip for the Ohio senate and state senator for the state's 25th district, has campaigned heavily on voting rights during her race for secretary of state against Republican Jon Husted. Turner launched the "Meet me at the Box" program this summer to stress early voting to Ohioans -- she has previously called the GOP's attempt to cut back early voting "immoral." Turner would be the first African-American candidate elected to a statewide office. A July poll showed Turner and Husted neck and neck.
***
How has being a woman in a field dominated by men impacted your race so far?
As a female candidate, you always expect that some people will think you are not as capable of being an executive, or that you may be "too emotional" for office. As an African-American woman, the bar can be even higher.
In Ohio, the Democratic ticket is very balanced, with three women running for statewide executive positions this year. Women have always been capable and committed public servants and leaders, and we are proving that once again this year.
What will you bring to Ohio that your opponent can't?
First and foremost, I will bring with me a track record of fighting for Ohio voters—for the access they need given their busy schedules at work and home, and for the election system that this state deserves. Secondly, I will bring some fresh ideas on how the business services side of the office can do more to help businesses in the Buckeye State be even more successful and create good-paying Ohio jobs.
My number one priority is serving the people of Ohio in the best way possible. That means maintaining and restoring fairness and balance to our elections, so the focus can return to what is on the ballot and not how and when those ballots are cast. You can rest assured that I will work to push back efforts to restrict voting opportunities that have become so prevalent in Ohio on day one.
Simple, convenient, and secure elections are critical to a robust democracy, but it's what those votes add up to that really counts. A government reflects the views of those who select it, and if people are unable to cast their ballot because the voting hours aren't convenient for them or because other hurdles have been raised too high we get a less representative government as a result. The more people who participate the more effective our government will be in representing voters.
What can we expect to see from your campaign this summer?
A lot of campaigning is simply getting out there and spending time talking with voters, so I will be continuing my journeys to every corner of the state to meet Ohioans and find ways that I can lift them up as their next Secretary of State.
Voters can also expect to see a lot of new ideas coming from me and my campaign about how we can leverage the Secretary of State's office to improve not only elections, but create jobs and improve the lives of Ohioans. Although it doesn't get nearly as much media coverage as the voting side of the office, the Business Services Division plays a critical role.
You can also expect to see efforts to register, educate, and turn out voters this fall. My campaign recently launched "Meet Me at the Box," an early voting turnout initiative to do just that at different places and times throughout the state during the early voting period that we have left.
Congresswoman Shirley Chisholm once said that "tremendous amounts of talent are lost to our society just because that talent wears a skirt." You don't need permission from anyone, and you don't need anyone to validate your work or your talent—just go for it!
We've seen a surge of women running for office and working in politics, but there is still a disproportionately small share of women holding these positions. Women bring a unique perspective to the table, and—regardless of their political ideology—those viewpoints need to be heard.
Which women in politics inspire you?
Barbara Jordan, Shirley Chisholm, and Fannie Lou Hamer all come immediately to mind. They were all strong African American women who were pioneers in politics—pushing back against established norms and culture to move our nation forward. There is also Cleveland Councilwoman Fannie M. Lewis. She give me my first lesson in grassroots campaigning; registering people to vote in Cleveland's Hough neighborhood to encourage them to engage in the political process and take control of their destiny via the vote. She never shied away from fighting for the right thing.
Although she was not a politician, my grandmother gave me the most important lesson I've ever received and one I carry with me today. That all you need to be successful in life is three things: your wishbone to dream big, your jawbone to speak the truth, and your backbone to persevere through it all.
How will you address unequal pay for working women?
As Secretary of State, I would not be able to have a direct impact upon statewide public policy on this matter, but will continue to use the bully pulpit to push for better public policy. As a State Senator I have worked with my colleagues in the legislature to help close the wage gap and pay inequality will remain close to my heart. Equal pay for equal work would certainly be a policy within my own staff, and I will work to ensure that women have the same opportunities for promotion and leadership as their male counterparts.
Wild Card! When you were little, your dream job was …
My grandmother bought me a set of Encyclopedia Britannica's when I was little, and I remember sitting on the floor reading through these just dreaming of all the possibilities. My mind would always go toward me becoming a nurse or a teacher because, even back then, I knew I wanted to do my part to make the world a richer place.
Follow Nina Turner @ninaturner // Facebook // campaign website
Check out msnbc's Women of 2014 Twitter Trail to follow 2014 candidates to watch all in one place!