What's the hot new thing to do when launching a presidential campaign? Join Snapchat, of course.
Hillary Clinton and Jeb Bush, two of the early front-runners in the 2016 presidential race, both turned to the popular social messaging app Snapchat recently to document their campaign kickoffs. The app allows users to send photo messages to their friends that last for a few seconds and disappear after being viewed by the receiver. Another feature called "stories" allows users to post Snaps that are viewable to all of their friends, or to the public, for 24 hours after their creation. Then those, too, disappear.
RELATED: How Ted Cruz's digital team wants to win the Internet in 2016
Bush and Clinton were the first two in the crowded 2016 field to leverage Snapchat's "live story" feature to aggregate and publicly showcase photos and videos posted by users at their campaign events. Bush held a rally announcing his campaign on Monday, while Clinton, though she had announced her bid in April in an online video, held her first official campaign rally on Saturday. The photos were supplied by those attending the events, then curated and compiled into a "live story" by Snapchat.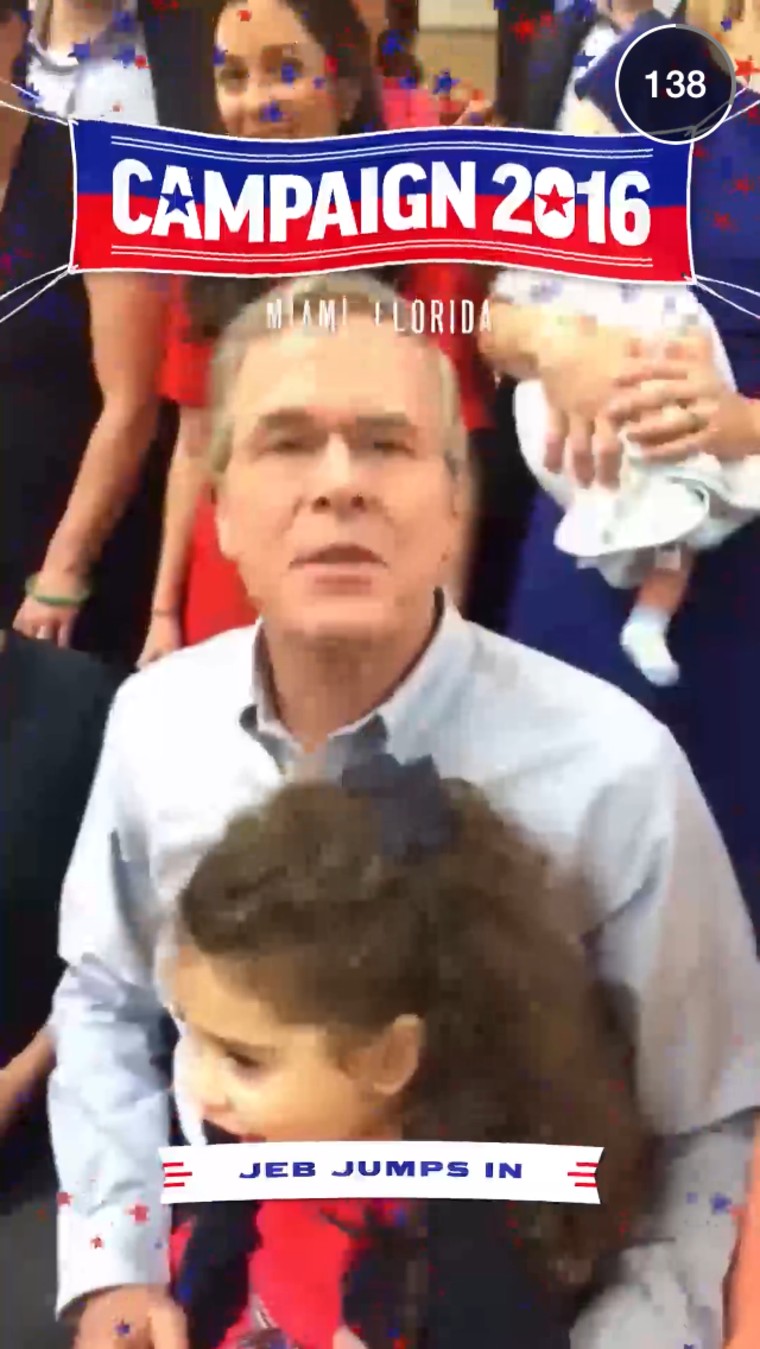 On Saturday, Snapchat's 100 million daily users saw in their feeds a "Hello, Hillary 2016" live story highlighting moments from Clinton's Saturday rally in Roosevelt Island. On Monday, Snapchat users saw a similar "Campaign 2016" live story with images and scenes from Bush's announcement event in Miami. 
Flashback to 2008, a year when the presidential race was widely hailed as the "Facebook election"— the first  in which the popular social networking site played a major role in campaign strategy. Social media, particularly in the form of Facebook, was a key tool in securing Obama's win with young voters. In the seven years since, social media has evolved at such breakneck speed that Facebook now has 1 billion users, and teenagers are now beginning to leave Facebook in droves in favor of newer sites like Instagram, Snapchat, and Tumblr. 
Many new social media apps have appeared on the digital landscape in the seven years since the 2008 election: Instagram, Pinterest, Periscope, and Meerkat are all popular social networks that did not exist during prior presidential races.
But perhaps no platform holds more potential to revolutionize the use of digital technologies in this campaign cycle than Snapchat, the messaging app that has become wildly popular with millennials and teenagers. 
Launched in 2011, Snapchat was an instant hit with teenagers, many of whom are conscious of their online footprints, and thus found the app's ephemeral nature appealing. As the app grew, the company launched the stories feature in 2013, a pivotal point for Snapchat's growth as it expanded the app's functions beyond one-to-one messaging and allowed users to broadcast to an audience of followers.
While Bush and Clinton are the first two to make use of Snapchat's live stories feature, they do not have active personal Snapchat accounts. A number of other candidates have begun to experiment with Snapchat by launching their own accounts, from which they can post their own "stories" each day to share with just their followers. Candidates who have established their own Snapchat accounts include Sen. Rand Paul, Sen. Marco Rubio, former Maryland Gov. Martin O'Malley, and former Texas Gov. Rick Perry.
RELATED: Rand Paul's Patriot Act social media blitz
Paul was earliest adopter of Snapchat among the 2016 candidates, launching his account in January of 2014, more than a year before he declared his presidential bid this spring. Paul's digital director, Vincent Harris, told msnbc: "Snapchat is increasingly the go-to platform for the millennial generation. These voters are often 'off the grid,' making it hard for campaigns to reach them in any other way except for through apps like Snapchat. Senator Paul's message of liberty and less government resonates with voters of all ages and the campaign is seeking to lead the field in use of new technology."
O'Malley and Rubio, too, have been active Snapchat users, posting stories regularly from the campaign trail. The O'Malley campaign used Snapchat to tease his May 30 announcement, posting a story featuring a series of Snaps in and around Baltimore. And Rubio has been one of the most active candidates on Snapchat, posting stories nearly every day documenting campaign rallies, events, and speeches, as well as promoting a "Marco Polo" shirt being sold in his campaign store. 
However, it still remains to be seen what tangible benefits Snapchat will provide for these candidates. Currently, the app offers very little in the way of analytics other than basic numbers of how many users have viewed each Snap — but even these numbers disappear when each video disappears, making them difficult to capture. Snapchat also does not easily display how many followers an account has — the number can only be found by asking a Snapchat representative. The lack of analytics is a potential obstacle to campaigns, politicians, and other organizations looking to incorporate Snapchat into their strategies, since they need metrics to prove that the platform justifies time and resource commitments. 
RELATED: Hillary Clinton's small business push on Twitter, LinkedIn
The primary goal for most campaigns experimenting with Snapchat seems to simply be gaining exposure — and helping younger audiences get to know these candidates with whom they may be unfamiliar. Unlike Facebook and Twitter, where campaigns can post links driving fans back to a campaign website, email signup form, or donation page, Snapchat does not allow posting of links and thus cannot drive website traffic, email signups, or donations in the ways that platforms like Facebook and Twitter can. So, the benefits of Snapchat are much more nebulous — the primary objective is simply to be seen. 
Meanwhile, Snapchat is also staffing up to make a bigger play in the 2016 elections — the company recently hired veteran journalists such as CNN's Peter Hamby as head of news, and NowThis News' Sean Mills as head of original content. Snapchat also launched its "discover" platform in January of this year, allowing a select group of brands and media organizations to deliver their own original video content each day.  However, only a select, limited number of organizations can partner with Snapchat to participate in the discover platform, so launching user accounts and partnering on live stories has been much more popular on the campaign trail so far — and much easier to execute.