In many ways, 2015 was a feel-good year in sports. The Triple Crown triumph of American Pharoah, the dominance of female athletes across platforms and the emergence of the uber-talented Golden State Warriors (who won their team's first title in 40 years) served as an antidote to the previous year which was dominated by stories of domestic violence in football and a basketball owner who had a history of spewing racially insensitive invective. But that doesn't mean that this year wasn't without a heavy dose of drama.
In a year where even a painfully close Super Bowl was somewhat overshadowed by controversy, sports took the national stage again and again, sometimes to inspire, often to infuriate (here's looking at you Sepp Blatter). As we say goodbye to the iconic likes of NBA star Kobe Bryant and racecar driver Jeff Gordon, let's take a look back at the sports stories that help define the past 12 months.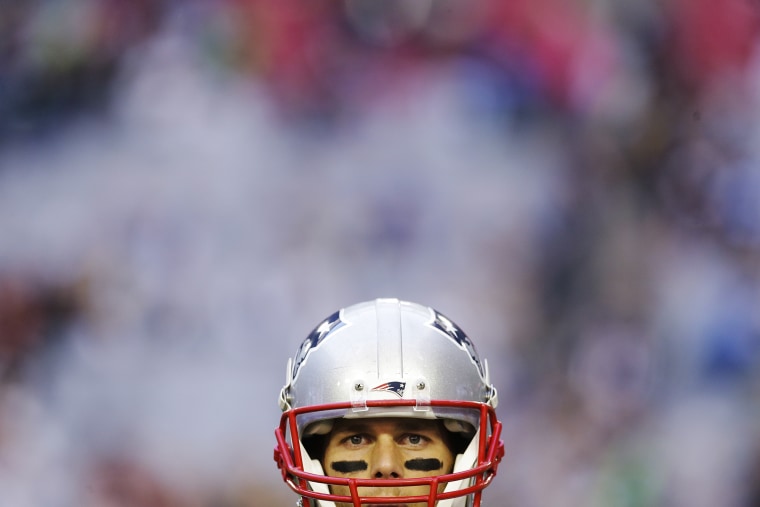 Deflate-gate - No conversation on sports in 2015 can be complete without a nod to this overinflated football controversy. The eventual Super Bowl champion New England Patriots were accused of using under-inflated footballs (which are said to be easier to grip) in the first half of their AFC Championship Game rout of the Indianapolis Colts in January. Eventually suspicion pointed to quarterback Tom Brady as a complicit culprit and the NFL brought down a four-game suspension on arguably the league's biggest star for being "generally aware" of a plot to break the rules. Brady not only professed his innocence, but he took the NFL to court. Brady was eventually victorious, if not vindicated in the eyes of the public. The Patriots got off to a 10-0 start before coming back down to earth, and remain a favorite to return to the Super Bowl early next year.
Serena Williams - The 34-year-old women's tennis icon had one of the most dominant years in the history of her sport, winning 53 of her 56 matches while battling injury, illness and the press, which more often than not, was guilty of body shaming her and holding her to a different standard than many of her more traditional competitors. Still, Williams remained true to herself and nearly pulled off a remarkable feat -- winning three of four grand slam tournaments in the calendar year. Her upset loss in the U.S. Open will be long remembered, but her selection as Sports Illustrated's Sportsperson of the Year (the first woman solo honored since 1983) is proof that her accomplishments have far outshined her setbacks.
Ronda Rousey - Probably no athlete had more of a meteoric rise in the public's consciousness this year than this UFC star. Rousey became a household name after a series of rapid fire victories, which contributed to her already legendary undefeated record and for her glamorous persona outside of the ring. Rousey's braggadocio might have rubbed some the wrong way, but she undeniably raised the profile of mixed martial arts, and became the rare female athlete to enjoy crossover appeal with a male fanbase. Unfortunately her undefeated streak came to a dramatic end when she was beaten by Holly Holm in a brutal match in November. But, undeterred, Rousey plans to mount a major comeback in 2016.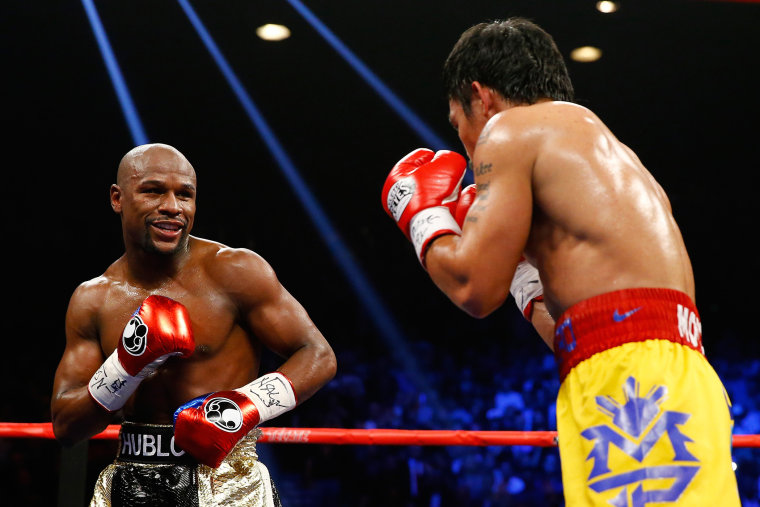 Floyd Mayweather vs. Manny Pacquiao- It was supposed to be the "Fight of the Century," but as far as many boxing fans were concerned it was too little too late. Aging middleweight contenders Floyd Mayweather and Manny Pacquiao fought in May for the first time and years of ducking each other and aborted negotiations. Mayweather handily maintained his undefeated record, while Pacquiao may have diminished his stature with his underwheming performance. Boxing aficionados have long argued that the two fighters should have faced each other in their prime, in what would have presumably been a fairer fight. Still, the match drew sky-high pay-per-view orders and brought renewed scrutiny of Mayweather's history of domestic violence disputes.
Fantasy sports fallout - Fantasy sports betting officially went mainstream in 2015, with sites like FanDuel and Draft Kings dominating an ever-expanding marketplace of sports fans looking to make an easy buck. But with the explosion came a backlash from various state officials, many of whom argued that fantasy sports are another form of high-risk gambling. In New York, a state supreme court judge shut down the top fantasy sports sites in the state, with several other major markets considering following suit. That doesn't mean the fantasy sites, which reportedly have earned billions, are going to go down without a fight. Stay tuned for what will likely be an inevitable federal showdown over fantasy sport sites.
Mizzou football takes a stand - When racial tensions reached a boiling point on the campus of the University of Missouri this fall, several black students on the school's football team announced plans for a boycott of their upcoming games, with the support of their coach. Their actions were the last straw for the Mizzou's then-president Tim Wolfe. He resigned from his position on Nov. 9 preaching reconciliation; the successful activism of Mizzou inspired black students on college campuses around the country. Although the Mizzou players never had to make good on their strike threat, it was a stunning reminder of the special influence that student athletes can have if they choose to take advantage of it. 
Jameis Winston - Although Winston's talent as a rookie quarterback prospect was unquestioned, his reputation off the field was another factor entirely. The Florida State University star was accused of rape in late 2012, while still a student. Although he was not charged with a crime and cleared of any wrongdoing by the school, the allegations received more attention following the release of "The Hunting Ground," an acclaimed documentary about campus rape. The film featured footage of Winston's accuser, recounting her alleged assault in excruciating detail on camera. It later aired on CNN and is poised to be nominated for an Academy Award. Still, the uproar has not appeared to distract Winston, who was drafted first overall by the Tampa Bay Buccaneers in April. He has avoided controversy all season and may wind up winning the Offensive Rookie of the Year award.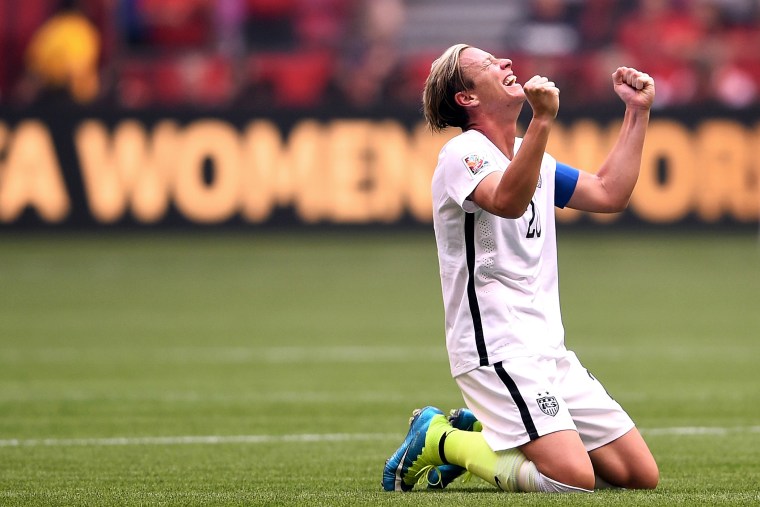 FIFA corruption - Speaking of the world of soccer, the most powerful international organization of the sport was rocked this year by criminal investigations alleging corruption at their highest levels. FIFA president Sepp Blatter has promised to step down and U.S. Attorney General Loretta Lynch has just recently announced the indictment of 16 FIFA officials. "The betrayal of trust set forth here is outrageous," Lynch said on Dec. 3. "The scale of corruption alleged herein is unconscionable."
Photo Essay: US celebrates Women's World Cup victory with kisses and confetti
Pete Rose - It appears as though baseball legend Pete Rose's long-waged battle to be reinstated in his former sport has come to an end. The 74-year-old all-time hits record holder was banned from baseball (and by extension the Hall of Fame) when it was revealed that he bet on games as a manager. Although Rose denied the accusation for years he'd recently come clean, although he maintained that he never bet on games he played in or against the team he managed. When Rob Manfred, the new MLB commissioner, began his tenure this year there was renewed hope among Rose fans that he would finally be granted a second chance. But Manfred upheld the ban this week, citing Rose's admission that he still gambles on baseball to this day. This looks like one case where you can't say there will always be next year.