In 2015, in a presidential election cycle where having a Facebook page and Twitter handle became the norm, rather than the unconventional, candidates struggled to stay ahead of the social media curve. With 17 initial Republican candidates and five  initial Democratic candidates, many campaign social media accounts in 2015 employed rather similar, uninspired content strategies, and few candidates were truly able to differentiate themselves from the sea of other candidates in the social media sphere. Sen. Bernie Sanders stood out as a grassroots star who was beloved on social media, while former Secretary of State Hillary Clinton led the charge in terms of most innovative uses of social media to target millennial voters. And on the Republican side, Donald Trump's social media posts often became news stories of their own, though not always in a positive light.
Sanders first became a grassroots star on Reddit, where supporters of Sanders created their own "subreddit" discussion forum that was unaffiliated with the campaign, but nonetheless dedicated to growing support for Sanders' candidacy. The subreddit has more than 140,000 subscribers to date and has spawned individual state-level subreddits for all 50 states. The Reddit group began in 2013, long before Sanders even officially declared his campaign, and growth quickly surged with more supporters urging him to run. Sanders also was the most popular presidential candidate on Tumblr in 2015, according to data released by the microblogging site, where grassroots supporters created thousands of microblogs and memes devoted to supporting Sanders and spreading his message.
For Sanders, this social media support became an important tool to help level the playing field between him and Clinton, the more establishment candidate. In the third quarter of 2015, Sanders raised nearly as much money as Clinton, raking in $26 million while Clinton raised $28 million; Sanders' campaign reported that his fundraising came from from 1.3 million donations from 650,000 donors, rather than a small number of megadonors.
Clinton, meanwhile, used social media to target millennial voters by pushing the envelope on new and existing platforms to capture young voters' attention. On Facebook and Twitter, Clinton's campaign crafted posts designed to humanize Clinton and make her relatable, poking fun at her pantsuit collection and posting selfies with pop star Katy Perry and the stars of Comedy Central's "Broad City."
Many candidates began to experiment with Snapchat, the social messaging app popular with millennials and teenagers. In August, Hillary Clinton launched her own Snapchat account and quickly became a leader among the presidential field in using the platform in an innovative, engaging way. Snapchat is the only now-major social platform that was not a part of the 2012 presidential election; launched in 2011, the app was not widely used in 2012 but has grown rapidly in the years since -- founder Evan Spiegel said in May 2015 that the app had 100 million active daily users. Many candidate Snapchat accounts, such as those of Sens. Rand Paul and Marco Rubio, focused largely on documenting the candidates' days on the trail with behind-the-scenes photos. But Clinton's campaign used the app's Stories feature to post highly produced content each day that sometimes informed followers about Clinton's policy positions, and sometimes shared lighter content, such as how to dress up as Clinton for Halloween. The Clinton campaign used youthful slang to engage with the millennials who make up the core of Snapchat's user base.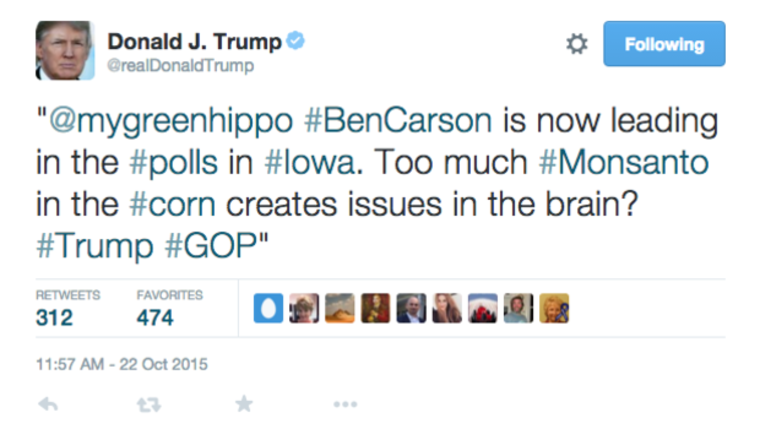 Trump, on the other hand, gained notoriety among the presidential field in 2015 for his active use of Twitter, frequently publishing off-the-cuff missives that made headlines and sent his staff scrambling to perform damage control. Trump's tweets in 2015 often had the power to become their own news stories, though it's unclear how many he writes personally; on occasion, he has blamed staffers or interns for provocative tweets. In 2015, Trump deleted at least five controversial tweets that got him in hot water, including: a sexist tweet about Clinton in April; a tweet in July about Jeb Bush's Mexican-American wife, Columba Bush; a tweet about September 11th; a tweet in October that insulted Iowa voters; and a tweet in November linking Jeb Bush to Nazi imagery.
Clinton, Sanders and Trump all managed to stand apart from the crowded pack of presidential candidates when it came to original uses of social media. For the many other candidates on both sides of the aisle, simply posting fundraising links, information about campaign events, and photos from the campaign trail was not enough to distinguish themselves in the ever-changing world of social media. Just having a social media presence is no longer enough, as it was in the past two election cycles; now, presidential candidates must make it a campaign priority to hire talented digital staff and produce creative, innovative content to capture voters' attention in crowded newsfeeds.