FERGUSON, Mo.— Just as the protests over the killing of Michael Brown Jr. have evolved from spontaneous to organized, so has the ongoing police response to them.
Back in August, riot gear and armored vehicles were the police's preferred tools of engagement. Now, nearly five months after Brown was killed by former Ferguson police officer Darren Wilson, and five weeks after a grand jury declined to indict the officer in the teen's death, both groups have grown more calculated and intentional.
While the protests in Ferguson have diminished lately, they have since spread to cities across the country, fueled by the grand jury's decision in the Wilson case, and also by a similar outcome in New York in the chokehold death of Eric Garner, by a police officer on Staten Island, New York.
There has been increased outrage over the killing of other young, black men recently, a patchwork of seemingly inexplicable deaths at the hands of police. Among the most recent examples are the killings of a 12-year-old Cleveland boy shot and killed while carrying a pellet gun, and a man in Phoenix killed by a cop who mistook a pill container for a pistol. The response has been massive, with protesters shutting down major highways, bridges, malls and department stores in cities from New York to Oakland, California.
Meanwhile, back in Ferguson, where a lingering chill has replaced the scorching days of summer, Wilson has resigned from the force. The state of emergency imposed by Gov. Jay Nixon ahead of the grand jury's Nov. 24 decision has been lifted, and with it, a drawback of National Guard troops on the ground. Yet despite calls for wholesale change in the city's leadership, many of the other key players in the case remain, including Ferguson Police Chief Tom Jackson, Ferguson Mayor James Knowles III and St. Louis County Prosecutor Bob McCulloch.
Many say the police in Ferguson are as aggressive as ever, engaging in so-called snatch-and-grabs, where police pick out particular demonstrators and pull them from the crowd for arrest -- often for what appears to be no reason at all, others for some previously documented infraction, and others still for crossing the ever-shifting boundary between what is deemed legal, public space to occupy while protesting and what is off-limits.
Beyond that, police have blended a level of sophistication with that alleged brutishness. The night of the grand jury's announcement in the Brown case, rioters lit stores on fire and clashed with police. Today, those establishments sit burned out, hollow and hulking, or torn completely apart. Security cameras perched on nearby buildings captured much of the bedlam, and police are now poring over hours of video footage, looking to identify suspects involved in any decision-night crimes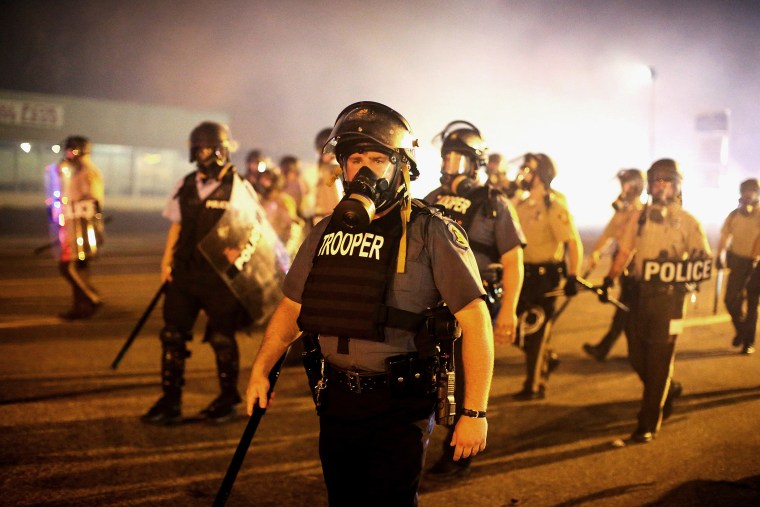 .
But activists and lawyers say law enforcement agencies across the region are using video and other means to target protest leaders, using various surveillance techniques to track and harass some of the more visible movement participants. 
"One of the techniques ... is sort of masked surveillance, with the idea being that a team of officers will pour through surveillance and issue charges sometimes months after the actual occurrence," said Brendan Roediger, a professor of law at St. Louis University who has filed a lawsuit on behalf of protesters who say police have violated their rights in various ways. "[It] appears to be designed to gut the movement. It appears to be designed to target those people who the police believe are important organizers, or at least publicly recognizable activists."
Targeted 
In one, recent incident, Rasheen Aldridge, a 20-year-old member of Missouri Gov. Jay Nixon's Ferguson Commission, was served with notice of charges the day after he visited with President Barack Obama at the White House.
On Nov. 26, Aldridge and a group of protesters gathered at St. Louis City Hall for a demonstration. At some point, the group attempted to push through a doorway being guarded by a city marshal. Video of the incident that has circulated online shows Aldridge at the front of the group. The marshal appears to push Aldridge back and Aldridge's body and can be seen brushing back against the marshal. 
Days later, after the high-profile White House visit with a gathering of community and youth leaders from across the country, Aldridge was notified that he was being charged with 3rd degree assault in the City Hall incident. Aldridge is about 5 feet 4 inches tall and 110 pounds with a prosthetic leg.
"City Hall one day, the president the next day, then, as I come back from the White House I hear about this," Aldridge said. "So it just kind of sprung out of nowhere, and then of course the whole narrative changed, from young protesters meeting the president, to thug and criminals meeting with Obama and discrediting me and discrediting the whole movement."
"Everybody don't die the same"'
Conservative bloggers and critics of the protests set in almost immediately. "From street mob activist to White House guest," conservative blogger Jim Hoft wrote about Aldridge.
Jerryl Christmas, Aldridge's lawyer, said he plans to take the case to trial, calling the charges "ludicrous" and an overt attempt to stain his client's reputation.
"The fact that [law enforcement] would target them, that's a major problem because that tells you there is a coordinated effort to quash the energy and the passion that these young people have," Christmas said. "And it's done in a way of fear. They are trying to scare them into backing down and not taking the positions that they are taking."
Susan Ryan, a spokeswoman for the Office of the St. Louis Circuit Attorney stood by the action taken against Aldridge, telling the Huffington Post that the charges were low-level and akin to a parking ticket. 
"When we've got evidence that somebody has violated the law, then we review that evidence, and if we believe we can prove it beyond a reasonable doubt, we will charge somebody," Ryan said. "All over the county, protesters are being arrested for violating the law, and it's unfortunate. But there are peaceful ways to protest without shoving city marshals or without hurting police officers."
In another case, police seem to have surveilled a prominent protester, and days later arrested him for driving with a revoked license.
Bassem Masri, 27, of St. Louis, was one of the most vocal opponents of police practices in the wake of Brown's death. Thousands have followed lives streams of Masri's protests. But he's also known for his often vulgar, in-your-face verbal attacks on officers as he narrates his coverage. He has taunted them, wished death upon them and asked, "What happens when we take your gun?" 
Masri's antics have even caught the attention of the Missouri Ku Klux Klan's Imperial Wizard Frank Ancona, who cited them as a trigger for the Klan's promise to use "lethal force" against protesters.
Related: Michael Brown memorial rebuilt
Masri, who has been arrested multiple times for his activism, including once for allegedly spitting on an officer, said his style is provocative with a purpose. "I give them a lesson on free speech every time I go out. I go out and I'm aggressive to make sure the police don't hurt anyone," he said.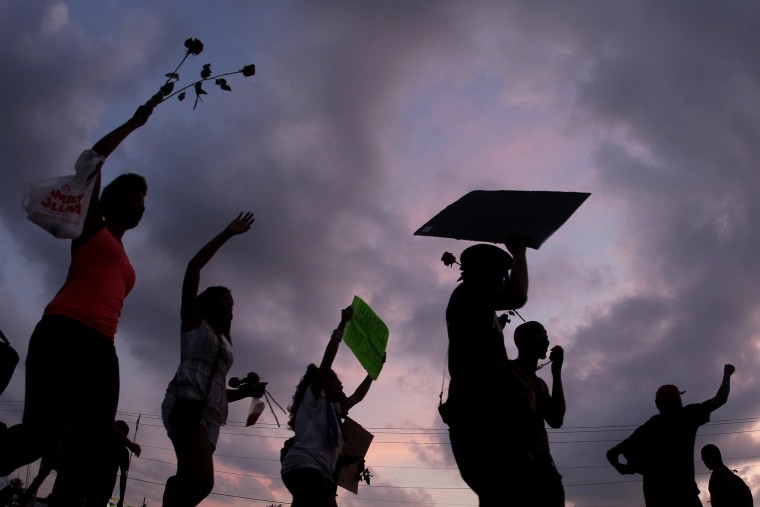 Masri said he gets death threats and a steady stream of harassment on social media daily. But it's the police pursuit that has been most relentless, he said.
About six days before the grand jury's announcement in the Brown case, Masri said his car was parked outside his uncle's store in St. Louis. It had been there for a few days and Masri's uncle asked him to move it, so he did, to a parking spot across the street. Then, the night of the announcement of no indictment, Masri said he was a passenger in a car with two other people when the car was stopped by St. Louis city police for no apparent reason.
Masri said the officer who pulled him over said he'd been trailing him for a week and knew where Masri had been and what he'd been up to.. The officer said Masri was being arrested for driving while on a suspended license several days earlier when he moved his car from outside of his uncle's shop.
In a statement obtained by msnbc, a St. Louis detective identified as Mark Keisker said he had been informed of Masri's arrest in St. Louis on Oct. 14 for 3rd degree assault on an officer (the spitting incident), and that he "additionally became aware of a 'tweet' from a Twitter account associated with the defendant." Keisker said the tweet in question indicated that "foreign persons were in the area to help the defendant 'burn#Ferguson.'" The detective said an investigation was conducted into the possible threat of violence.
During the investigation, the statement said, the detective was informed that Masri's license had been revoked and that on Nov. 19, he observed Masri operating a motor vehicle. On Nov. 24 or 25, the car Masri was riding in was pulled over and Masri was arrested and charged with driving with a revoked license. A judge issued a $15,000 cash bond -- a huge sum for such an offense.
Asked if Masri had been singled out by police for his involvement in protests, Schron Jackson, a spokeswoman for the St. Louis Metropolitan Police Department said no. 
"Mr. Masri has never been targeted, harassed or arrested by the Metropolitan Police Department as a result of lawful protesting. However, he has been arrested for repeated violations of the law," Jackson wrote in an email to msnbc. 
"Mr. Masri has been arrested and charged in the City of St. Louis with Driving While Revoked/Suspended (felony) and 3rd Degree Assault on a Law Enforcement Officer (misdemeanor). The Metropolitan Police Department is committed to ensuring every citizen's constitutional rights of freedom of speech and assembly in a lawful and peaceful manner."
With her note, Jackson linked a video of one of Masri's live-streams, in which Masri can be heard cursing at officers.
"They are trying really hard to isolate me and demonize me," Masri told msnbc. "There's a lot of power in the truth. And at the same time, my stream has garnered a lot of attention because of the way I stay on the front lines, the way I narrate and engage with my viewers, the way I keep it real."
Roediger, the St. Louis University law professor, is Masri's lawyer. He said the notion that law enforcement is focusing so heavily on a protesters with no history of violent crimes, albeit a long record of traffic and driving violations, is "troubling." 
"I think it's absolutely clear that he is being punished for his visibility," he said.
'Everybody don't die the same'
Tensions flared anew the night before Christmas Eve in Berkley, Missouri, just two miles from Ferguson, when a white police officer shot and killed a black teenager in the parking lot of a gas station.
Police said the victim, identified by family as Antonio Martin, 18, was shot after he aimed a handgun at a police officer on Tuesday night. The officer was responding to reports of a theft when he came across Martin and another man who fled the scene.
On Wednesday morning, St. Louis County police released surveillance video that captured the shooting. In the video, from some distance, a man can be seen raising his arm in the officer's direction but no gun can be seen. Police said a handgun was recovered from the scene.
Hundreds of protesters quickly gathered at the scene of the killing. Some physically clashed with officers. And at one point someone lit an explosive at the scene, causing panic and an officer was reportedly injured while fleeing the smoke.
Related: Will the protest movement carry on?
Berkley's Mayor Theodore Hoskins, who is African American, stood by the police account of the shooting and cautioned any jump to likeness in the Brown case.
"Everybody don't die the same," Hoskins told reporters. "Some people die because the police initiated it, some people die because they initiated it. At this point our review indicates that the police did not initiate this like Ferguson."
The officer involved in the shooting has been put on administrative leave pending an investigation.
Also last week, Joshua Williams, 19, another prominent young Ferguson protester who has been widely quoted in local and national media, was arrested and charged with felony arson and burglary after he was captured on surveillance video and by news cameras setting fire to a Quick Trip gas station during clashes with police following Martin's killing. St. Louis County police said the incident took place on Christmas Eve, but Williams wasn't arrested until days later, according to reports. 
It's not clear how Williams was identified as a suspect. But police say Williams made a recorded confession to his charges. 
Ferguson changing 
Ferguson is very much a city still divided. Even before Brown's death, the racial disparities in City Hall, the school board and the police department were stark. The city is about three-quarters African American, yet there are only three black officers on a force of 53. The six-person city council has only one black member. The town is largely segregated by race, with sections almost exclusively black while Old Ferguson remains the bastion of the city's former, majority-white population.
When Brown was shot dead on a Ferguson street, his body left baking under an August sun for more than four hours, those divisions became barbed.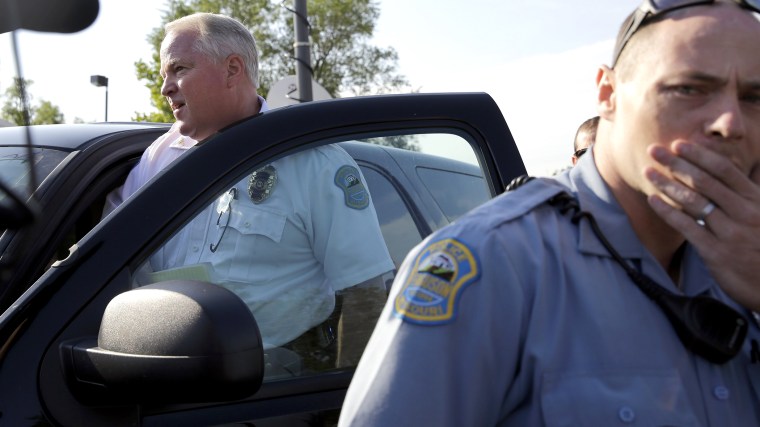 Police Chief Thomas Jackson, a target for many protesters calling for deep reform and wholesale change in the department, has dug in his heels despite calls for his removal. During multiple conversations over the past four months, Jackson told msnbc he hopes to move the department forward and to usher in new training and more minority officers to help rebuild lost or never-existent trust.
He said he hoped to raise pay to entice black recruits. He accepted a donation of body cameras to outfit his officers. And even before the grand jury's announcement, Jackson said it was unlikely that Officer Wilson would ever return to the department -- indictment or not. Wilson has since stepped down.
"We've had many more conversations with our black neighbors now. The conversations you don't normally have with your neighbor because those are difficult issues to tackle"'
But as the days go on it seems the already strained relationship between much of the community and the police continues to grow increasingly taut. Last week, Timothy Zoll, the public information officer for the Ferguson Police Department, was placed on unpaid leave after he was quoted by a Washington Post reporter referring to a makeshift memorial at the site of Brown's killing as "a pile of trash."
The memorial, one of two at the scene sits in the middle of Canfield Drive, and was run over and destroyed on Christmas. Residents spent hours cleaning up and resurrecting the memorial of teddy bears, balloons and candles.
The city's beleaguered Mayor James Knowles III, another figure on a totem pole of maligned city leaders, said he erred early on by declaring there was no racial divide in Ferguson. He said he was blinded a bit by having grown up in town and attended public schools with black classmates, and having cordial relationships with black neighbors. Knowles said for years he's also coached an all-black youth wrestling team.
"Going back to the beginning I think what surprised me, I clearly know there are differences in people of all different races and cultures," Knowles said. "But not having ever seen any kind of big racial divide like that in our community, that is what surprised me because we've never seen anything play out like that. The divides I'd seen were always more socio-economic divides than race."
"We've had many more conversations with our black neighbors now. The conversations you don't normally have with your neighbor because those are difficult issues to tackle," he said. 
Through it all, Knowles said, he has more gray hairs than he had before Aug. 9 and that he's grown more patient and more willing to be open minded to other people's experiences.
He said the city and police department are working through a number of plans to help rebuild a stronger, more inclusive Ferguson. Much of that, he said, begins with the Ferguson Police Department.
Recently he said the Fraternal Order of Police and an auxiliary group for officer's wives teamed up with other city agencies to raise money for gifts to give kids who might not otherwise experience a traditional Christmas. The result was what he called a "shop with a cop program," where a half-dozen classes of area school kids came to the fire department and picked from huge selection of gifts.
Knowles said the department will be launching a scholarship program to identify prospective officers from local jr. colleges and colleges, pay their way through the academy and fast-track them to the force. The only hitch would be that the new officers would commit to work in Ferguson for a few years.
Photos: Thousands march for justice after grand jury decisions
The mayor said the city is also working to establish a civilian review board made up of citizens to provide ongoing oversight and review of police policy, procedure and citizen complaints.
"We want to make sure that this board has teeth," Knowles said.
Still, there are hurdles ahead. Though Wilson has resigned from the force, the Justice Department has an ongoing civil rights investigation into the killing and a much broader investigation into the entire department to probe allegations of systemic bias policing.
Attorney General Eric Holder has said that wholesale change within the department seems clear and appropriate. And a legion of protesters say that despite talk of healing and change, the wounds from August continue to be salted by local and county law enforcement agencies. While there has been a small group of pro-Brown protesters that have rallied for Chief Jackson and Mayor Knowles to keep their jobs, others say their presence has long poisoned the well of trust.
"There are some vocal people out there. I know the Attorney General has said he wants wholesale change and I'm sure there are some people who came here clamoring about it," Knowles said. "They have the ability and there was an attempt to have me recalled. They weren't able to do it. I was just reelected in April and nobody ran against me this time. I've been reelected 5 times in this city. This community knows me, the people of Ferguson know me and they know I am responsive and know I want to see the best for this city."