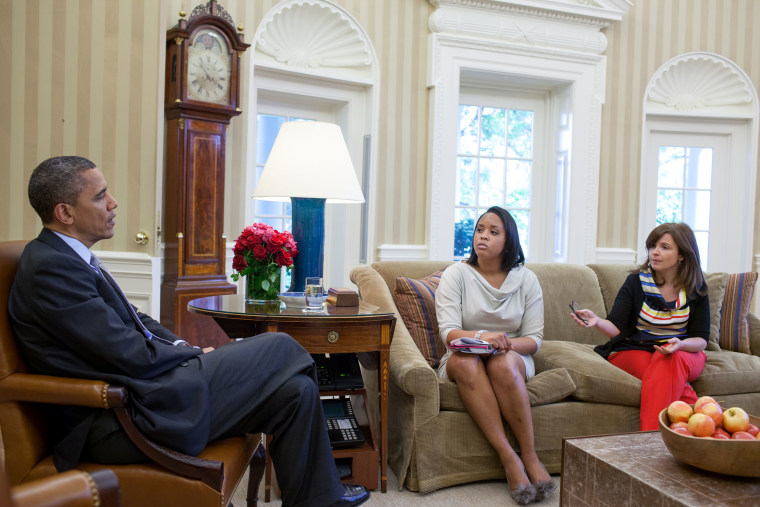 On December 14th, the president had a light schedule for the day. It was "quiet." These are the worst days for schedulers.
The words "it's quiet" always have the jinx hanging heavy over it.
December 14th proved no different.
Word came early in the day of a school shooting in Newtown, Connecticut. The death toll rose steadily throughout the day: two staff members, then ten people, including some students, and then 20. Ultimately, the horrific news: 26 dead, 20 of them young children.
The president's carefully laid-out agenda was immediately thrown into chaos and his team scrambled to quickly prepare an appropriate response. The choices were many: how to address the emotion of the moment and have the president speak to the nation from his heart, while being mindful of not over-politicizing the story.
Then there were more decisions: whether the president should go to Connecticut, whether it was even possible to mobilize his massive security detail that quickly, and whether to go now or when?
Orchestrating the storm of logistics was Danielle Crutchfield, the president's scheduler.
Danielle is the president's gatekeeper. If you want even a moment of time with the leader of the free world, you better get to know Danielle, because there isn't a single thing the president does that isn't cleared by Danielle.
During the campaign, it was Danielle's job to make sure that the president had time to both make his case for re-election and continue to lead the country. Since the president's priorities can change in a moment, it's Danielle's ability to pivot and scrap carefully laid plans on the fly. Her ability to execute last minute plans with the same skill and finesse as events planned months in advance has earned her the president's complete trust. She's right there, in his presence, working her Blackberry and putting into motion every move the president makes. Talk about a witness to history.
"Danielle's judgment, work ethic, political acumen and her sense of humor, not only got us through some snowy cold months in Chicago, they helped get President Obama elected. I could not have had a more able partner the past 6 years, or a better friend," Deputy Chief of Staff Alyssa Mastromonaco, a former scheduler for the president, tells me.
White House insiders say that while she's fiercely organized at her desk--surrounded by filing cabinets and able to find any paper or email she's ever read within a few moments–she's easy-going and relaxed with her own life off the clock. But her professional life, in the blink of an eye, can take over, sending Danielle, like the soldier she is, running straight into the fire.
Even her bachelorette weekend was taken over by the news of the day and the needs of the president. She was celebrating with girlfriends in Savannah, Georgia, when news broke of a shooting in Aurora, Colorado and the weekend turned into conference calls, emails, and endless decisions on the president's response and everything else that was supposed to happen on his schedule in the first place.
Whether it's Newtown, Aurora, the sequester, the fiscal cliff, or a homework session with Malia, it's Danielle who is the maestro of our commander in chief's time. It's Danielle who ultimately says 'yes, we can!'
Pass It On
Despite her hectic work life, Danielle still found a moment to cheer on a beloved coworker. When I called to ask her to Pass It On, she immediately responded "Kathy Ruemmler!" I told her Tina Tchen had named the same Woman of Value in her column and she laughed. "Kathy's incredibly smart, she's one of those people who you sit in a meeting with and you listen to her talk and you're extremely impressed," Danielle said. "She's also one of those people who you want to both get a drink with and be a colleague with!"