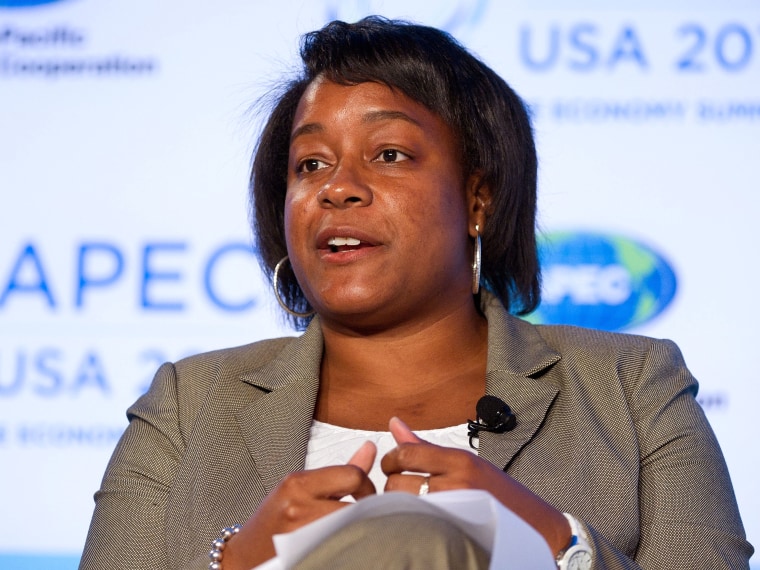 Last year, after Duke's Blue Devils triumphed over the University of North Carolina with a last minute basket, Danielle Gray emailed a photo of the game-winning shot to every government official with even the slightest connection to UNC. She was gloating. A lot.
But within the White House, Gray is known for a whole lot more than being an unrelenting and at times obnoxious Duke fan. She helped get two women confirmed on the Supreme Court. She was one of the lawyers who worked to have Obamacare upheld. She's recently been promoted to Cabinet Secretary, where she'll essentially weigh each cabinet secretary's priorities with those of the president. As an economic expert, she'll see all through the lens of how policy affects people's pocketbooks, continuing to push a healthy economy through all her work.
Oh, and did I mention she's only 34?
"Danielle is the rare brand of intellectual powerhouse, policy strategist and doer's doer that will put her on the short-list for cabinet level jobs for Democratic presidents for the next four decades," her former boss and the National Economic Council Director Gene Sperling told me. "That's a guarantee, not a prediction."
A master negotiator, Gray is known for her ability to broker fair deals between various parties, as well as her brains and humor which make her a force in meetings.
My friend Valerie Jarrett was effusive not only in her support of Gray's previous work, but in her bright future: "Danielle Gray is a rising superstar in the Obama administration. She is not only a brilliant lawyer and policy adviser, but a pure joy with whom to work.  She will be an instrumental force in driving the president's second term agenda."
As I did with my previous profile Cecilia Munoz, I called Grey to ask her to Pass It On: to name the woman she'd profile in my place. She laughed and named the Deputy Director of the federal Office of Management and Budget, Heather Higginbottom, someone who avoids media attention.
"She has been the glue to the enterprise and has kept the wheels running for many, many years," Gray said. "She gets amazing things done in the world of policy, but always has 10 minutes for coffee to talk about your life. As a woman, she's the person you hope to find as a mentor to help you navigate these things."
Hey, Heather, you're on my list!
Women of Value is a series of profiles on outstanding women in the White House. Have an idea of who I should profile next? Tweet me at @morningmika with the hashtag #womenofvalue!
Tweet us your brilliant ideas on innovation to #MoJoe, Morning Joe's web-only series of videos.