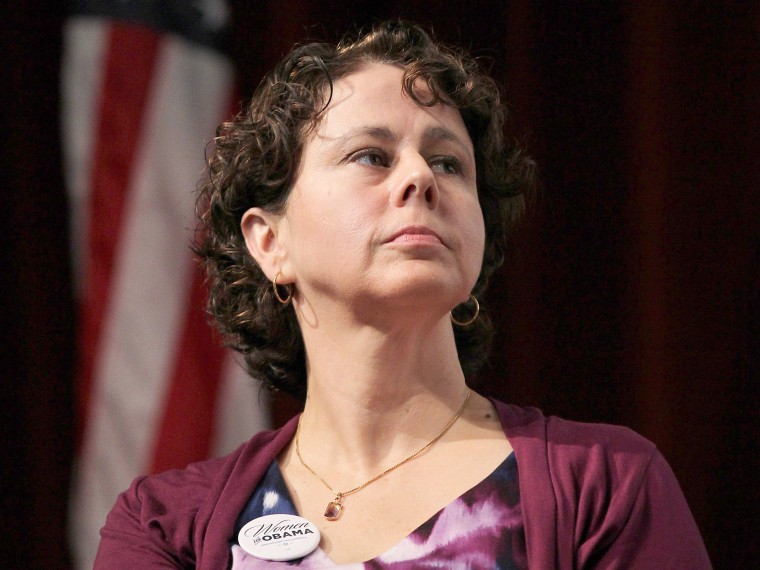 We've been talking a lot on Morning Joe about the question of whether or not there are enough women at high levels in the White House. The answer of course is no, but I am certain we will get there. It's only a matter of time. But the narrative of the debate over the president's many male advisers wasn't completely accurate--there are so many women of value working in the White House. I intend to use this space to tell their stories. I'm going to tap into my contacts there to find out more about these women and to highlight why the White House simply wouldn't work without them.
I will talk to each, personally, for just one thing: to ask them to pass it on. Women often advocate for others better than they do for themselves. So I'm going to give each of these incredible women a call and ask them what woman they value and why.
First up? Cecilia Muñoz.
Cecilia Muñoz's to-do list is so lengthy, it fills a binder. Whether it's on the priority of the day--strategizing on how to pass sweeping gun control legislation--or preparing comprehensive immigration reforms that will change the way this country lives together and works together, Muñoz is working through that notebook (emblazoned "Cecilia's Daily Binder") 24 hours a day. She's in before the sun comes up and if she leaves the White House in the evening, she's never without her Blackberry. Her method of work-life balance is to ensure that her two daughters feel as much a part of what she does as possible. I can relate to that. I don't strive for balance, instead I plow forward. Muñoz puts that concept into fifth gear. Muñoz is, by all accounts, a machine and friends say she simply never stops.
As the president's top domestic policy adviser, she doesn't just carry out the president's list of priorities: she helps create it too. One White House insider told me, "If there's one person who's going to be at the center of every policy debate, it's Cecilia." Pete Rouse, counselor to the president, knows the power that Cecilia Muñoz wields in the White House, saying:  "Cecilia Munoz has been a star at the White House from day one. The president relies heavily on her judgment and strategic counsel in shaping and driving his domestic policy priorities."
As my friend Valerie Jarrett put it: "Cecilia is a combination of brilliance, impeccable character and an enormous heart. The president values her passionate commitment to improving the lives of the American people on a range of important domestic issues from immigration to health care to reducing gun violence. She is indefatigable and never loses sight of the president's mission."
After I saw the Times' photo of a room full of White House advisers, I gave Cecilia a buzz, told her I admired her work and asked her to name the most impressive woman she works with at the White House.
She pushed back, saying that was impossible to name just one. I pushed again. But before I could let her off the hook, I saw exactly what everyone in the White House had been telling me: this woman cannot be pushed around. She insisted on naming two.
"Healther Zichal! She's a young, brilliant woman doing tremendously powerful work! And Jeanne Lambrew, she's a machine. I learn so much from these women and I'm so proud to work with them."
Last June, the president stood in the Rose Garden to announce that he'd use his executive authority to defer deportation proceedings for young immigrants who had entered the country illegally as young children -- an early step in what will likely be larger reform efforts. Across the country, all eyes were on the president, but inside the Rose Garden, I was told, most eyes were on Cecilia. After thirty years of advocating for immigration reform, Cecilia stood in the wings, basking in the reform she's worked for nearly her entire career.