The scene has become increasingly familiar to many Americans: A gunman walks into a large public space and begins shooting, killing or wounding some bystanders and forcing others to cower under tables or run away in fear.
Why aren't such incidents called acts of terrorism?
The examples seem too numerous to count. Last Saturday at a busy mall in Columbia, Md., a 19-year-old man opened fire and killed two people before turning the gun on himself. James Holmes had a court hearing Monday morning -- he's the 26-year-old man accused of shooting into a crowded movie theater in Aurora, Colo., in 2012, killing 12 and wounding 70 more. There has been an average of one school shooting in America every other day since the beginning of the year, ranging from the campus of Wakefield Elementary School on the West Coast, to Berrendo Middle School in the South, and Delaware Valley Charter School in the East.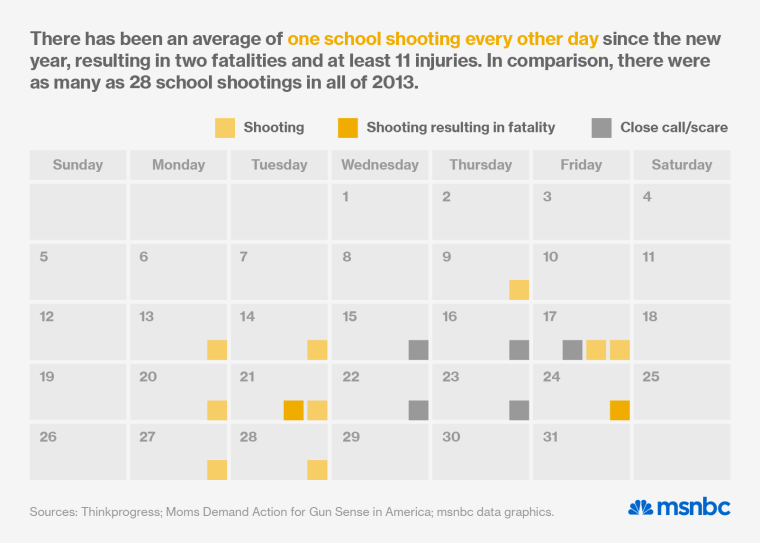 Fatal shootings occur so often in the United States that a journalist for a prominent British news organization has suggested international humanitarian intervention. But gun proponents insist such incidents – which have claimed far more American lives than high profile terror attacks like last year's Boston Marathon bombings or the events of Sept. 11, 2001 – don't merit the same ominous label.
"The definition of terrorism is the use of violence and intimidation in the pursuit of political aims," Eric Reed, president and founder of Gun Rights Across America, told msnbc. "These shootings that have occurred obviously have used violence, that's a given. But there is not a specific political agenda that is being pushed here, so it wouldn't be terrorism."
Erich Pratt of Gun Owners of America offered a similar view.
"It really doesn't matter, when somebody shows up at a place, why they're trying to kill people," Pratt, the group's director of communications, told msnbc. "I think the important thing is that people be able to protect themselves."
Gun-control advocates strongly disagree, noting the trauma suffered by those caught in mass shootings and the fact that many of the gunmen involved do harbor political motives. If the shooters had Islamic surnames they would almost certainly be labeled terrorists, advocates argue -- as was the case with the 2009 shootings at the Ft. Hood Army base.
"If Muslims committed half, or even one out of every four of these incidents, Americans would frame the acts as a national security issue and use the word 'terrorism,'" said Ladd Everitt, director of communications for the Coalition to Stop Gun Violence.
That group's executive director, Josh Horwitz, described in a 2009 book an "insurrectionist" ideology that fuels many mass shootings. The National Rifle Association and others in the pro-gun movement, Horwitz argued, promote the notion that individuals have the right under the Second Amendment of the U.S. Constitution to shoot elected officials, police officers, and military personnel if they think the government has become "tyrannical."
Jared Loughner, who killed six people in an assassination attempt on then-Rep. Gabrielle Giffords outside a Tucson, Ariz., supermarket in 2011, allegedly vowed in an online post not to accept what he believed were unconstitutional "federalist laws."
Adam Lanza, who shot and killed 26 people including 20 first-graders at Sandy Hook Elementary School in Newtown, Conn., in 2012, also posted a political screed to a website shortly before the incident.
"It goes without saying that an AK-47 and enough ammunition could do more good than a thousand 'teachers,' if one is truly interested in reforming the system. In short time the children will be brainwashed, pumped full of Xanax and told to conform, until they have been turned into the oppressors," wrote Lanza, who used an assault rifle to carry out his violent acts.
Gun Owners of America's Pratt discounted the notion of "insurrectionist" ideology, saying those suspects had engaged in nothing more than criminal activity.
"You're not going to keep those guys from getting guns," Pratt said about such mass shooters. "So when these guys get a gun, how do you stop them? Well, you need a good guy with a gun. If we're waiting on the police, that's typically too long."
To illustrate his point, Pratt noted that mass shooters don't carry out their deadly actions at police stations or gun stores where they know people will be armed. Instead, he said, they choose public, gun-free zones like schools and malls.
Last May, conservative radio host Glenn Beck acknowledged the Sandy Hook shootings in his keynote address at the NRA Stand and Fight Rally. But the government, he said, kills millions of people.
"Our liberty, our way of life, is being legislated out of existence. Our rights are being diminished by a ruling class of powerful elites. They're growing out of control. We are in a precarious situation. We are," Beck said during his speech.
Everitt of the Coalition to Stop Gun Violence said such rhetoric essentially endorsed acts of terrorism.
"It's literally the equivalent of a Muslim shooter saying that Allah influenced him to do this; the idea that political violence can be justified based on political ideology," Everitt said. "If you've decided that your gun overrules the rest of our votes, and you use political violence to settle debates about policy, that is terrorism."
Shannon Watts, founder of Moms Demand Action for Gun Sense in America, said Americans would act quickly and decisively if foreign citizens carried out mass shootings on U.S. soil.
"But instead, because it's Americans inflicting violence on Americans, for some reason, that has created this political debate," Watts said.
President Obama focused much of his 2013 State of the Union address on curbing gun violence, while speaking among an audience that included Newtown parents who lost children to bullets, as well as residents from Aurora and violence-ridden Chicago, where 15-year-old Hadiya Pendleton had been gunned down. During his address Tuesday night, Obama mentioned his continuing efforts to pass gun reform, but he did not concentrate as much on his plans as he did the previous year.
"Citizenship means standing up for the lives that gun violence steals from us each day.  I have seen the courage of parents, students, pastors, and police officers all over this country who say 'we are not afraid,' and I intend to keep trying, with or without Congress, to help stop more tragedies from visiting innocent Americans in our movie theaters, shopping malls, or schools like Sandy Hook," Obama said.
In the 12 months between his two speeches, Congress failed to pass gun-reform legislation; the national policy on firearms remains virtually unchanged. About 10,000 children are hurt or killed by gunshots each year, according to a new study published Monday by researchers at the Yale School of Medicine.
(Twenty-one states did, however, make progress, as legislators enacted laws to curb the violence. Five states closed a loophole that allowed for the sale of firearms from private dealers with background checks.)
Related: On gun reform, states put Washington to shame