By Lauren Spurr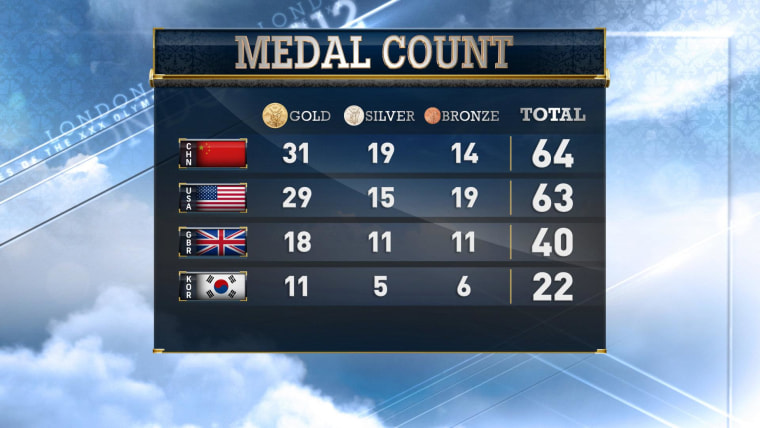 With another day of Olympic competition in the books, China continues to lead the gold medal count with 31, while the United States is just off China's total with 29. Host nation Great Britain is putting together a terrific performance so far with 18 gold medals to their credit in these Games.
It was an exciting day of competition for Team USA in the Women's Football (Soccer) semi-finals.  In the final 30 seconds of extra time, Alex Morgan heads in the winning goal for America to clinch a 4-3 win over Canda.  Team USA will face Japan in the gold medal game on Thursday.  
On Day 10 of competition in London, Team USA's Jennifer Suhr takes gold in the Women's Pole Vault with a vault of 4.75 m.  Suhr dethroned Russia's Elena Isinbaeva who had been a two-time world champion and world record holder.  In the Women's 100m hurdle qualifying rounds, Lolo Jones is the second fastest qualifier in 12.68 seconds. 
---
In today's competition, Americans Lolo Jones and Kellie Wells compete in the Women's 100m Hurdles. 
In Artistic Gymnastics, Aly Raisman competes for the podium in Women's Balance Beam.  In the Women's Floor Competition, Jordyn Weiber and Raisman represent Team USA.  Americans Dannell Leyva and Jonathan Horton compete in Men's Horizontal Bars. 
In Track and Field, American Jesse Williams contends for the podium in the Men's High Jump final. 
In the pool, Mary Kilman and Mriya Koroleva compete in the Women's Synchronized Swimming Duet Final.  Troy Dumais contends for the podium in the Men's 3m Springboard Diving finals at the Aquatics Center.