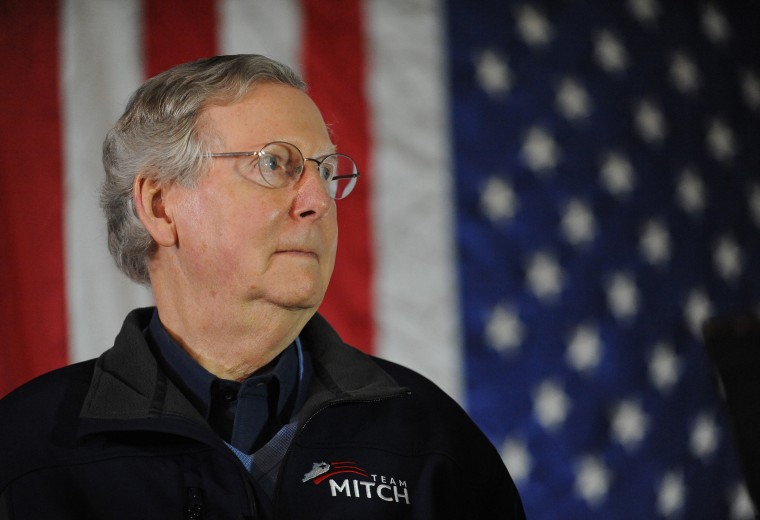 Down in Kentucky, there's a mad, moneyed race for the Senate underway. 
On the right, there's Matt Bevin, the Army veteran and passionate father with an army of national and grassroots tea party supporters behind him. To the left, there's Alison Lundergan Grimes, the daughter of one of Kentucky's most powerful political families, and an energizing, young candidate. In between the two, there's Mitch McConnell, the 30-year incumbent and Senate Minority Leader, who is embroiled in what's likely the toughest reelection battle of his career. 
To see this showdown fully—up close and dirty—NBC's Kasie Hunt and I headed to Bluegrass State for a few days. There, we saw Lundergan Grimes transform a room of women into roaring applause; we met Bevin and went sledding with him and his nine kids. We heard McConnell's promises to introduce an entirely new industry of hemp production into Eastern Kentucky. We also caught up with Kentucky Republican Sen. Rand Paul who finally had some vocal opinions to share, on the heels of his extremely tepid endorsements of McConnell. 
From the heart of the battleground state, these are the top seven quotes from the battle.
 1.    This time, Rand Paul (really) endorsed McConnell
"I endorsed him and I endorse him enthusiastically so when I said that it probably came out not the way I intended it to. I think he's been a great conservative for Kentucky a great warrior against the war on coal and a good partner for presenting this economic opportunity for Eastern Kentucky," Paul said.
2. The Comeback Kid
 "National Republicans have cast you as Obama girl and one of the national spokespeople referred to you as an empty dress. Do you think those are appropriate?" NBC's Hunt asked Grimes.
Her response? "Well it's about as accurate as Mitch McConnell being a Chippendale dancer."
3. In Bevin's view, not assimilating is 'cultural cancer' 
 "Offering blanket amnesty to people for having broken the law, 'that's alright, here's your citizenship anyway.' It's a huge mistake," Bevin said.
While he believes the immigration system needs to be altered, he added that a failure to assimilate is a "cultural cancer."
"We're helping nobody by giving them a pathway to adulthood without learning English. How is this helping anybody?" he said. "English is the language and of commerce and of conversation and of ability to communicate in this country and globally."
4.    Power Outage
"I try to appeal to all Kentucky voters regardless of gender about the future of state," McConnell said, "and the significant loss of clout that would occur for Kentucky to trade in, in effect, the potential Majority Leader of the Senate for someone who's going to take my desk and move it over on the Democrat side and make Harry Reid the Majority Leader, a guy who says coal makes you sick."
5.    Crusty Curmudgeons 
"You take a McCain, a Graham, a Hatch, a McConnell, Schumer, Leahy, Durbin, Reid. You put them in a paper bag, you shake it up, and pull one out. You wouldn't tell the difference. They're a bunch of crusty curmudgeons who've been around just a little too long and really are out of touch with who we are and really don't seem to care," Bevin said.
6.    On Clinton backing Grimes
"You know it concerns me," Paul said.  "If the president of your network had relations with a 20-year-old girl who was there from college, I think the president of your network would be fired. We don't accept that in the workplace. So if that's what Bill Clinton did multiple times. Really they ought to be concerned about being associated with him. Also, Kentucky, we're not quite Hollywood as far as accepting sort of different kind of things like that. Woody Allen is apparently a big contributor of hers too. Woody Allen has been now accused of you know having relations with his children. The thing is that's not really acceptable in Kentucky. And I think she has to decide whether she's representing Kentucky or Hollywood."
7.    On cutting Medicare prescription coverage
"We can't afford it. It has nothing to do with whether we like the idea of it. We cannot afford these entitlement programs. For people who have need we should provide. We're a nation that is blessed with that ability," Bevin said." But we do not have an obligation to just arbitrarily provide blanket blocks of money from other taxpayers for a handful of individuals who may or may not need it."
8.    Obama's girl?
"This race is one that's about putting the people of this state first. I speak for myself, don't need any other surrogate to do that," Lundergan Grimes said, when asked if she'd campaign with the president. "I stand in stark contrast with many of his ideas and platforms. It's about putting the people of this state first, fighting for them in terms of economic benefit, making sure that we are looking out for our veterans, making sure that we are offering better wages. That is who is going to continue to be at the forefront of this campaign, that's who I'm going to be speaking for."