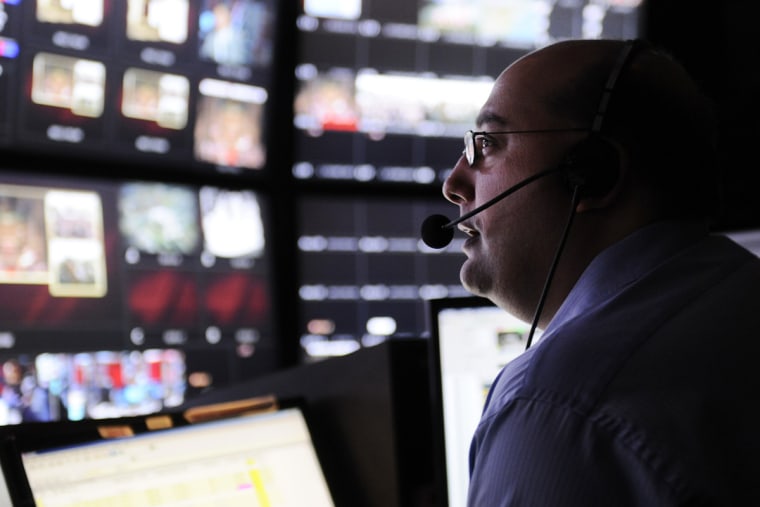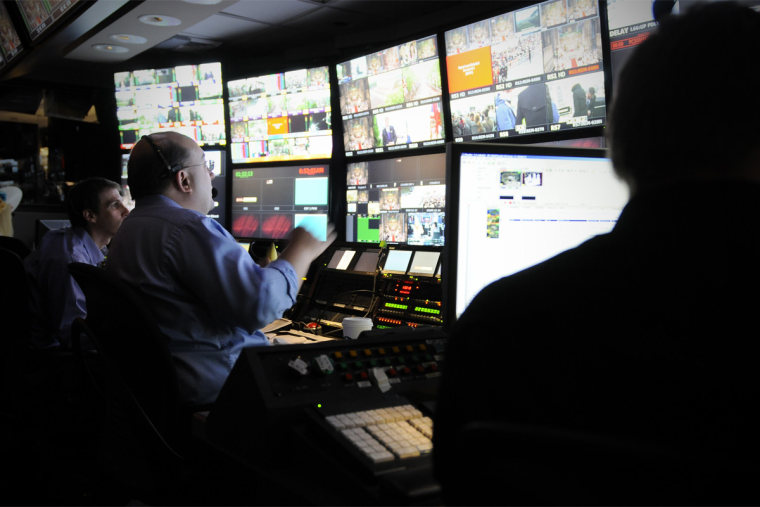 What had started months and months ago finally came to an end on Friday.
After a ton of planning which included creating graphics, choosing remotes and surviving a whole bunch of stress, the Royal Wedding was complete. Royal Wedding preparation began on Easter Sunday for our NY control room.  
I was preparing to direct a week of London shows and msnbc's Royal Wedding coverage along with working with London remote crews. We prepared by having a technical rehearsal to make sure all of the cameras, mics and lights were good to go. Joe, Mika and Willie stopped by the set to make sure they were comfortable with everything we had planned. We even had a chance to tape a quick promo with them. My boss, Marc Greenstein was on site in London to make sure all the sets, cameras and anything else I needed was good to go. He made my week a little less stressful being on site. Trafalgar Square was our home base in London for Monday, Tuesday and Thursday.
On Wednesday we were on our set at Canada Gate Buckingham Palace. I was working with multiple cameras, Jib cameras, a steadi-cam, multiple remotes and many guests. All of this made for a busy week for myself and my crew.
Joe, Mika, Willie and the rest of the London crew were loving the late start time given London is 5 hours ahead of NY. Way too Early went on at 10:30am London time and Morning Joe came to an end at 2pm. Not too bad! 
Royal Wedding day on Friday started for me and my crew at 2am EST. This was a huge undertaking consisting of remote pool feeds, NBC iso feeds, other remote sources, a control room filled with about 20 people and then standing room for the curious who managed to pop their heads in at the right moment. The goal was to put the best shots that were coming into the control room on our television coverage. Telling the story with the most beautiful pictures of the event. I feel a director is only as good as his crew. I feel I have the best crew around. Everyday we put in the worst hours in the business. On a normal week we get on air 17 1/2 hours of live tv. This week we did 19 hours, not including the crew sacrificing their Easter morning away from their families.
I want to thank Adrian Kotiga my Technical Production Manager who handles more than his job description and keeps me right on track with all the remote sources and anything technical that might come up. David Quanvie is our Music Director. He had to handle a tremendous amount of audio issues for the week and also had to keep playing all the great music that he normally does on a daily basis. He is truly great at what he does.
Brenda Salamon is my electronics graphics operator who worked very hard on the Royal Wedding making sure we were all set to go. My right hand man in the control room is Andrew Stucky, who we all just call "Stucky". As my technical director he presses all the buttons to get everything you see on the screen. We have been working together for 4 years and I wouldn't want to do any of these big events without him. He keeps me sane and protects me from making any mistakes on air...most of the time. 
Now on to the next big event!