It's official: Pope Francis is TIME Magazine's "Person of the Year," beating out National Security Agency whistle-blower, Edward Snowden.
"He has in a very short time changed the tone and the focus and the perception of one of the world's largest institutions," Nancy Gibbs, managing editor of TIME, said Wednesday on Morning Joe. "I don't know that we've ever seen anyone capture people's imagination so broadly and deeply, so quickly as this Pope has."
The new Catholic leader, who succeeded Pope Benedict XVI earlier this year, promised to change the ways the Vatican conducts business. He broke with his predecessors in September when he said the church "cannot insist only on issues related to abortion, gay marriage and the use of contraceptives."
Related: Progressive Catholics hail Pope Francis' position on social issues
Earlier this year in July he declared, "Who am I to judge?" in response to reports of gay clergy members.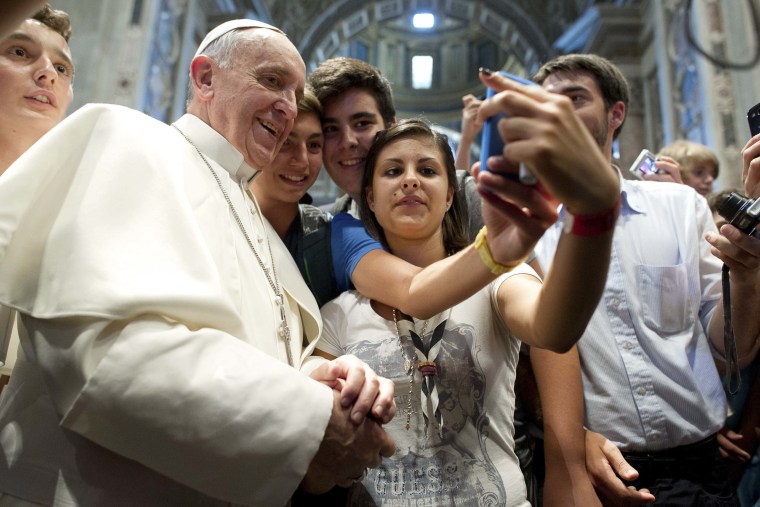 Consequently, he received a 57% approval rating from Americans, according to a recent NBC News/Wall Street Journal poll. Five percent of the public view him negatively.
The first Jesuit to assume the role, he recently revealed he once worked as a nightclub bouncer to pay the bills. 
"He's really pulling the whole papacy out of the palace," Gibbs said, "and into the streets."
The top finalists included Texas Sen. Ted Cruz, Syrian President Bashar al-Assad, President Barack Obama, Secretary of Health and Human Services Kathleen Sebelius, and pop-star Miley Cyrus.